The PowerShares MENA Frontier Countries ETF (NASDAQ:PMNA), which tracks an index with exposure to Egypt, Morocco, Oman, Lebanon, Jordan, Kuwait, Bahrain, Qatar and United Arab Emirates, has significantly lagged the performance of oil in the past year. Despite the 98% appreciation of oil price per barrel since March 2009, PMNA has only returned 46%.
Although one might assume that investing in the Middle East ETF equates to investing in oil, this is in fact not the case. While the countries that PMNA invests in have 60% of the world's oil reserves (810.98 billion barrels) and 45% of the world's natural gas reserves (2868.886 Trillion cubic feet), the actual stocks in PMNA have little to do with oil. The top 30 holdings in PMNA, which account for approximately 70% of the ETF weight, are largely telecom, real estate corporations, and banks. November's Dubai World debt crisis certainly didn't help the ETF's performance.
Although we are not fans of passive investment styles, which use a broad bucket of stocks such as the PMNA ETF, International market ETFs like the PMNA are an easy way for US investors to diversify their portfolios in international securities. That said, it is crucial to understand the stock exposure you have in each ETF rather than using the name as a generalization for what you believe you are buying.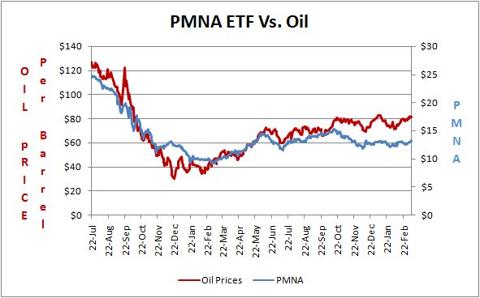 (Click to enlarge)
Disclosure: No positions