By John Gabriel
After steep outflows of roughly $16.7 billion in January, flows turned positive last month with exchange-traded funds attracting net inflows of more than $4.6 billion in February.
The U.S. ETF industry closed out February with about $764.6 billion in total net assets, up roughly 2.4% from $746.9 billion in December and up 67.9% from $455.5 billion a year ago.
Solid market performance was responsible for about 73.8% of the month-over-month change in net assets, while investor inflows contributed the remaining 26.2%.
On a year-over-year basis, market performance accounted for about 58.8% of U.S. ETF industry asset growth, with flows representing the other 41.2%.
click to enlarge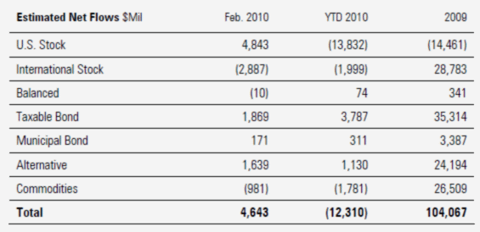 Domestic-Equity ETF Flows Reversed Course
Investors poured about $4.8 billion into ETFs covering domestic equities in February, the largest inflows among the broad asset classes. The category was led, of course, by SPDRs (SPY), which saw roughly $1.5 billion in net inflows last month--a sharp reversal from the more than $15.1 billion in outflows it saw in January.
Within the category, industrials, consumer staples, and energy funds were attracting assets. On the other hand, we saw investors lightening up on technology and utilities funds. An interesting development between a couple of REIT funds is also worth noting here. While iShares Dow Jones US Real Estate (IYR), which charges 48 basis points per year, saw net outflows of about $68.9 million in February, its rival Vanguard REIT Index ETF (VNQ), which charges only 15 basis points per year, saw net inflows of $62.8 million. Investors are clearly voting with their wallets by favoring cheaper alternatives when available.
International-Stock ETFs See Outflows
ETFs tracking international equities, on the other hand, saw the largest net outflows among the broad asset classes last month, as investors yanked about $2.9 billion in assets from the category. This marks the first monthly outflow for the asset class since August 2009.
Once again, the major trend in emerging markets continues to be the bifurcation of flows between Vanguard Emerging Markets Stock ETF (VWO) and iShares MSCI Emerging Markets Index (EEM). Both funds track the same index, but VWO has outperformed EEM by about 1.95% during the past year, produces less tracking error, and costs 45 basis points less per year than the larger EEM.
In February, VWO attracted more than $1.1 billion in net inflows, while EEM saw roughly $3.0 billion in net outflows. With EEM being the top moneymaker in the iShares lineup for quite some time now, we wouldn't be surprised to see the firm take some sort of action in the near future in an attempt to stem the steep outflows.
Demand for Taxable Bond ETFs Rolls On
Taxable bond ETFs continued to see strong demand last month and took in about $1.9 billion in net new assets, with the usual suspects--Treasury Inflation-Protected Securities and shorter-duration funds--leading the charge.
February marked the 30th consecutive month of net inflows for iShares Barclays TIPS Bond (TIP), which took in another $865.6 million and closed the month with more than $20 billion in total net assets.
Interest-rate risk looks to still be top of mind for many investors, as the short-term government, short-term bond, and ultra-short-term bond categories took in $339.0 million, $365.3 million, and $155.9 million in net inflows last month, respectively. Intermediate-term bond ETFs and long-term government ETFs brought in another $422.6 million and $352.0 million in net inflows, respectively.
On the flip side, with sovereign debt in the spotlight amid concerns related to Greece and other Eastern European countries, assets declined in ETFs that offer exposure to international bonds. For instance, last month SPDR Barclays Capital International Treasury Bond (BWX), iShares JPMorgan USD Emerging Markets Bond (EMB), SPDR DB International Government Inflation-Protected Bond (WIP), and iShares S&P/Citi International Treasury Bond (IGOV) experienced combined total net outflows of about $383.4 million.
To highlight ETF investors' cost-consciousness, we'd also point out that while iShares Barclays Aggregate Bond (AGG) had outflows of roughly $35.5 million in February, Vanguard Total Bond Market ETF (BND) actually saw $210.5 million in net inflows. Both ETFs track the same index, but AGG charges 0.24% in expenses versus the 0.14% levied by BND.
Commodity ETFs See Outflows in Back-to-Back Months to Kick Off 2010
Overall, commodity ETFs saw total net outflows of approximately $981.0 million in February. The two consecutive months of net redemptions so far this year represent a slight change in investor behavior. Prior to January, commodity ETFs experienced 14 straight months of net inflows, beginning in November 2008.
Some investors might have had it with the steep contango facing most energy markets, as United States Oil (USO) and Unites States Natural Gas (UNG) led the category's outflows last month. After spending the better part of the past year among the category's most popular funds, USO and UNG saw $391.9 million and $350.3 million, respectively, head for the exits in February.
SPDR Gold Shares (GLD) and iShares COMEX Gold Trust (IAU) also saw combined net outflows of $227.6 million last month. Conversely, the newly introduced ETFS Physical Platinum Shares (PPLT) attracted more than $107.2 million in net new assets. PowerShares DB Commodity Index Tracking (DBC), however, was the category's most popular fund in February, as it saw about $283.9 million in net inflows.
Leveraged ETF Investors Continue to Favor Short Exposure
In total, leveraged and leveraged inverse ETFs saw some $859.7 million in net new assets pour in last month. However, the inflows were solely because of investors loading up on short exposure, as leveraged funds offering long exposure continue to see net outflows.
Investors pulled about $346.4 million out of leveraged "bullish" ETFs, which as of month-end had about $11.2 billion in assets under management across 70 ETFs. Conversely, investors poured approximately $1.2 billion into leveraged "bearish" ETFs, which closed out the month with roughly $16.6 billion in assets across 76 ETFs. The most popular, by a long shot, was UltraShort S&P500 ProShares (SDS), which attracted more than $516.9 million in net inflows last month.
ETFs that provide single inverse daily exposure saw an additional $339.5 million in net inflows, led by Short S&P500 ProShares (SH), which attracted $122.1 million in net new assets last month. The 19 single inverse ETFs that we track closed out February with $3.7 billion in total net assets.
Disclosure: Morningstar licenses its indexes to certain ETF and ETN providers, including Barclays Global Investors (BGI), First Trust, and ELEMENTS, for use in exchange-traded funds and notes. These ETFs and ETNs are not sponsored, issued, or sold by Morningstar. Morningstar does not make any representation regarding the advisability of investing in ETFs or ETNs that are based on Morningstar indexes.