Microsoft (NASDAQ:MSFT) Windows phone seems to have momentum in Europe and in India, as I pointed out in my recent article "Growth in India may be Key to Windows Phone Success". Another massive and rapidly growing market where Windows phone has a terrific chance is Africa where Nokia feature phones are well represented and competition from the iPhone is quite limited.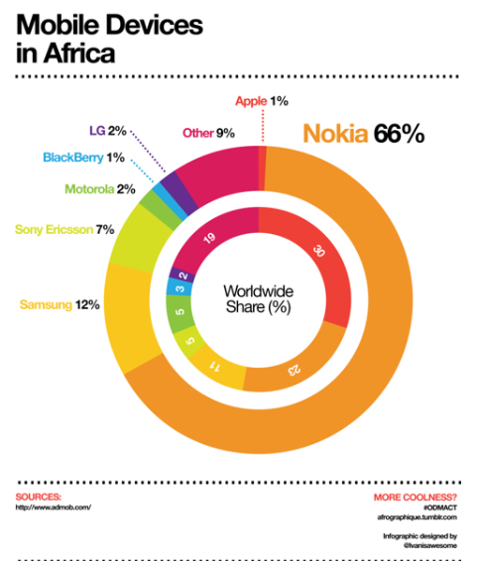 Click to enlarge
Africa added almost as many mobile subscriptions in Q1 2013 as China did.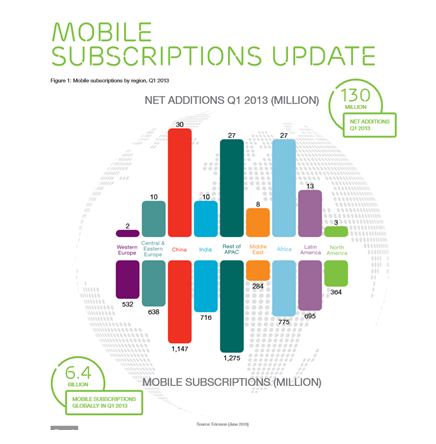 Africa has been a small smartphone market, with an estimated 15 million devices in use in 2011 but growing to 127 million by 2015 according to Informa Telecom and Media.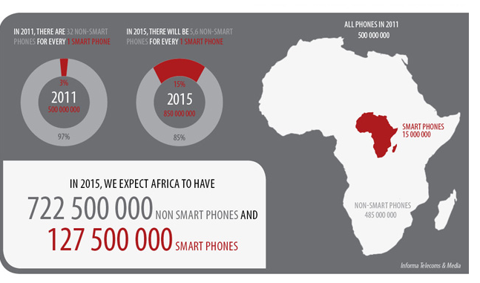 Click to enlarge
Microsoft is definitely interested in the African market, apparently subsidizing an African version of the Huawei "4Africa" Windows phone and promoting a "Build Windows Afrika" developers program.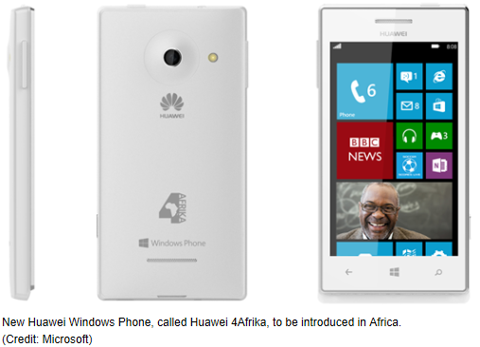 Click to enlarge
I purchased a similar model called the Huawei Ascent a few weeks ago to give it a try and found it to be an excellent product. Here in Canada it retailed for about $250 which is too expensive to get very far in Africa, but I understand the 4Africa version is selling for about $150 which may be within reach for many African consumers.
Even so, it is evidence that Microsoft sees this vast continent as a large and growing market it should not ignore. Mobile penetration now exceeds 50% and mobile penetration is growing in an area where land lines are rare and individuals and businesses need communications.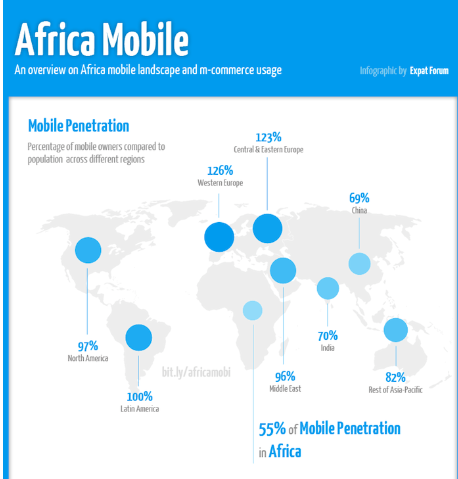 IDC sees Android remaining the dominant OS in Africa but both Windows phone and iOS gaining share with once popular BlackBerry (NASDAQ:BBRY) in decline.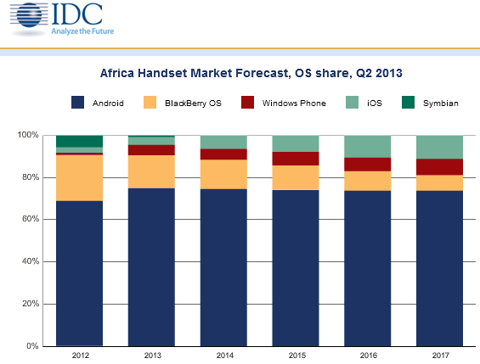 Click to enlarge
Like India, Africa is a new frontier for growth in mobile sharing the characteristics of a relatively poor area where price is as important as function and where Apple has no particular presence. As in India, Microsoft's strategy seems to have three elements: Capitalize on the customer base established by Nokia; partner with local businesses; and, provide fully functional smartphones at prices the mainstream users can afford.
The flag bearer for that strategy is the higher end Lumia 1020 launched in South Africa in November 2013 following the launch of Lumia 925 in East Africa in September.
Success in Africa is not without challenges. African carrier Vodacom provided the following alphabetical list of its ten best selling smartphones which did not include a Windows phone.

Click to enlarge
In relatively well off South Africa, BlackBerry remains the device of choice with Nokia having a significant presence with its Symbian lines and Windows phone starting to make some gains. The trick for Microsoft is to turn those Symbian customers into customers for Windows OS phones. Oddly, Nokia launched its best selling Lumia 525 model in most African markets but not in South Africa, possibly owing to high inventory levels of its predecessor Lumia 520 in that area according to some sources.

Click to enlarge
In any event, Africa like India will emerge as one of the world's largest smartphone markets over the next decade and Microsoft will undoubtedly make every effort to use its recently acquired Nokia handset business to ensure it is well represented in that growth.
I am long MSFT through call options and also hold BlackBerry call options.
Disclosure: I am long MSFT, . I wrote this article myself, and it expresses my own opinions. I am not receiving compensation for it (other than from Seeking Alpha). I have no business relationship with any company whose stock is mentioned in this article.