It's been a wild ride for shareholders of social media darling Twitter (NYSE:TWTR). As 2013 ended and 2014 started, Twitter was one of the most talked about names on the street, and one of the biggest movers. Now that things have calmed down a little, it's time to take another look at Twitter. Today, I'll take a look at the latest news and notes, including short interest data, analyst commentary, and a review of where shares sit now.
The latest short interest update:
Since Twitter went public, there have been four official updates on short interest. In each one of these updates, short interest has increased. The latest round of data was as of December 31st, as seen in the table below.

With a float of just over 284 million shares, we've now reached the point where more than 10% of Twitter's float is short. That's a lot more than the 2.50% to 3.00% of float shorted for Facebook (NASDAQ:FB) and LinkedIn (NYSE:LNKD). Twitter has become a popular name to short, and with the rally in Twitter shares, that may not be very surprising.
The other interesting item you will notice is that Twitter's volume has really picked up. In the past 3 months, Twitter's volume has averaged almost 24 million shares. If you go back to my float number from above, it means that Twitter's entire float number is traded every 12 days or so. That number could change after some of the lock-up expirations, but for now, this is a very active stock. For comparison, Facebook is trading its entire float about every 23 days, and LinkedIn is about 45 days or so.
A couple of lock up expirations:
What's my point about the float? Well, there are two key lock up expirations coming in the next few months. The first one comes in February, with about 10 million shares being available for sale by non-executive insiders. This isn't really a big expiration, as it represents less than 2% of the outstanding share count and less than 4% of the current float.
The big expiration comes in May, with the rest of the 87% of shares that are locked up now reaching their expiration. That will be a true test for Twitter as a stock, as we will see how many insiders decide to sell. Unlike Facebook, Twitter is actually above its IPO price as we reach these expirations. With the stock rallying even more lately, will some insiders feel the need to sell and lock in some gains? It might be one of the reasons why short interest is on the rise.
Remember too here that Facebook and Twitter are very close to each other in terms of price per share, but Twitter has about one fourth of the shares of Facebook. Say a mutual fund wants to come in and buy a million shares (almost $60 million) worth of stock. For Facebook, a million shares isn't much, but for Twitter, it starts to add up. Get a couple of these funds, or hedge funds, that come in for the long term, and the supply of Twitter shares drops quickly. That's why you can get such sharp runs, as demand can quickly outpace supply. In these days where we have social media ETFs launching, those add another bidder as well. Then when Twitter gets added to another index, that index's ETF needs shares. Before you know it, everyone wants in, but the number of shares doesn't really allow it, and prices can spike.
A battle among analysts:
Here's an interesting question to ponder. Let's say you are a wall street analyst that had a price target in the $40s or $50s on Twitter and a buy recommendation at the IPO. When Twitter soared to $70 or so, you changed your rating to Sell/Underperform. If the stock gets back down to the low $50s, do you now have to upgrade the stock to Neutral, or maybe even Buy? We've seen a lot of Sell/Underperform notes on Twitter when it rallied into the $60s and above. Now that shares have come back down, it could be possible that we see a reverse of the negativity.
Interestingly enough, we actually saw a positive note on Twitter from Goldman Sachs this week. The analyst reiterated his Buy rating, and upped his price target from $46 to $65. Here's his main argument:
"Over the course of the past quarter we have seen significant acceleration in the pace of Twitter's product innovation, with nearly 4x the number of enhancements designed to drive user growth, engagement, and incremental monetization as in any prior quarter," Terry notes. "While certainly the result of prior development, we believe this accelerating pace is more indicative of the company's ongoing capabilities now that site stability issues have been resolved."
The analyst did mention that he expects Twitter to be very volatile going forward, but he did raise his EPS forecasts for 2013, 2014, and 2015. A quick look at some other analyst notes show this is the first really positive analyst note on Twitter in nearly a month. I understand that the analysts that have price targets in the $30s will probably keep their Sell/Underperform ratings on this stock for a while, but those in the $40s and $50s might just start to change their tune if the stock drops any further. It will be interesting to see the next couple of reports as we get closer to earnings, currently scheduled for February 5th.
Breaking down expectations:
I wanted to spend a minute on analyst estimates since this could be my last article on Twitter before the earnings report. The following table shows average analyst estimates for revenues and earnings per share as of Tuesday, compared to where expectations stood about two months ago.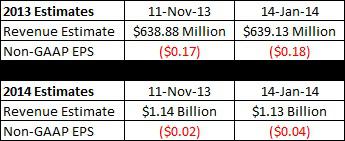 As you can see, all of the estimates have moved, but only slightly. Twitter has not had an earnings report as a public company, so you would figure estimates wouldn't really move until the first public report. I'd be really concerned if estimates had really dropped since November, or intrigued if estimates had really jumped. This earnings report will be the first true test for Twitter, and after that report, estimates will really start to change. I don't expect these estimates to change that much before the report, unless some sort of news breaks before then.
The start of a second run?
When you look at Facebook versus Twitter, there are a lot of differences. The Facebook IPO was a mess, which helped a lot of people learn some lessons that made the Twitter IPO work out a lot better. There is one interesting parallel in stock price movement that might signal this could be the start of a second run for Twitter. Now obviously, Facebook has been public a bit longer, so the timing of the Facebook move was a lot longer.
Let's go back to late 2012 and early 2013. After Facebook fell from grace, the stock hit an intra-day low of $17.55. Facebook shares then went on a run, rallying more than 85% to more than $32. The stock peaked around the time of the Graph Search announcement and earnings. Facebook then dropped as the winter continued and into spring, with shares falling just over 30% to less than $23. From there, it has been up, up, and away. A basic chart of Facebook is below.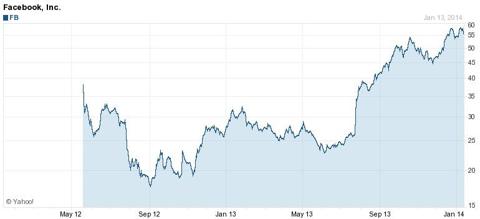 (Source: Yahoo! Finance)
Twitter has followed a similar path, albeit on a much more condensed time frame. Twitter's first run went from a low of $38.80 to a high of $74.73, a rally of almost 93%. Recently, however, the Twitter bubble has burst in a sense, with shares falling nearly 26% at last week's low. Twitter shares are down about $5.50 or so since my latest article. I understand that this data is a very small sample size, but the size of the first move and first drop are fairly close. Facebook shares have more than doubled since the 2013 low. If Twitter were to follow that pattern, shares would be well over $100 a share. I'm not saying Twitter is going to rally that much, but that's where the numbers lie.
Final thoughts:
Twitter has calmed down a bit, but the action might start to heat up soon. The company's first public earnings report is coming, and the first of two lock up expirations happens in February. Twitter shares have come down from their recent highs, which might get us to the point where some analysts need to upgrade the stock. Goldman Sachs just raised its price target due to Twitter's potential. Short interest has raced higher, which could make a short squeeze possible at some point. I'm tagging this article as a long idea because I do think shares will probably go higher into the earnings report, as a few shorts cover and analysts issue some positive reports. Add in the fact that shares are in limited supply, and I think Twitter, like Facebook, could have a second run in it.
Disclosure: I have no positions in any stocks mentioned, and no plans to initiate any positions within the next 72 hours. I wrote this article myself, and it expresses my own opinions. I am not receiving compensation for it (other than from Seeking Alpha). I have no business relationship with any company whose stock is mentioned in this article.
Additional disclosure: Investors are always reminded that before making any investment, you should do your own proper due diligence on any name directly or indirectly mentioned in this article. Investors should also consider seeking advice from a broker or financial adviser before making any investment decisions. Any material in this article should be considered general information, and not relied on as a formal investment recommendation.