Introduction to Imperial Tobacco Group PLC (ITYBY): Imperial Tobacco Group PLC is a tobacco company. Through the Company's total tobacco portfolio it provides consumers a range of brands and products, including cigarettes, fine cut tobacco, cigars and snus. Its total tobacco portfolio includes fine cut tobacco, cigars, rolling papers and tubes. Its non-European Union markets consist of Eastern Europe, Africa and the Middle East and Asia and markets of the United States and Australasia. Its international cigarette brands include Davidoff, Gauloises Blondes and West. It offers services across the whole logistics value chain to its customers, including order reception, storage and stock management, order preparation, transport and distribution, invoicing and collection and customer services. The logistics business has two aspects: tobacco logistics and non-tobacco logistics.
Product Portfolio: The most important brands are separated into Growth Brands and Specialist Brands. Together, they account for over 50% of the company's tobacco net revenue. The remaining brands are local and regional; some of these may be migrated into the Growth Brands if this becomes warranted.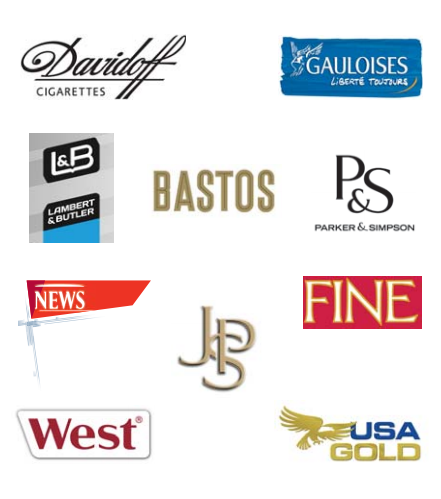 From the 2013 annual report:
Growth Brands include Davidoff, Gauloises Blondes, JPS, West, Fine, News, USA Gold, Bastos, Lambert & Butler and Parker & Simpson.
Even if you, the reader, do not smoke, you may recognize some of these brands. JPS is of particular note, making volume gains in many markets including several in the European Union against a backdrop of weak industry volumes (2013 annual report page 6). Imperial Tobacco also increased the market share of their Growth Brands and grew their revenues by 2 per cent in 2013 (2013 annual report page 6). Growth Brands accounted for 41 per cent of total volumes, an increase of 200 basis points year over year (YOY), and 39 per cent of tobacco net revenue, an increase of 100 basis points YOY.
Specialist Brands include a range of cigarette, fine cut tobacco, paper, cigar and smokeless tobacco brands. Imperial Tobacco is a world leader in fine cut tobacco, premium cigars and papers and holds a strong position in Scandinavian snus. Specialist Brands have strong positions in their own categories and appeal to specific consumer groups. They are: Style, Gitanes (cigarettes), Golden Virginia, Drum, Route 66 (fine cut tobacco), Cohiba, Montecristo, Romeo Y Julieta (premium cigars), Backwoods (cigars), Skruf (snus) and Rizla (papers).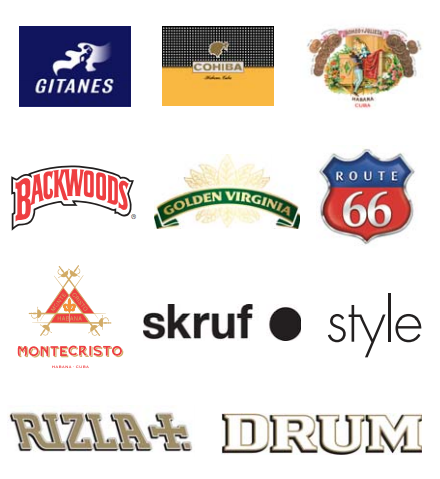 Note such prestigious brands as Montecristo and Cohiba (Cuban cigars) and Rizla, world's number one rolling paper brand. If you are not familiar with roll-your-own cigarettes, Wikipedia has a short introduction. When recently traveling in Europe, I noticed that rolling one's own sigarettes is a fairly common practice. Also notable is presence of a smokeless tobacco product (Skruf), which is enjoying a fast-growing market. Year over year, there has been a 5 per cent increase in Specialist Brands net revenue, with these brands accounting for 12 per cent of tobacco net revenue.
E-cigarettes: The company is pursuing opportunities for growth in other
areas through their new standalone subsidiary Fontem Ventures. Fontem Ventures has initially been focused on entry into the fast growing e-vapor sector and will be launching its own products in 2014. Fontem Ventures has also acquired further e-vapor assets and expertise from Dragonite International, a company founded by one of the pioneers of e-cigarette technologies, which has further enhanced ITYBY's sector potential (2013 annual report page 6-7). Imperial is clearly late to the e-cigarette party, but its impending participation in this market implies additional upside.
Logistics: The company's logistics business is one of the largest of its kind in Europe, with a (according to the company) unique network that is difficult to replicate. The business focuses on providing service to tobacco and non tobacco customers, making around 40 million deliveries every year. Non-tobacco portion of the business includes direct delivery pharma business, lottery business and transport business as well as a wholesale business (2013 annual report page 24).
Valuation: 2013 saw 6% YOY earnings per share growth. Some of this was attributable to share buybacks (please see Shareholder Friendliness below).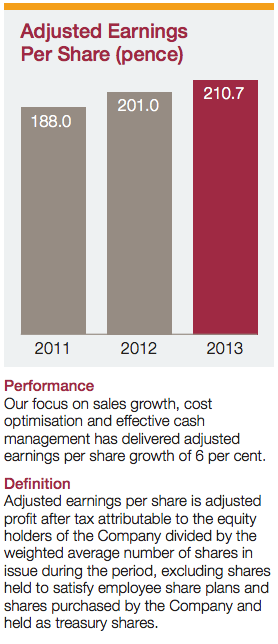 Given the current price per share of 2217 pence, the stock trades at about 10.5 times earnings. This compares favorably to the PE of 15.6 for Philip Morris International Inc ((NYSE:PM)) and to the PE of 15.2 for British American Tobacco PLC (NYSEMKT:BTI). If the market recognizes this relative undervaluation, the shares may experience up to 50% upside.
Free Cash Flow (Net Income plus Depreciation and Amortization plus Non-Cash charges minus CapEx) yield on Enterprise Value (Market Cap plus Debt plus Minority Interests minus Cash and Short Term Investments), it is about 9.2%. This is a very high FCF yield, especially in today's market.
Cash return on invested capital (CROIC, calculated according to the F Wall Street method) is about 16%. This is excellent.
Shareholder friendliness: During the year 2013, ITYBY returned to shareholders £1.6 billion (2012: £1.5 billion), comprising £0.5 billion of share buybacks (2012: £0.5 billion) and dividend payments of £1.1 billion (2012: £1.0 billion).
The company intends to maintain the share buyback program at around £500 million per annum, which is about 2.3% of the current market capital.
The total dividend for the year was 116.4 pence, an increase of 10 per cent over 2012, ahead of the growth in adjusted earnings per share and in line with Imperial Tobacco's dividend policy. At the current share price, the dividend yield is an attractive 5.25%.
At the current share price, the total trailing shareholder yield is therefore 7.55%. Imperial is definitely a shareholder-friendly company.
Sustainability and growth prospects: Tobacco is perceived as industry in decline. But consider the following from Wikipedia:
Currently, there are 1.22 billion smokers in the world.
In the developing world, tobacco consumption has been rising.
It is predicted that 1.5 to 1.9 billion people will be smokers in 2025.
And now directly from WHO: "Consumption of tobacco products is increasing globally, though it is decreasing in some high-income and upper middle-income countries."
For a complete picture of smoking prevalence and trends, please see this infographic from the WHO and read the commentary on the left. The main idea there is that population growth will result in increasing number of smokers.
Risks: Anti-tobacco policies may result in decreased cigarette volumes sold. This is partially offset by growth in smokeless tobacco consumption. For example, Imperial's total group tobacco volumes for the year were 317 billion, compared to 341 billion last year. Also, against a backdrop of weak industry tobacco volumes, distribution fees declined by 5 per cent to £850 million and adjusted operating profit was down by 2 per cent to £176 million. Nevertheless, I believe that these headwinds are temporary and accentuated by still-weak EU economy.
Conclusion: I do not smoke myself nor do I condone or wish to defend smoking. As a physician, I see smoking (as well as other tobacco use) as a significant public health problem. Nevertheless, when considering investability of Imperial Tobacco Group PLC separately from public health concerns, I think it is nothing short of excellent.
Disclosure: I am long ITYBY, PM. I wrote this article myself, and it expresses my own opinions. I am not receiving compensation for it (other than from Seeking Alpha). I have no business relationship with any company whose stock is mentioned in this article.