With the growing automobile industry just beginning to take hold once again, it appears that General Motors (NYSE:GM) will soon get away from the unflattering name it had been given of "Government Motors". While it is obvious that the US government (aka: tax payers) bailed the manufacturing giant out, it is also obvious that the company is a vital part of the US economy, and needed help to survive.
Not only do they employ hundreds of thousands of Americans, but they also enable thousands of small businesses to survive and thrive, and it is not just here in the USA. Take a look at this article.
General Motors Co. dealers delivered 9,714,652 vehicles around the world in the 2013, up 4 percent compared with 2012. Among GM's top five global markets by volume, China and the United Kingdom posted the largest year-over-year sales increases on a percentage basis, with each up 11 percent. GM's China sales set a new full-year record. Sales in the United States increased 7 percent.
This is more than impressive, it is wonderful. Every single person knows that the automobile industry is vital to the US economy, and with the recent sales figures looking good for both Ford (NYSE:F) and General Motors, investors should be watching them very closely to add to any type of portfolio.
Now General Motors Is Paying Shareholders To Own Shares
Not that this announcement came as a shock, nor was it very surprising, but it still is a pleasure to see that GM is once again among the ranks of huge mega cap blue stocks to pay shareholders a very compelling dividend.
"Today's General Motors is designing high-quality, world-class vehicles for our customers and delivering consistently solid financial results," said Dan Akerson, GM chairman and CEO. "The board understands that our investors should share in this success and is pleased to announce a quarterly dividend for our common stockholders."
Dan Ammann, executive VP and CFO (Ammann will become GM President effective January 15th 2014) had this to say:
"Our fortress balance sheet, substantial liquidity, consistent earnings and strong cash flow provide the foundation for an ongoing payout. This return to shareholders is consistent with our capital priorities and is an important signal of confidence in our plans for a continuing profitable future."
The company has announced a $.30/share dividend payable on March 28th, to shareholders of record as of March 18th. on an annual basis, $1.20 per share works out to a current yield on cost of 3.00% based on today's closing price of $40.02/share.
Speaking from a dividend income seeking investor point of view, I am thrilled!
The Balance Sheet And Fundamentals Are Very Strong
Some may argue that a slowdown in China could hurt GM (they are the largest supplier of US cars there), I suppose anyone could say that the sky is falling anywhere at anytime. The facts simply justify the reasons for me, that GM is back and stronger than ever.
Compared to 2012, here are some highlights in 2013:
Chevrolet sold a record 4,984,126 vehicles in 2013, an increase of 19,304 from the previous record set in 2012. Key product launches included the Silverado, named the 2014 North American Truck of the Year, and the Corvette Stingray, named the 2014 North American Car of the Year.

Cadillac's global sales were up 28 percent. The brand ended 2013 as the fastest-growing full-line luxury brand in the United States, with sales up 22 percent following the introductions of the all-new XTS and ATS. In China, Cadillac's sales grew 67 percent to a record 50,005 vehicles. Cadillac broke ground on a new assembly plant in China last year and plans to add one new model per year in the country through 2016.
Buick's global sales were up 15 percent as it introduced redesigns of the LaCrosse and Regal in all of its major markets and added new models in North America, including the Encore crossover. Dealers delivered 1,032,331 vehicles for the best year in the brand's 110-year history. The previous record of 1,003,345 vehicles sold was set in 1984, before the brand entered the China market.
Opel/Vauxhall sold more than 1 million vehicles globally and delivered a slight increase in European market share to the mid-5 percent range, its first in 14 years, following the successful launches of the Mokka and ADAM.
Here are the key fundamentals:
A low forward PE ratio of just 8.70.
A price to book of only 1.97.
A tiny price to sales ratio of .36.
$27 billion in cash and equivalents on hand.
Beta of just 1.70
The auto industry dividend payout ratio average is about 27%, I am assuming that it will be less or about average for GM, meaning increases are likely.
The analysts are weighing in favorably as well: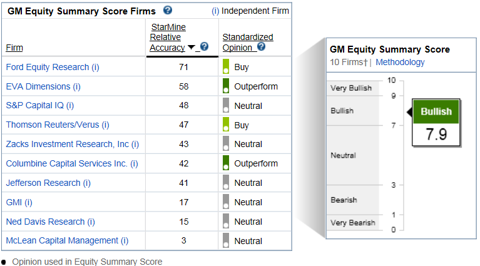 Click to enlarge
Keeping all of this simple, I believe GM is now a great addition to a dividend income portfolio, and the company has all the earmarks of becoming a dividend champ as well.
Of course if an investor would have bought shares when I wrote this article, their yield on cost coming out of the gate right now, would be 5.75%!
I had this to say:
Back in January of 2011 GM shares hit $38.98/share and now it is hovering around $22.00/share. I believe this stock is ultra cheap now and even at $39 bucks it was cheap.
I will say it again; the stock is cheap, and now it pays shareholders to own it!
The Bottom Line
Now that General Motors has announced a 3.00% annualized dividend yield, the price seems right for any dividend investor to get in from the start.
Baseball, apple pie, and Chevrolet!
Disclaimer: The opinions of the author are not recommendations to either buy or sell any security. Please do your own research prior to making any investment decision.
Disclosure: I have no positions in any stocks mentioned, and no plans to initiate any positions within the next 72 hours. I wrote this article myself, and it expresses my own opinions. I am not receiving compensation for it (other than from Seeking Alpha). I have no business relationship with any company whose stock is mentioned in this article.
Additional disclosure: We could add shares of GM to our retirement portfolios at any time.