Auto insurer Progressive Corporation's (NYSE:PGR) earnings for February fell to 15 cents per share from 19 cents in the year-ago period. The decline reflects a decrease in realized gains on securities in the reported month compared with the prior-year period.
The company, which reports earnings on a monthly basis, disclosed an income of $98.1 million, down 22% from $125.7 million in the prior-year period.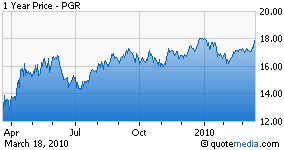 However, net premiums written were up 11% to $1.2 billion while net premiums earned increased 3% year-over-year to $1.1 billion. Realized gains on securities were $11.9 million, down from $43.2 million in the prior-year period.
The premium growth reflects the variability in disclosing monthly results. For example, February 28, which includes six-month renewals from policies written during the last several days of August, falls in fiscal February 2010 versus fiscal March 2009. This has resulted in a favorable impact on the reported written premium growth rates in February 2010 and a negative effect on growth rates for fiscal March 2010.
However, the combined ratio, which reflects the percentage of premiums paid out as claims and expenses, deteriorated slightly to 90.4% from 89.2% recorded in the year-ago period.
Policies-in-force (PIF) was good in Personal Auto and Special Lines, which were up 7% and 2% year-over-year, respectively. In Personal Auto, Direct Auto reported a 15% growth in PIF while Agency Auto was up 1% year-over-year.
However, Progressive's Commercial Auto business still remains a drag on earnings, reporting a 5% year-over-year decrease in PIF. Results reflected the economic slowdown.
Progressive's recurring pre-tax investment yield was 3.5% in February 2010. Reported book value per share was $9.01, up from $8.77 as of Jan 31, 2010 and $8.55 as of Dec 31, 2009. Return on equity on a trailing 12-month basis was 19.2%. During February, Progressive repurchased 0.6 million shares at an average price of $17.18.
Though monthly results show more variability, going forward we expect Progressive to benefit from the recent signs of economic improvement. The company also enjoys a number of positives, including its industry-leading position, strong risk-based capital ratios, underwriting margins and stability and the benefits of cost-containment measures.