JPMorgan (NYSE:JPM) presented Q3 results yesterday and results were mixed. JPMorgan's net income decreased 7% y-o-y from $5.7 billion in Q4 2012 to $5.3 billion in Q4 2013. Net revenues decreased slightly from $24.4 billion in the fourth quarter of 2012 to $24.1 billion in the fourth quarter of 2013 (a decrease of 1%). Lower net revenues and higher taxes were partially offset by lower provision expenses for credit losses which have dramatically improved over the last three years. JPM's credit losses stood at $656 million in Q4 2012 compared to just $104 million in Q4 2013. I have previously outlined that delinquency trends are improving materially in the sector and JPMorgan is no exception. In fact, JPM issued a press release in relation to the dissemination of Q4 2013 and FY 2013 results. The relevant excerpt highlighting JPM's improving delinquency trends is reproduced below:

JPMorgan's reported Q4 2013 EPS came in at $1.30 which compares to ($0.09) in the fourth quarter of 2012 and analyst estimates of $1.35. Overall, results were quite decent and is good to see JPMorgan profiting from lower provision expenses. The bank remains well capitalized with a Tier 1 common ratio (Basel 1) of 10.7%. I see healthy EPS growth prospects for JPMorgan as delinquencies continue to develop favorably and higher US GDP growth provides boosts to JPMorgan's revenue- and earnings picture.
Background
Shares of banking institutions have done reasonably well over the last year as the economy showed signs of improvement and challenges created by the financial crisis were tackled slowly but steadily. US unemployment has consistently improved over the last two years although investors should have known all along that the road to recovery will be a bumpy one. US unemployment data suggests that the US economy continues to slowly dig itself out of the ditch and I expect 2014 to end with an unemployment rate of around 6% (currently around the 7% mark).
Tapering
Tapering will be a good thing for banks. Expansionary money policies have driven interest rates to extraordinarily low levels and extraction of excess money out of the economy will increase short- and long-term interest rates down the road. Increasing interest rates are clearly a positive for financial institutions and a more dynamic operating environment might very well lead to accelerating EPS growth and possibly earnings surprises.
Why you want to own banks
Banks, just as other financial institution, are a cyclical investments. Generally, investors can expect higher business cycle sensitivity with both money center- and investment banks whose earnings thrive when the economy grows at or above trend rate. It ultimately comes down as to what expectations investors have for the US economy.
Just a few days ago Goldman Sachs (NYSE:GS) issued a warning on US equities arguing that the market's historically high valuation may justify at least a 10% correction. I think that the markets have run fairly high and, of course, a correction can happen any time and because of any reason. However, forward earnings multiples for banking institutions clearly aren't inflated (see further below) and still provide investors with a decent margin of safety. Almost all major financial institutions in the banking sector trade at attractive multiples and a potential correction would simply add to their value appeal.
Share performance
JPMorgan returned 25% to investors over the last twelve month but has been an underperformer compared to peers Bank of America (NYSE:BAC), Citigroup (NYSE:C), Wells Fargo (NYSE:WFC) and Goldman Sachs.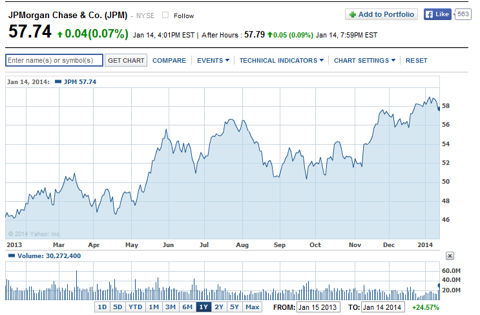 Bank of America shares started to decouple after the company managed to leave some of its mortgage legacy issues behind it. Not surprisingly, Bank of America is the top performing large-cap banking franchise over the last two years with an increase in share value of 159%. Citigroup gained 91%, Goldman Sachs 81%, JPMorgan 65% and Wells Fargo 53%.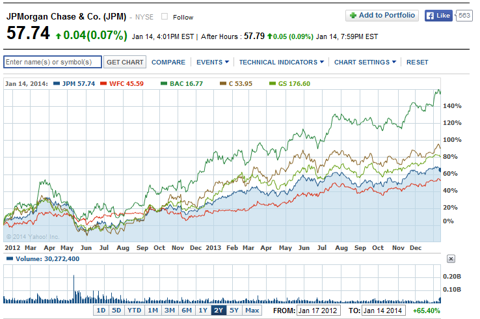 Bank peers equally cheap
One of the most valid reasons to buy banks is simply because they are cheap and because they face attractive earnings prospects as the economy gains momentum. All banking franchises below exhibit attractive P/E ratios. JPMorgan has the lowest forward P/E ratio of all large-cap banks under review: 9.67. The peer group average stands at just 11.10 and indicates that the entire banking group trades at cyclically low P/E multiples.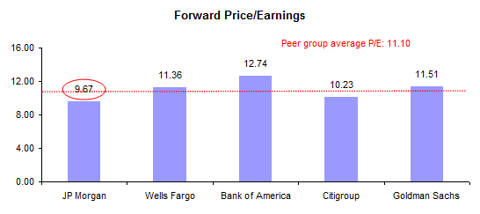 Another metric often used in order to facilitate bank valuation comparisons is the price to book ratio. Bank of America and Citigroup both exhibit P/B ratios of less than one which makes them interesting bargains for P/B-driven investors. JPMorgan trades at a slight premium of 10% to book value and in line with the average company in the peer group.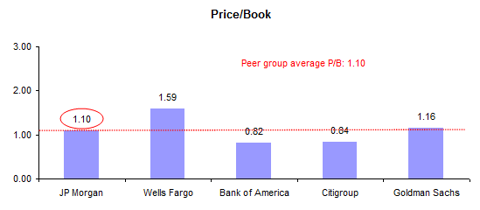 The banks outlined above face stricter capital requirements going forward as well as a tougher regulatory framework. Both themes will require the companies to hold more capital against their assets. Bank of America and Citigroup both were under siege from regulators the last couple of years to bolster up their balance sheet and capital ratios. Consequently, these two banks have had restrictions placed on them with respect to shareholder remuneration and dividend payments.
JPMorgan and Wells Fargo are among the best capitalized companies in the sector and have the highest cash flow yield of 2.63%. Bank of America and Citigroup both have a decent shot in the coming years to align their dividend remunerations with the banking sector which could provide boosts to the share prices of those companies.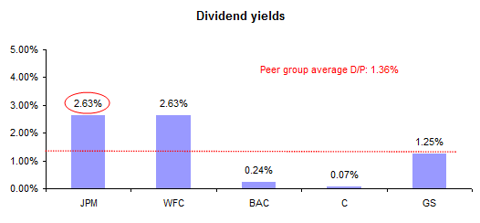 The table below summarizes the three charts from above and depicts the premiums/discounts to the peer group averages P/E, P/B and D/P. Premiums and discounts to peer group averages ratios are a useful instrument in detecting valuation inconsistencies.

Conclusion
JPMorgan is strongly capitalized (Basel 1 Tier 1 common ratio of 10.7% and Basel 3 Tier 1 common ratio of 9.5%), large-cap banking franchise that is well-managed by Jamie Dimon. Under the assumption that the US economy keeps on growing, JPMorgan as well other banking institutions have a high probability of delivering earnings surprises in the coming years. Cyclical investments like money center- and investment banks should do very well for shareholders when the US economy proceeds through the expansion stage of the business cycle. JPMorgan is still one of the cheapest banks in the field as measured by a depressed forward earnings multiple of 9.7 and investors can purchase JPM's earnings prospects at a sizeable discount.
JPMorgan's FY 2013 EPS came in at $4.35 compared to a FY 2012 EPS of $5.20. In a dynamic business environment with higher interest rates, I estimate that JPM can earn around $6-7 per share in FY 2014/2015 giving the shares an even lower forward earnings multiple of 8-9x. I believe JPMorgan could reasonably trade at a forward earnings multiple of 15x in a few years when banking stocks belong to favorite investments of retail and institutional investors. The current earnings multiple of just 9.7 implies 55% upside potential not accounting for meaningful surprises in JPMorgan's EPS performance. Long-term BUY.
Disclosure: I am long BAC, C, JPM. I wrote this article myself, and it expresses my own opinions. I am not receiving compensation for it (other than from Seeking Alpha). I have no business relationship with any company whose stock is mentioned in this article.