Just as stocks are often driven to absurdly low prices due to short-term swings in popularity, people are often promoted or disregarded at the blink of an eye, based on short-term swings in attitude. Few men have endured a perception shift as severe as JPMorgan (NYSE:JPM) CEO Jamie Dimon, who several years ago was seen as the King of his industry and is now almost seen as a pariah, or the last of the swashbuckler bank CEOs that proceeded the Financial Crisis. I view Dimon as an exceptional leader whose biggest mistake was not kissing the ring of a political and regulatory regime that is dead-set on blaming the big banks for all of the problems over the last five plus years, instead of taking an introspective look at the regulatory and political motivations that also were huge contributors to the mess that brought on the Great Recession. Dimon and JPM have made their own mistakes as well and they will continue to do so like any company would of its size, but any sell-off in the stock should be looked at as an excellent opportunity to buy a phenomenal business for the long-term. While the legal woes aren't over for JPM, the future looks much brighter than the recent past and I'd be a buyer of both Dimon and JPMorgan stock moving into the future.
JPMorgan possesses one of the top two Consumer & Community banking franchises in the United States and probably the best Investment Bank. JPM is a money-making machine with tremendous business diversification and scale. Only a handful of companies around the world could have survived the "London Whale", Madoff and the other countless civil claims that have pervaded the courts over the last five years. The same size and strength that make JPM the Moby Dick of the banking world will also enable the company to produce outsized profitability and earnings growth. Consolidation in the banking industry has increased both the market share and the moat of JPMorgan and its peers. While the increased capital requirements and stricter regulatory guidelines are a headwind to attaining returns on equity in excess of 20%, which was possible for some of the large banks prior to the Financial Crisis, the same changes have also helped build a stronger and safer bank that is more able to withstand a major financial crisis in the future. Returns on equity of 15% and slightly higher are very attainable for JPM and the stock is poised to continue going higher as Dimon & Company execute on their business plan.
On January 14th, JPMorgan reported 4th quarter and full year 2013 financial results that were quite strong despite an absolutely brutal year in terms of litigation and penalties. Full year net income was $17.9 billion, or $4.35 per share, on revenue of $99.8 billion. Pre-provision profit was $26.139 billion, which was down from $32.302 billion last year, largely due to the legal settlements. Obviously, the decline in reported profitability impacted returns on equity and assets. JPM's ROE for the full year was 9%, while the ROTCE was 11%. These figures were down from 11% and 15%, respectively in 2012. The large bank's return on assets was 0.75% and its return on risk-weighted assets was 1.28%, which were down from 0.94% and 1.65%, respectively, in 2012. JPM's business mix is quite different from Wells Fargo (NYSE:WFC) for instance so comparing the two banks isn't an apples to apples comparison, but Wells Fargo's ROA in excess of 1.5% is quite impressive, and highlights the lower risk business model that it employs versus its competition.
For the 4th quarter, JPM reported net income of $5.3 billion, or $1.30 per share, on revenue of $24.1 billion. 4th quarter net income would have been $1.40 per share if not for the following items:

Source: JPM 4th quarter investor presentation
Pre-provision profit in the 4th quarter was $8.56 billion and I believe that in a normal year, $40 billion in pre-provision profit is well within reason. JPM's ROE for the quarter was 10%, while the ROTCE was 14%. ROA was 0.87% and return on risk-weighted assets was 1.51%. The bank grew Consumer Community Banking deposits by 8% in the 4th quarter, while client investment assets were up 19%. General purpose credit card sales volume growth has outperformed the industry now for 23 consecutive quarters, highlighting the fact that JPM is picking up market share due to strong performance and consolidation.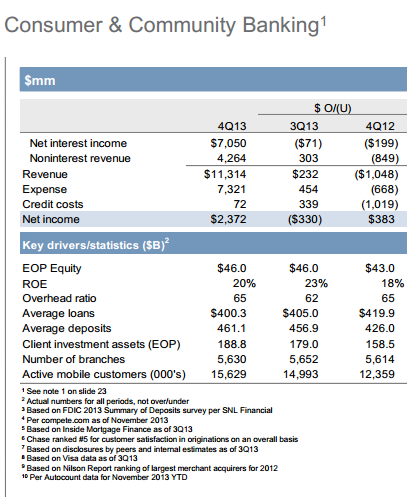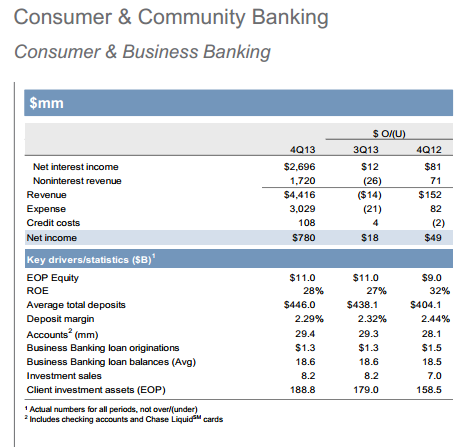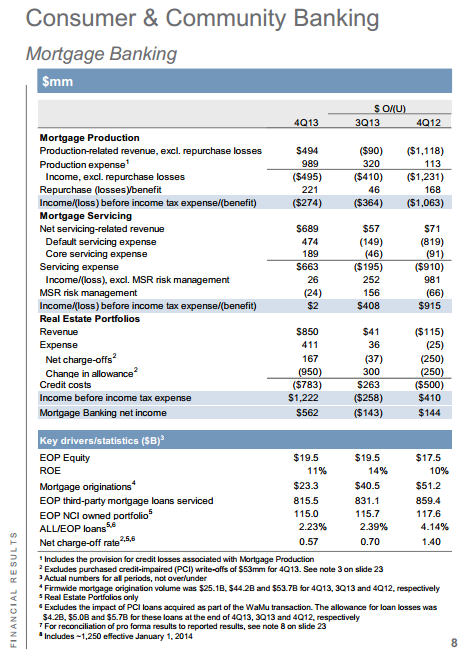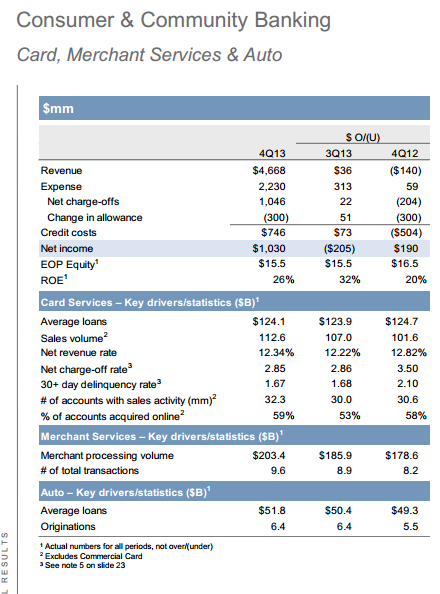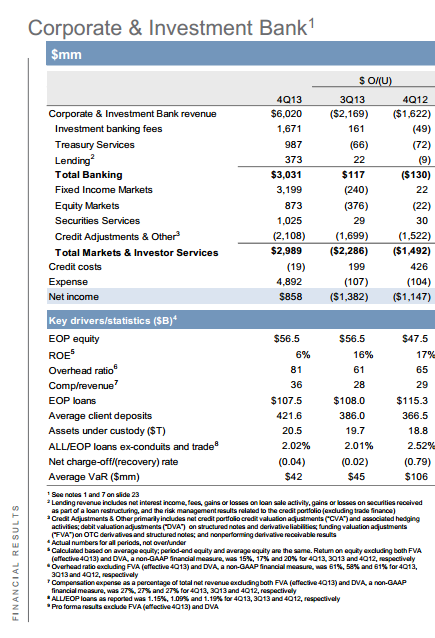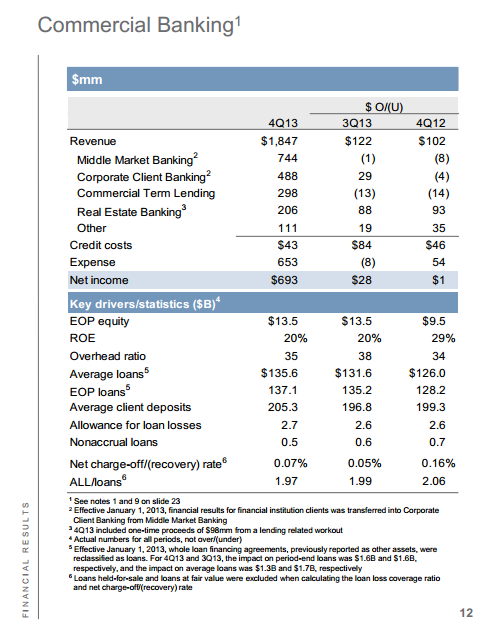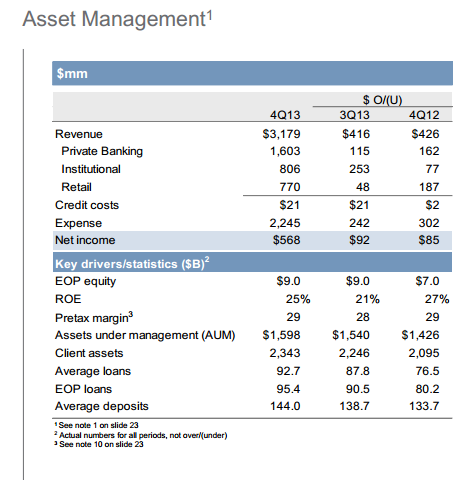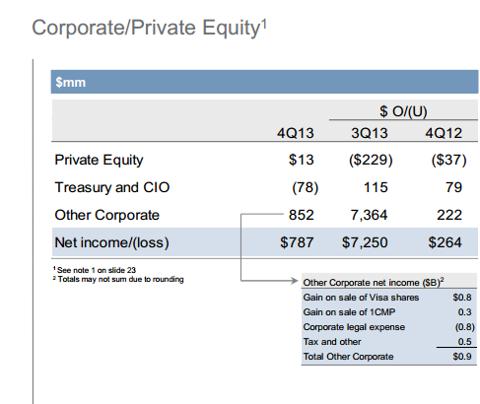 Source: JPM 4th quarter investor presentation
As of 12/31/13, JPM reported a book value of $53.25 and a tangible book value of $40.81. These numbers were up from $51.27 and $38.75, respectively, from the same time last year. Based on 3.7911 billion diluted shares outstanding and a recent price of $57.74, JPM has a market capitalization of $218.9 billion. JPMorgan's balance sheet is still exceptionally strong with a Tier 1 capital ratio of 11.9%, a Total capital ratio of 14.3% and a Tier 1 common capital ratio of 10.7%. The estimated Basel III Tier 1 common ration stood at 9.5% at the end of the 4th quarter. JPMorgan should earn between $5.50 and $6.00 on a normalized basis and I believe that adjusted for dividends, book value can grow by roughly 12% per annum. The current stock price is right around 10 times forward earnings and 1.1 times book value, which is too cheap for a bank as well financed and profitable as JPMorgan. I believe that 10% per annum returns seem very reasonable assuming the multiple stays the same ; I don't believe it would be shocking to see the multiple expand to 1.5 times book value, as market participants develop a greater appreciation for the bank's future prospects.
I believe that Jamie Dimon will have to be fairly conservative with the CCAR process, as regulators aren't likely to give the company too much leeway to increase the dividend and stock buyback program in light of the headline issues that have plagued the bank of late. This is unfortunate, but the important thing is that retaining capital will only enhance JPM's financial fortitude, setting the stage for future enhancements to the dividend and stock buyback program. Short-term analyst concerns surrounding declining demand in mortgage origination have clouded the fact that JPM benefits from incredible diversification throughout its various business lines. The dramatic growth in deposits over the last several years has JPM's net interest income ready to propel dramatically higher, when interest rates do finally tick meaningfully higher, as the balance sheet is asset sensitive and deposits will re-price much more slowly than the asset side will adjust positively. Clearly, JPM was a better buy several years ago, but on a relative basis, I believe investors buying JPM at current prices should do reasonably well, with less risk than buying just the S&P 500 at current prices.
Disclosure: I am long JPM, WFC, . I wrote this article myself, and it expresses my own opinions. I am not receiving compensation for it (other than from Seeking Alpha). I have no business relationship with any company whose stock is mentioned in this article.