SodaStream (NASDAQ:SODA) recently provided guidance for the 2013 year. Revenue was $562 million, which is shy of the $567 million expected from analysts. However, the big miss came in terms of earnings. The company believes it will achieve $41.5 million in net income, which is 23% off from the $54 million analysts were expecting.
In light of this news, the stock fell nearly 25%. The gross margins fell considerably, which seems to be the primary concern for investors. According to the CEO, this decline was due to a couple of reasons, but the biggest was the need to lower prices in order to compete in the market.
With the fall in the share price, SodaStream now has a market cap of about $770 million. I believe this presents an unique opportunity that could help investors make a quick profit by using options.
Below is a proforma statement I created using a back of the envelope calculation to show what the SodaStream's market cap would be under a certain scenario.
My proforma assumes a revenue CAGR of 20%, which is lower than the 27.93% seen in the previous three years. Revenue from 2012 to 2013 grew nearly 28%, so its safe to say my estimates are conservative.
If we assume gross margins on the low end, which is 53.90%, the company would make in proforma 2 [year 2015] $56.4 million.
We then use various multiples to understand what the value would be. At a 14 P/E, the market cap would be around $789 million. Now I can't predict out P/E multiples, but given the current CAGR of SodaStream, I believe a 13 P/E is reasonable.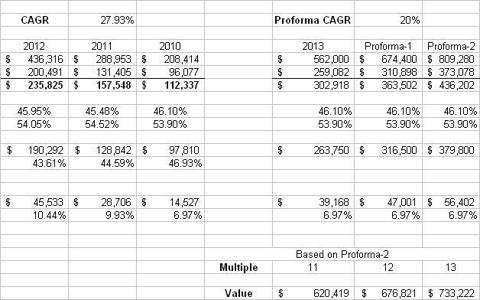 So why is this information helpful?
Well it basically helps determine how much risk there is in the investment. The idea we will be implementing is quite simple. We would be selling deep in the money covered calls at a price we are comfortable with.
If you look at the Feb 2014 $35 call price, it is trading at $4. So for every call we sell at $35, we make $400. However, keep in mind, since it's in the money, we must factor in the current share price. So in reality, we would make around $155. Based on the initial investment price of $37.40, that is about a 4% return in a month.
So there are two scenarios here. One is if the stock is at $35 or more, you will get called and make your 4% profit. If the stock is below $35 at expiration, you will now be holding the stock. At this point you could sell another covered call. You might still be able to sell for a profit if the share's total value doesn't decline more than a $155.
However, looking back at the chart, you can see that based on the assumptions, the fair market value of the stock is $733 million. Again these are just simple assumptions, but they are reasonable given the previous performance of the company.
At a $35 price, the stock would have a market cap of $724 million, which is still less than the proforma estimates. So I would be comfortable holding this stock if the stock was below the strike at expiration.
This strategy is a quick way to make 4%, but there is always a possibility that the stock could decline further. The reason I like this stock at this price is because management has already announced what earnings will be. There really is not much news coming out until the next earnings season. Most of the current news has been digested by the market at this point, so there is enough cushion that exists. However, investors must be willing to hold the stock in case the trade turns the other way.
Note: Returns do not factor in commissions and taxes.
Disclosure: I have no positions in any stocks mentioned, and no plans to initiate any positions within the next 72 hours. I wrote this article myself, and it expresses my own opinions. I am not receiving compensation for it (other than from Seeking Alpha). I have no business relationship with any company whose stock is mentioned in this article.