See part I of this article here.
In this article I will attempt to articulate why Rockwell Medical (NASDAQ:RMTI) is a top stock pick for me in 2014 and why investors should take advantage of any weakness. I have been following RMTI since the $3.50 - $5.00 level. I suspect that many followers missed the boat when the stock went from $3.00 to $6.00, then from $6.00 to $11.00 and then again from $11.00 to almost $16.00. That was a spectacular run that may have gotten a little ahead of itself. Remember that developing and then delivering new drugs and products to the market takes some time. There's a process and it doesn't happen overnight. Patience eventually prevails.
Let me step back and first say that what we have today is an "aging population growth story," where I have had a knack for finding these types of companies in the past. If you believe in the concept of "Aging In America" whereby the boomers are getting older and will need more health care in the coming years, then you should keep reading. The days of increased numbers of old-age diabetes patients are on the rise and exponential growth in new dialysis center openings is fast upon us. This sector in health care is one of the best areas to invest in with the growth being in companies like DaVita (NYSE:DVA) and Fresenius (NYSE:FMS) worldwide. Even Warren Buffet might agree? If you haven't seen the news, Buffet's firm Berkshire Hathaway (NYSE:BRK.A)(NYSE:BRK.B) disclosed that it has increased its stake in DaVita HealthCare and currently owns 36,461,294 shares in the company. Buffet has been building the DaVita position in each quarter since the fourth quarter of 2011.
The way Rockwell Medical fits in is because DaVita and Fresenius are two of its top companies that it supplies products. I believe that they are in the right business at the right time. Rockwell Medical's soluble ferric pyrophosphate (SFP) or TriFeric drug, currently under development, and who I have written about in detail before, will soon become a game-changer; or what is referred to as a new "standard of care."
Make no mistake, the smart money investing in Rockwell right now are investing in TriFeric before it becomes the "standard of care" for iron replacement therapy in end-stage renal disease (ESRD) patients on dialysis treatment. Rockwell stands to benefit substantially from a $600M market in the U.S. alone, as well as, $1B or more in sales worldwide once approved. We are still on the ground floor of this opportunity.
Research suggests that the market demand presents us with a an excellent growth opportunity, with the number of dialysis patients in the U.S. alone expected to rise to almost five-fold (5X) to over 2M patients by 2030, at a 8% - 9% CAGR. This of course is primarily due to an aging population and increased prevalence of type 2 diabetes which is on the rise. Given that there are about 2.3M-2.5M dialysis patients worldwide (five times more than in the US), the long-term opportunity is very encouraging for long term shareholders who can see the writing on the wall like me. My advice is to stay focused on the Big picture here; the dialysis business is booming.
CEO and CFO Recent Stock Buys
In some recent Form 4 stock filings:
Robert L. Chioini, Founder, Chairman and CEO; Spent (out of pocket) $420,000 by exercising 105,000 shares at $4.05.
Thomas E. Klema, CFO; Spent (out of pocket) $121,500 by exercising 30,000 shares at $4.05
Obviously these two key insiders wouldn't be buying stock if they didn't believe in what they were doing, so I will take this as an investment of good faith.
New RMTI Chart
The chart has consolidated the move from $5.00 to $15+ and a reversal in the price of the stock is now pending.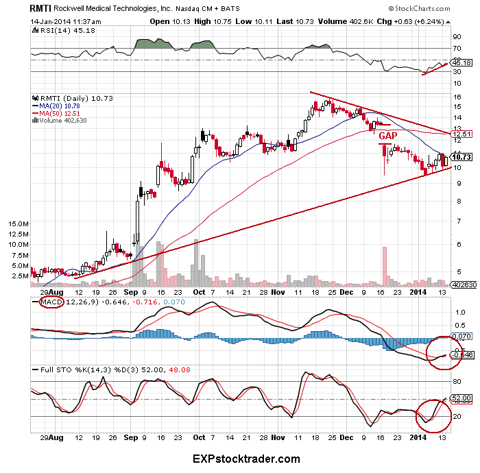 Upcoming Catalysts
First, Rockwell is preparing to launch its FDA approved generic drug Calcitriol, to treat secondary hyperparathyroidism in dialysis patients. The company is waiting for FDA manufacturing approval to get started on the launch by addressing an estimated $350M U.S. market. Calcitriol (active vitamin D) injection is indicated in the management of hypocalcemia in patients undergoing chronic renal dialysis. It has been shown to significantly reduce elevated parathyroid hormone levels. Reduction of PTH has been shown to result in an improvement in renal osteodystrophy.
Second, the company is highly focused on filing an NDA for TriFeric sometime in the first quarter. This is the real Piece de resistance (most important event) with regard to investing longer term with Rockwell.
The primary objective is to have every piece of data put together in the tedious process to file the NDA. What this entails is that every piece of the clinical data needs to be checked and re-checked from A-Z. This is not just one event. There are many events that need to be aligned with the clinical data and the whole story with sound data has to be top notch. I can assume that Rockwell and its highly experienced team has met with the FDA on a few occasions to make sure that the NDA will cover all of the details to satisfy the FDA's strict requirements and guidelines to ensure approval.
Next, once the NDA is launched we should see a spike in the shares followed by a steady run-up in the valuation of the shares as evidenced by about 90%-95% of the companies that file new drug applications with the FDA.
Also, let's not overlook that Rockwell will be presenting at the JP Morgan Healthcare Conference, January 13 - 16 in San Francisco, California. Along with its presentation I suspect that the company will also be conducting about 35 - 40 private break-out sessions as well.
Execution Risk
The risk here is not getting its products approved. As it relates to TriFeric, the company doesn't believe that there will be any reason for the FDA to hold them up because of the added treatment care benefits and cost savings involved.
Upgrade Summary
RMTI has been the subject of a number of other recent research reports:
Summer Street raised their price target on shares of Rockwell Medical from $20.00 to $25.00 in a research note to investors on Thursday, September 5th. They currently have a "Buy" rating on the stock.
Craig Hallum initiated coverage on shares of Rockwell Medical in a research note to investors on Friday, September 13th with a "Buy" rating and a $16.00 price target on the stock.
Last Friday, September 27, Stifel Nicolaus increased their target price on shares of to $18.00.
The company presently has a consensus rating of "Buy" and a consensus average price target of over $19 based on the last three upgrades from Craig Hallum, Summer Street and Stifel.
In Conclusion
If and when Calcitriol is approved for the launch (which can happen at almost any time now) I anticipate that we could see a $1.50 - $2.00 pop in the stock. Now, as far as TriFeric goes, this could be the start of another paradigm shift as its newest product takes the market share fast from its competitors. I believe that execution will be key. Rockwell has the management team in place, the very best relationships in the industry, and the experience to launch its way into a world-class company.
Disclosure: I am long RMTI. I wrote this article myself, and it expresses my own opinions. I am not receiving compensation for it (other than from Seeking Alpha). I have no business relationship with any company whose stock is mentioned in this article.