Annaly Capital Management, Inc. (NYSE:NLY) owns, manages, and finances a portfolio of real estate related investments in United States. The company invests in mortgage pass-through certificates, collateralized mortgage obligations, agency callable debentures, and other securities representing interests in or obligations backed by pools of mortgage loans. It also invests in agency debentures issued by Federal Home Loan Bank, Freddie Mac, and Fannie Mae; and offers diversified real estate, asset management, and other financial services.
I believe there are many questions that need to answered before Annaly should be considered for an investment.
Is the dividend safe?
Annaly has a history of paying hefty dividends over the years; however company profits and the share price have been in steady decline since September of 2012.
Net income for Q3 2013 was $174.4M or $0.18 a share versus $214.3M or $0.22 for Q3 2012. The company states the reason for the drop was a reduction of $20B in average interest earning assets. The last dividend paid was $0.35, versus $0.50 from the year ago period.
Can this company continue to pay out a 12% dividend with declining profits? In my opinion the dividend will be cut again on the next earnings report. Investors should not buy a stock for the dividend alone.
A yield over 10% usually signals some type of red flag in an individual stock; however REITS have a history of higher dividends. Investors that have experienced dividend cuts know this simple truth. Has the market forecast this dividend cut all along?
Let's take a look at this weekly chart.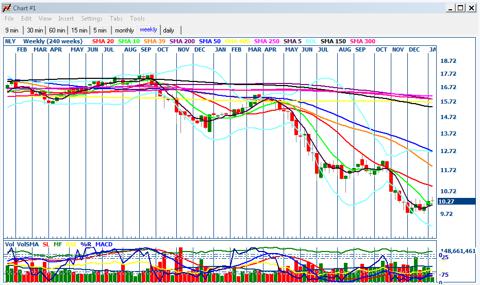 By examining this weekly chart, one can see that Annaly has been in steady decline along with the dividend since September 2012. While it may appear the stock is bottoming, traders realize that bottoming is a process. A sudden rise in interest rates could significantly erode Annaly's profit margin. Is the improving economy telling investors the direction of future interest rates?
Below is a comparison chart of the 10 Year US Treasury: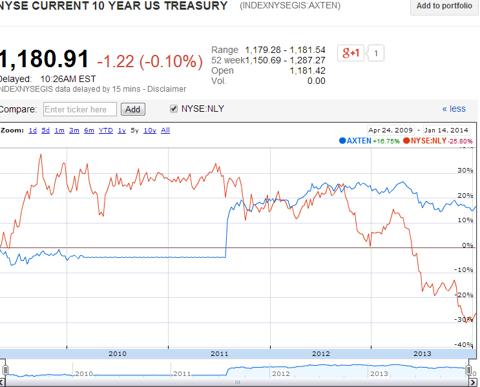 On this 5 year chart, you can see Annaly and the NYSE 10 Year US Treasury traded close to parity from mid-2011 to September of 2012, when the stock made a sharp break to the downside. In my view, this was a clear sign to exit the trade.
Will real estate sales heat up with the traditional spring buying season? As a real estate broker, I speak from experience; spring and summer in California can generate sales and price increases that can be dramatic. I understand the Fed wants to keep rates low, but the real estate market will be a big factor in the direction of rates going forward. Any dynamic rise in Real Estate sales will signal a swift corresponding rise in interest rates.
What happens if we witness a 15% correction in the stock market, combined with weaker than forecast real estate sales? We could possibly see mortgage rates back under 4% for an extended period of time. That type of scenario will not bode well for Annaly, or its peers. I forecast new lows on the horizon.
A look at funds from operations
Another metric by which a REIT can be evaluated is funds from operations, or FFO. On the surface, this metric shows a 120% gain, a huge improvement from the prior quarter. This warrants further research to verify if these numbers are an anomaly or substantive.

Funds from operations can give an investor a better idea of a company's earnings. In my view, it's crucial to combine with investing activities for a clearer picture. A REIT's financial structure can be confusing to regulators and accountants, as well as investors. When examining investing activities we see a slightly different story.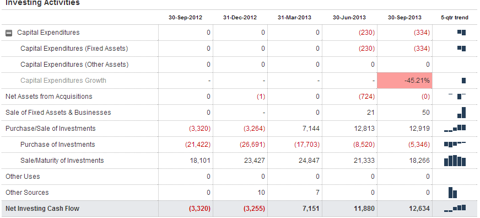 In the graph above, potential investors see -45% in the capital expenditure column. These numbers can be manipulated by timely purchases or sales of maturities. In this case the company's average Interest Earning Assets decreased by $20.8 billion during the quarter ended Q3 2013, compared to the same period in 2012.
In this particular balance sheet analysis, the funds from operation warrants further research. The massive differences in operating cash flow over the last three quarters require additional analysis. In my opinion, another component needs to be addressed for more clarity.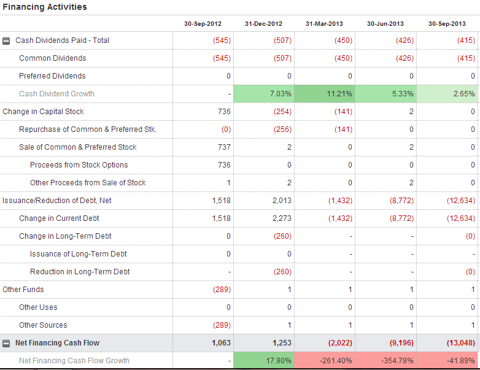 The graph above indicates a picture in time. The graph shows a cash dividend of $415M, with growth at 2.65%. The company issued 12.63M in new debt and the net financing cash flow is -41.89%.
Accounting clarity
When I examine the balance sheet, I see possibilities for concealment and confusion. What is going on here? The company continues issuing new debt and appears to be financing the dividend. This is not good news for shareholders. The business continues to take massive losses on interest rate swaps. In my opinion, Annaly Capital Management, Inc. is clearly facing downward momentum, with no clear end in sight. Investors would be wise to take a couple of hours at a minimum and examine several of the company's reports. Click here to see the most recent 10q.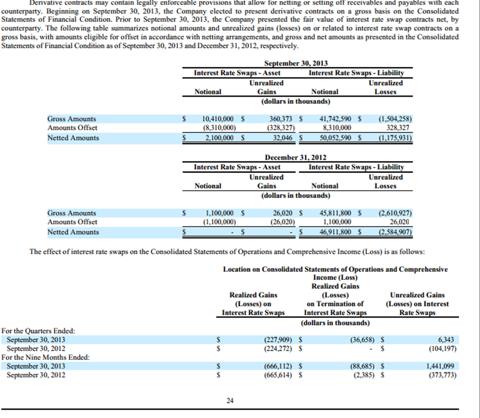 If you read the top paragraph of this clip, you will note that Annaly is changing the way they present their derivative contracts. What is the reason for this? The company appears to be under water on several of their investments. Another major loss on interest rate swaps for Q4 will be a sell signal.
Here is an excerpt from page 32 of the 10q:
As of September 30, 2013 and December 31, 2012, the Company entered into interest rate swaps to pay a fixed rate and receive a floating rate of interest, with a total notional amount of $52.2 billion and $46.9 billion, respectively.

As of September 30th the company had pledged collateral of $75.9B for repurchase agreements and interest rate swaps. AS of September 30th 2013, the interest rate swaps had a negative value of $1.1B.
That is a large sum of money. How long can the company carry that unrealized negative interest expense on the balance sheet?
Economic interest expense and the cost of interest bearing liabilities
Annaly's largest expense is the cost of Interest Bearing Liabilities and interest expense on interest rate swaps. The company posted average Interest Bearing Liabilities of $82.4 billion and total economic interest expense of $373.4 million, which includes $227.9 million in interest expense on interest rate swaps, for the quarter ended September 30, 2013. That is an increase of a 3M from the prior year.
It is getting more expensive for Annaly to service the interest on the swaps. They appear to be selling interest bearing securities to reduce their risk, yet at the same time they are reducing the income available to pay down the negative value of the swaps. In my investment thesis, this is a red flag.
Questionable investments
I encourage every investor to always read a quarterly and annual report before putting money at risk. The deeper I look into this company, the more red flags I see. Annaly can deploy up to 25% of their available capital in investments with substantial risks.
This following paragraph is from the 10q:
At September 30, 2013, the Company's available-for-sale equity securities represented shares of Chimera Investment Corporation (NYSE:CIM), which are reported at fair value. The Company owned approximately 45.0 million shares of Chimera at a fair value of approximately $136.7 million at September 30, 2013 and approximately 45.0 million shares of Chimera at a fair value of approximately $117.4 million at December 31, 2012. At September 30, 2013 and December 31, 2012, the investment in Chimera had unrealized losses of $2.1 million and $21.5 million, respectively.

The Company also held shares of CreXus prior to its acquisition, which closed during the second quarter of 2013. The Company owned approximately 9.5 million shares of CreXus at a fair value of approximately $116.7 million at December 31, 2012. At December 31, 2012, the investment in CreXus had an unrealized loss of $8.7 million. Upon its acquisition of CreXus during the second quarter of 2013, the Company recorded an $18.9 million loss on its investment in CreXus as an offset to goodwill.
Annaly is taking an $18.9M loss on CreXus and using it as an offset to goodwill? That seems quite subjective to me as an investor; goodwill can be misleading. The management of this business model continues to issue convertible notes, at a rapid rate creating layered, confusing debt. It appears the company's losses are being masked by capital raises, and highly technical accounting; all red flags for investors.
Institutional selling
Institutions sold over 50M net shares according to Yahoo Finance. This is never a good sign for the individual investor; as the probability exists that the institutions know more than the average investor.
Agency debentures
Here is the definition on Investopedia: "Debt issued by a federal agency or a government-sponsored enterprise or GSE for financing purposes."
These types of debentures are not backed by collateral, but by the integrity and credit worthiness of the issuer. Officially, agency debentures issued by a Federal Agency, such as the Tennessee Valley Authority, are backed by the full faith and credit of the United States government. Agency debentures issued by a GSE are backed only by that GSE's ability to pay.
The agency debenture market is very large. At one point in the late 1990s outstanding agency debt comprised primarily of the debt issued by Fannie Mae and Freddie Mac nearly surpassed the amount of debt issued by the U.S. Treasury. Some feel the GSEs have an unfair funding advantage over publicly or privately held corporations, and that the amount of GSE debt and their corresponding investment portfolios pose too much risk to the entire U.S. financial system.
Bottom line
Annaly Capital Management, Inc. has a confusing balance sheet. Though they may look cheap, they are involved in various financial instruments, and investments that carry substantial risk. The dividend along with the market cap is dropping. The cost of carrying the interest on the swaps alone is currently costing the company $277M per quarter.
The economy is telling us that interest rates could very well be on the rise, which poses significant risk going forward. Annaly is leveraged, the question is how levered are they? The most recent 10q states 5.4 to 1, and generally no more than 12 to 1. Margin is a dangerous game when dealing with derivatives; I believe this company has some financial issues that are being covered up by complicated accounting. Though the stock may bounce from this level, I would advise investors to stay clear of Annaly Capital Management, Inc.
As always, I encourage investors to read the annual reports, do your research, make sound unemotional decisions, and always have an exit strategy in place.
Disclosure: I have no positions in any stocks mentioned, and no plans to initiate any positions within the next 72 hours. I wrote this article myself, and it expresses my own opinions. I am not receiving compensation for it (other than from Seeking Alpha). I have no business relationship with any company whose stock is mentioned in this article.