T-Mobile US, Inc. (NASDAQ:TMUS) is the fourth largest player in the U.S. telecommunication industry, with 45 million total subscribers. I remain neutral on the company because I believe it cannot keep up its subscriber additions and sustain the prevalent price war for a longer period of time. I think Verizon Communication (NYSE:VZ) and AT&T, Inc. (NYSE:T) are more suitable choices for investment in the telecommunication sector with high quality networks and hefty free cash flows. Furthermore, they also offer attractive dividend yields.
In the last year, the company's stock price was up by 70% as it managed to add 4.4 million subscribers in 2013. However throughout the year it failed to meet earnings expectations and delivered a negative earnings surprise as shown in the table below.

Source: Yahoo Finance
The company is also highly leveraged, which is another reason why I do not believe that TMUS is a good investment opportunity; the high leverage is shown in the table below. Among its peer companies, VZ has the highest debt-to-equity ratio because it recently acquired a 45% share of VZ Wireless for $130 billion. Also, TMUS does not offer any yield, which gives its peers an edge in attracting income-seekers.
| | | |
| --- | --- | --- |
| Companies | Total debt to equity | Dividend yield |
| T | 88.93x | 5.47% |
| VZ | 283.38x | 4.44% |
| S | 126.69x | - |
| TMUS | 168.74x | - |
Source: Reuters.com
Subscriber Growth
In the past year, the company managed to turn around its subscriber trend by adding 4.4 million new customers, but I believe it would be difficult to repeat the same growth in postpaid subscriber base, as other carriers have now started to respond to TMUS' strategies. Recently, T offered to give $450 worth of credit to TMUS customers for switching to T. Sprint (NYSE:S) offers some great family packages along with exciting unlimited data plans. In reply to T's offer, TMUS offered $650 worth of credit to any customers switching from any other incumbents.
However, it is important to understand that these price wars could result in lower margins and declining revenues for the industry. VZ and T are the telecommunication giants that enjoy superior quality and an extended 4G-LTE framework. Also, both have deep pockets with ample free cash flows, which means they can sustain these price wars for a longer period of time. Also, these brands enjoy more customer loyalty due to their improved network quality. So, I believe Sprint will suffer more in terms of customer loss but on the other hand T's and VZ's churn rates will remain stable and there will be no big surprises for investors in 2014.
Low Bandwidth Spectrum
The company raised $4 billion last year in November to buy a low band spectrum, which will not only help improve its services in urban markets but expand its coverage in rural markets along with lower roaming costs. Finally, TMUS has made the deal with Verizon Communications to purchase low-band spectrum for $3.3 billion. I believe this is an important step for the company as the low band spectrum is valuable because of its scarcity, as 75% of these are controlled by the two telecommunication giants, VZ and T. Due to its better traveling ability, customers will enjoy an improved network experience and it comes at a time when TMUS is adding large postpaid subscribers. Furthermore, the company has said that it will continue to look for future opportunities to expand its lower spectrum position in the market.
However, there are some impediments to the deal. Firstly, the company will need to spend a significant amount of money to deploy the spectrum. A senior analyst at Wells Fargo estimated that the cost would be around $1 billion. So the total estimated cost will reach beyond $4 billion, the amount initially raised for the transaction. Secondly, channel 51 uses the same airwaves in certain markets, which I believe will remain a concern.
Possible acquisition of TMUS by Sprint
Although the acquisition of TMUS by S will help the combined company to increase its scale and customer base, which will help it leverage its large spectrum position and further enhance the current price competition. But I believe the acquisition of TMUS is not a great idea because it is expensive, based on the multiples of EV/EBITDA, and most importantly it is on the rise. It is currently trading at the multiple of 8.2x, which is on the higher side among its peers and it is expected to push up further given the high capital expenditures it incurs in a bid to remain competitive and aggressive against its peers. So such values are not justified in a competitive and capital intensive industry. Another important concern for the investor is the expensive funds S has to raise to acquire TMUS. Both of the incumbents also operate on different technologies so it would be more costly to combine.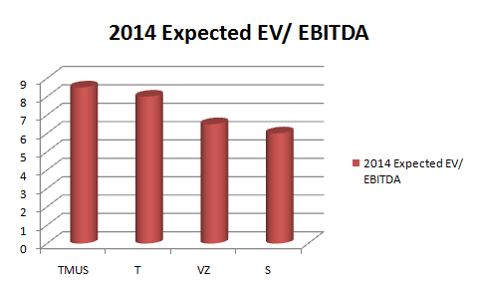 Source: Estimates
Given the slow growth in the wireless sector, it is obvious that companies are looking to consolidate to drive growth and increase their subscriber base, but nothing has changed since the FCC rejected the acquisition of TMUS by T. Both S and TMUS are primarily responsible for the price wars within the industry that will be discussed later in the article; a potential merger could remove the low-price incumbents from the industry. Finally, the merger could result in the concentrated spectrum holdings, which could change the dynamics of the industry in the long-run with the increasing demand of data. The table below shows the spectrum position in the top 50 markets.
| | |
| --- | --- |
| Companies | Spectrum |
| TMUS+S | More than 275 MHz |
| VZ | Nearly 110 MHz |
| T | Nearly 110 MHz |
Source: Company Data
Conclusion
I do not believe that TMUS can emerge as a winner out of the current price wars, as it does not enjoy superior network quality. It also has limited outreach of 4G-LTE technology as compared to its competitors. TMUS is trading at the top end of its 52-week range and I believe the company is overvalued as indicated by the higher expected 2014 EV/EBITDA ratio. Moreover, the company does not offer dividends whereas its peers have long and increasing dividend histories.
Disclosure: I have no positions in any stocks mentioned, and no plans to initiate any positions within the next 72 hours. I wrote this article myself, and it expresses my own opinions. I am not receiving compensation for it (other than from Seeking Alpha). I have no business relationship with any company whose stock is mentioned in this article.