Despite all the problems facing automakers, Oxford Economics forecasts that motor vehicles will be the fastest growing industry in the US over the next five years, displacing medical devices which will drop out of the top 10 growth industries list. We are pleased to offer a complimentary download of Oxford Economics Sector Prospects Briefing for the US.
Oxford Economics forecasts annual growth of 16.4% for motor vehicles for the next five years. The sector had the worst performance in 2009 with a 41.6% decline. Other sectors with double digit growth forecast for the next five years are Iron and Steel (15.0%), Electric Components, Computers and Office Equipment, Motor Vehicle Bodies and Parts and Casting.
Tobacco is forecast to be the biggest loser in the next five years (-3.2%), with Garments, Leather goods, Textiles and Ceramics also in negative territory. (Click to enlarge)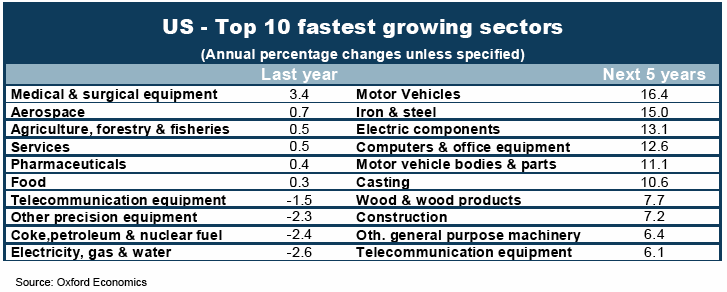 Other highlights:
Construction is expected to be flat this year before rebounding to around 11% growth in 2011 and 2011.
Total manufacturing growth is forecast at 4.9% over 2000-2014, reversing an average of -1.5% in 2005-2009.
Services are expected to grow at 0.5% this year, rising to 3.4% in 2011 before stabilizing at 2.3-2.6% for the next several years.