My 6th article. Have confidence!
I recently heard about Google's (NASDAQ:GOOG) plan to implement a music streaming service on YouTube, and since I hadn't previously learned about it, figured others might not have, either. This service could be a catalyst for future growth, negatively impact Sirius (NASDAQ:SIRI) and Pandora (NYSE:P), and hamper Apple's (NASDAQ:AAPL) attempts to enter internet radio. I see this move as a small positive growth driver for Google, while also serving as a small to medium-sized negative for Sirius, Pandora, and Apple. Then again, the service could completely fail to gain traction, a la Google+.
Much of what is known about the service is speculative; Google is keeping things tightly monitored, so until it confirms and announces the service, we cannot be 100% certain of its effects.
What "Plan"? Streaming Service?
For a while, reports (more here and here) have surfaced detailing Google's potential launch of a YouTube-integrated streaming music service. Developers found code in the latest YouTube application update that hints at a "Music Pass" service, aimed at capturing the mobile streaming market.
YouTube already performs the role of music player on desktops, as the use of "playlists" and artist-related accounts such as Vevo allow users to stream any genre of music they choose. However, YouTube subjects audiences to seemingly endless advertisements to do so. Mobile users suffer additional consequences; they must buffer music videos on slow network speeds, cannot make use of "playlists" to stream similar music, and are required to keep open the YouTube application to prevent playback interruption. Google thinks it has a solution to these issues.
Though the company began its Google Play Music All Access service earlier this year, the new "Music Pass" service is rumored to combat issues that Play Music All Access (PMAA) does not. Code found in the latest YouTube application suggests that Music Pass would play music without advertisements, provide offline playback to reduce data usage, enable background listening to allow the use of other apps, and additionally give users the ability to save music and videos for up to 48 hours, including in high-definition.
These features make the rumors surrounding Music Pass noteworthy. as they would make Music Pass a viable alternative for those looking to stream music. In addition, a price point of $9.99 per month that matches PMAA would put this service in competition with Pandora's and Sirius's premium models, as well as providing another alternative to Apple iTunes radio (as well as the multitude of other internet/streaming radio services).
A supplementary advantage would be the type of data mining Google has proven excellent at. Signing up users, even to a free model of the service, could positively impact Google's ability to target its customers. Google will likely encourage users to utilize their existing Google accounts to sign up for the service - after weeks or months of providing personalized music, Google would know users' music preferences and be able to provide targeted advertising. This may in fact be the primary catalyst behind Music Pass, as a subscription model of $9.99 per month is not likely to cause a jump in Google's profits.
Negatives:
The use of YouTube as a mobile streaming platform has several positives, as shown above. However, I see some disadvantages for users looking for the next great streaming application.
YouTube is used primarily for videos. Uploading music onto YouTube requires some type of video as well, and users will feel this burden through data usage. If streaming audio also necessitates streaming video, users will be very disinclined to adopt Music Pass as their featured internet radio source. The limitations of data plans and wireless networks add to the burden of streaming video for something like Music Pass.
Finally, Google is a late-bloomer in the streaming/Internet/satellite radio market. Pandora, Sirius, Spotify, and even Apple have already established a dominant market share. It will take some genius advertising and positioning to entice users to try Google's streaming service, even at a low entry price. The size of the market might be one factor that allows Google to succeed.
Conclusion:
Mobile music streaming is rising dramatically, as the projection chart below shows.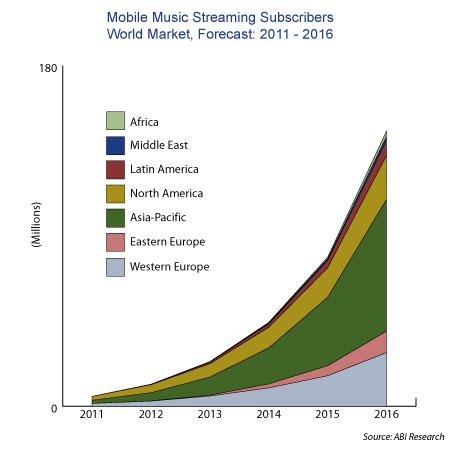 Should Google come out with this service in early 2014, as many anticipate, it would give the company a way to leverage this rapidly growing market and could positively influence Google's bottom line, while potentially hindering the revenues of other large companies.
Disclosure: I have no positions in any stocks mentioned, and no plans to initiate any positions within the next 72 hours. I wrote this article myself, and it expresses my own opinions. I am not receiving compensation for it (other than from Seeking Alpha). I have no business relationship with any company whose stock is mentioned in this article.