While many investors -- including John Paulson and George Soros -- have been keying on gold lately, Kenneth Fisher recently offered some words of caution to investors looking to ride the gold wave. In his latest Forbes column, Fisher says that while gold has averaged annual returns of about 7.1% since the downfall of the Bretton Woods exchange-rate system 37 years ago, the gains have come in bursts -- gold has gained ground in just 66 of the 433 months in that period. So, "if you aren't an exquisite timer, or very lucky, gold isn't a great place to aim your money," he warns.
Instead, Fisher says he is currently targeting stocks of firms with good growth potential. I think he's wise to do so, and I recently came across two such stocks -- thanks in part to the 'Guru Strategy' I base on Fisher's early writings. (Each of my Guru Strategies is based on the approach of a different investing great. Developed after extensive historical testing, the alerts are issued when my models detect a series of high-conviction buy signals that, when previously reached by individual stocks, have tended to be followed by strong performance.)
The two stocks my models issued alerts on this week are Lincoln Educational Services Corporation (NASDAQ:LINC) and Fuel Systems Solutions, Inc. (NASDAQ:FSYS), and the reason is that both attained certain scores on my Fisher- and Joel Greenblatt-based models. In the past, stocks that hit similar scores on those two models went on to gain an average of 15% over the next three months, producing positive returns 76% of the time and beating the S&P 500 almost 70% of the time.

The buy signals are triggered by the scores a firm receives from my fundamental- based models. The duration of the buy signals, determined by the specific signal's past performance, is usually in the three- to six-month range. (In the case of Lincoln and Fuel Systems, the alerts are expected to last about three months.) You should also be aware that I use a 15% stop-loss on each trade.
With that in mind, let's see which of Lincoln's and Fuel Systems' fundamentals are impressing my Fisher- and Greenblatt-based models right now:
Lincoln Educational Services Corporation (LINC): Like many private education firms, this New Jersey-based company has seen a surge in earnings in recent years, as the recession led many people who were unable to find work to try to further their education. Lincoln, which offers high school graduates and working adults various degree and diploma programs, is a small-cap ($725 million) that has taken in about $550 million in sales in the past year.
Lincoln gets a 90% score from my Fisher-inspired model, which is based on Fisher's 1984 classic Super Stocks. This model targets firms with low price/sales ratios (PSRs), and for non-cyclicals like Lincoln that means below 1.5 (and preferably below 0.75). With a PSR of 1.31, the strategy considers Lincoln to be a good value.
A few other reasons the Fisher-based approach likes Lincoln: The firm has a reasonable 26.2% debt/equity ratio; 5.6% three-year average net profit margins; and an inflation-adjusted earnings per share growth rate of more than 27% over the long term.
Lincoln also gets a solid 80% score from my Greenblatt-inspired model, which is based on the remarkably simple two-variable "magic formula" Greenblatt laid out in his Little Book that Beats the Market. The two variables the strategy uses are earnings yield and return on capital, and Lincoln acquits itself nicely on both fronts. It has a 12.1% earnings yield, which ranks 133rd out of the several thousand stocks I track, and it has a return on capital of 50.2%, which ranks 120th. Those strong scores make Lincoln the 42nd-most attractive stock in the market, according to this model.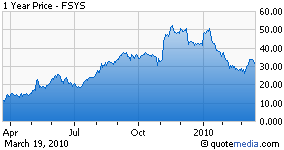 Fuel Systems Solutions, Inc. (FSYS): This New York-based firm makes alternative fuel components and systems that involve propane and natural gas. Its products are used in a variety of vehicles and industrial applications, and are designed to generate savings, reduce emissions, and promote energy independence.
Fuel Systems is another small-cap ($564 million), and it gets 90% scores from both my Fisher- and Greenblatt-based models. The Fisher-based approach likes its 1.25 PSR, as well as its 8% debt/equity ratio. Fuel Systems has also been growing earnings rapidly over the past two years, despite the recession, and has an inflation-adjusted long-term EPS growth rate of more than 57%.
The Greenblatt-based model, meanwhile, likes Fuel Systems' 14.5% earnings yield, which ranks 56th of the thousands of stocks I track. The firm also has an excellent 42.3% return on capital, which ranks 166th. Overall, this model sees it as the 32nd-best stock in the market.
Disclosure: I'm long LINC and FSYS.