On Thursday, Palm Inc (PALM) reported results for the quarter that ended in February that were quite a disappointment to the market and one analyst in particular. Excluding one-time charges, the mobile handset maker lost $102.8 million, or $.61 cents per share, which was much wider than the $.42 cents expected by Wall Street. The company reported unit shipments increased to 960,000, but sales did not follow through, selling only 408,000 units. Net shipments drove revenue to come in at $350 million, much better than Palm's own guided range of $285 million to $310 million. Clearly, this situation creates an excess inventory issue, especially in an environment where sales dropped 29% from the past quarter. These inventory concerns have caused quite a few analysts to lower sales expectation for the next quarter.
The last quarter showed that Palm has fallen further behind the likes of RIM's (RIMM) Blackberry or Apple's (NASDAQ:AAPL) iPhone in market share, and with strong emerging competition from Motorola (MOT) and Google (NASDAQ:GOOG) to name a few, the outlook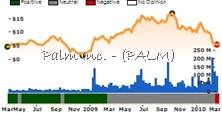 appears fairly bleak. The fact that Palm lacks a defining strength of the others is one serious cause for concern. With 8.7 million iPhones sold in the last quarter alone, Apple has a firm grip on the consumer market, and Blackberry continues to be the dominant player in the enterprise market. Motorola has struggled over the last few years, but has a very wide range of handset products available and is making a strong push into smartphones. And well, Google is Google, and the Nexus One is simply a cog in their massive operation. Palm has a critically acclaimed WebOS and interface that it can hang its hat on, but the sales have been lackluster and are tailing off rapidly.
The analysts at Canaccord Adams have heard enough and actually lowered their price target on Palm from $4 to $0, and clearly have a Sell rating on shares. In a note, technology analyst Peter Misek supported his bearish case,
"We believe Palm's troubles will only accelerate as carriers and suppliers increasingly question the company's solvency and withdraw their support…With what appears to be roughly 12 months of cash on hand, an accelerating burn rate, a complete lack of earnings visibility, and substantial debt and preferred equity, we no longer see any value in the company's common equity."
At Ockham, we have not been high on Palm for some time either, and we were taken aback by the stock's meteoric rise without strong fundamentals at all. The stock became a darling of Wall Street on the hope that it had the next iPhone, or better yet, the perfect mix of business and pleasure in a smartphone. The stock was a momentum play, pure and simple. Sales have shown that the demand has not matched expectations, and we recently downgraded Palm to Overvalued from Fairly Valued a few weeks ago. The stock is down 31% since our downgrade, but 27% of that has come today following the weak earnings and analyst reactions. We are not as dire as Canaccord in our analysis or Palm though, because at some point we think the intellectual property may become attractive to another mobile phone company. However, we would not be surprised if Palm continues lower before any potential buyers begin to show interest, especially as sales and earnings remain weak and the burn rate accelerates.