By Jon (NYSEMKT:DRJ) Najarian
Regardless of what you and I may think of this health care reform that's due for a vote in Congress this weekend, the clear winners in the short term are not the American people but the insurance companies. This bill as it is constituted is an absolute windfall for these insurers, and their shares have rallied strongly as support for the legislation has gained.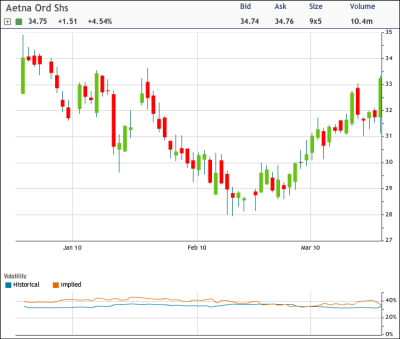 Aetna (NYSE:AET) is higher by more than 11 percent in the last three days, followed by Molina Healthcare (NYSE:MOH) and Cigna (NYSE:CI), each up more than 8 percent. Coventry, (CVH), United Health (NYSE:UNH), and WellPoint (WLP) are all higher by some 6 percent.

Goldman Sachs analyst Matthew Borsch correctly says, "The implementation timing leaves 3-1/2 years to work through -- and potentially modify -- provisions that might undermine successful coverage expansion." But rather than focusing on the sudden gain in these stocks that has likely priced in the vote, I will attempt to project what their are indicating for the next 60 to 90 days:

AET: July options are pricing in a gain of 17 percent from $34.25. Some 22,000 calls are trading against 11,000 puts. About 9.6 million shares trading versus the three-month average of 5.7 million.

UNH: June options are pricing in gain of another 8 percent. Some 34,000 calls are trading versus 14,000 puts. About 14.5 million shares are trading versus an average of 11.2 million.

WLP: June options pricing in another 8 percent rally as well. 32,000 calls changing hands against 8,300 puts. About 7.4 million shares are trading versus the average of 6.4 million.

The prospect of 30 million to 40 million more Americans being fed into these managed-care or insurance programs is clearly the catalyst for this feeding frenzy.