Wal-Mart (NYSE:WMT) is the nation's largest seller of produce and also its largest grocer. Groceries account for more than half of its sales. Working with farmers and experts in produce, the company also wants to double sales of locally grown produce by the end of 2015 in key growing regions.
Paper or Plastic?
Fresh produce is always in demand, and Wal-Mart's strong lead in this category is incredibly lucrative and gives it a big edge over competitors. In terms of overall dollars, the company sold ten times more groceries than its competitor Target (NYSE:TGT) did in the most recent year.
Groceries have even caught the eye of Amazon (NASDAQ:AMZN). It's still in its infancy stages, but Amazon Fresh was first tested in Seattle, and is now slowly seeping into San Francisco.
This is where it gets interesting, as Amazon will have to change course from just e-commerce and move more towards brick-and-mortar. Wal-Mart is also switching it up, moving right into Amazon's turf with its own e-commerce efforts.
E-commerce and the future of retail
Wal-Mart is the largest grocer, but Amazon is the largest online retailer with over $74 billion in sales. Wal-Mart is making strides, however, to catch up. The company generated $7.7 billion in e-commerce sales for fiscal 2013, but is targeting $10 billion by the end of fiscal 2014. That's a significant 30% increase, and by the end of 2015, it expects to continue to grow at that clip-- to $13 billion. That puts the company in the number 2 position behind Amazon, and ahead of the current second largest online retailer, Staples (NASDAQ:SPLS).
I also think that there are larger implications to consider here. It's more expensive to build out a huge retail footprint like Wal-Mart has, but relatively inexpensive to build out a website. The company also indicated during its third quarter earnings call that:
"...we are expanding our endless isle giving our customers the ability to shop anytime and anywhere. We have more than doubled our online assortment over the last year going from 2 million SKUs to more than 5 million primarily driven by marketplace growth. We are also investing in our digital platform, building fulfillment facilities to further enable convergence, improve shipping speed and drive supply chain efficiencies."
Wal-Mart's e-commerce vision
Wal-Mart is looking to become more Amazon-like, and is growing its online platform rapidly. While Amazon wants to build out facilities and warehouses for groceries and same-day delivery, Wal-Mart already has these in place at such a scale that it gives it a very wide moat. It can pull groceries right of the shelf if need be.
Neil Ashe, CEO of global e-commerce for Wal-Mart, thinks that customers won't want to choose between buying online or offline going forward, but will instead opt for a "seamless" retail experience-- or a fusion between physical locations and online. He even went so far as to say that, "If we demonstrate our organizational structure to them, we've lost."
As of now, the company's projected $10 billion in e-commerce sales will still only be a fraction of its overall revenues-- which total over $475 billion. It will also pale in comparison to Amazon's. The big take-away, however, is that Wal-Mart realizes it needs to get into e-commerce, and it's doing it quickly and has the brick-and-mortar footprint to create an incredibly strong, global retail ecosystem.
The company currently has over 4,100 stores in the United States and over 6,200 overseas that it can potentially turn into e-commerce assets, and currently does e-commerce in 10 countries. It's also aggressively expanding in China, after acquiring control of Yihaodian, a Chinese online store with 24 million registered users that already provides same-day delivery.
Valuations and fundamentals
Just as a note, I will be valuing Wal-Mart with similar peers, excluding Amazon. This is because Amazon also has unique businesses such as Amazon Web Services that put it in a category of its own.
| | | | | | |
| --- | --- | --- | --- | --- | --- |
|   | P/E | Forward P/E | EV/EBITDA | P/S | Dividend (Yield) |
| WMT | 14.89 | 13.74 | 8.26 | 0.53 | $1.88 (2.40%) |
| TGT | 16.46 | 13.64 | 7.57 | 0.54 | $1.72 (2.70%) |
| COST | 24.75 | 21.21 | 12.45 | 0.49 | $1.24 (1.10%) |
Data provided by yahoo! Finance
Wal-Mart is much cheaper than Costco (NASDAQ:COST), but valued close to the same as Target. At current levels, shares of Wal-Mart look reasonable-- and maybe even a little undervalued.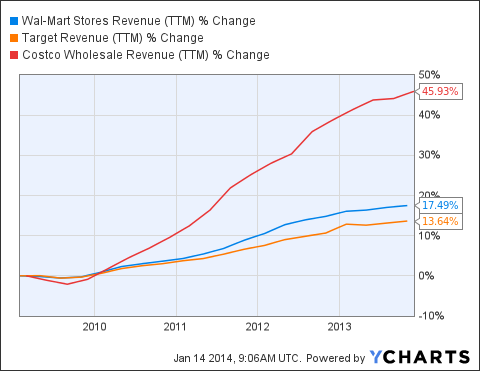 WMT Revenue (TTM) data by YCharts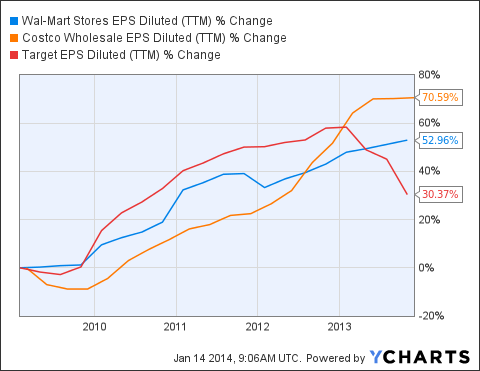 WMT EPS Diluted (TTM) data by YCharts
While Costco's growth might warrant a premium, I also think Wal-Mart's consistent earnings and revenue growth should give it a higher multiple than Target.
The bottom line
Wal-Mart is a stable, dividend-increasing behemoth that is taking e-commerce seriously. It has an enormous physical footprint that's nearly impossible to duplicate. It's also the nation's largest grocer and a major player in the drugs and pharmaceuticals business. Tie all of these factors together into one giant, seamless ecosystem, and I think you get a company that has incredible staying power. Wal-Mart is an attractively valued blue-chip at current levels; one that i expect to increase its earnings and dividend for years to come.
Disclosure: I am long WMT, . I wrote this article myself, and it expresses my own opinions. I am not receiving compensation for it (other than from Seeking Alpha). I have no business relationship with any company whose stock is mentioned in this article.