I recommend TEVA Pharmaceutical American Depository Receipts (NYSE:TEVA) as a Strong Buy based on relative valuation, Fair Value Price of $55 per share.
RECOMMENDATION
I reiterate our Strong Buy rating on TEVA with a Fair Value share price of $55 as the price of TEVA's shares is at a 20% discount to my estimated fair value. I expect to see the company generate earnings per ADR share of $3.27 in 2014 and to increase ADR EPS by 12-15% annually over the following two years.
COMPANY OVERVIEW
TEVA is the industry leader in the generic pharmaceuticals industry. TEVA also offers important branded drugs, branded & generic respiratory products, as well as active bulk pharmaceutical ingredients.
Key products include:
Copaxone (the leader in multiple sclerosis treatment).
Provigil, used for the treatment of excessive sleepiness associated with narcolepsy, obstructive sleep apnea ("OSA") and shift work disorder ("SWD").
Nuvigil, the successor drug to Provigil now that it faces generic competition in 2012.
Azilect, (rasagiline tablets) treatment for Parkinson's disease.
ProAir, an inhalation aerosol with a short-acting beta-agonist for the treatment of bronchial spasms linked to asthma or COPD and exercise-induced bronchospasm.
Qvar, an inhaled corticosteroid for long-term control of chronic bronchial asthma. Inhaled corticosteroids are the standard-of-care maintenance therapy for asthma. Qvar® is the fastest growing inhaled corticosteroid in the United States, capturing approximately 28.3% of the market.
Treanda, used for the treatment of patients with chronic lymphocytic leukemia (CLL) and patients with indolent B-cell non-Hodgkin's lymphoma (NHL) that has progressed during or within six months of treatment with rituximab or a rituximab-containing regimen.
Tevagrastim®/Ratiograstim- are Granulocyte Colony Stimulating Factor (GCSF) based products that stimulate the production of white blood cells and oncology patients use it to reduce the risk of infections in receiving chemotherapy.
Eporatio- stimulates the production of red blood cells and used for the treatment of renal anemia or chemotherapy-induced anemia.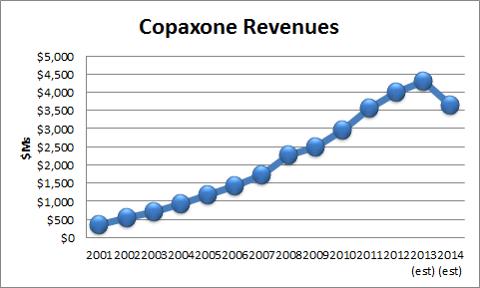 Source: TEVA's 2002-2012 Annual Reports and Our Estimates
Management: TEVA hired Dr. Jeremy Levin as its CEO to replace President and CEO Shlomo Yanai in January 2012. Unfortunately, he stepped down as CEO at the end of October due to disputes with TEVA's board of directors. TEVA's board nominated CFO Eyal Desheh as TEVA's interim CEO and recently hired Erez Vigodman as its new CEO. Vigodman will start serving as TEVA's CEO in February and came to TEVA from Israeli agricultural chemical maker Makhteshim Agan Industries, where he served as CEO from 2010 to 2014.
Dr. Philip Frost has served as Chairman of the Board of TEVA since 2010. He replaced the late Eli Hurvitz who retired in 2010 from the company after 57 years of service, including serving as President and CEO from 1977-2002. Eli Hurvitz was the leader who transformed TEVA from a local pharmaceutical company in Israel to a preeminent global pharmaceuticals leader. Hurvitz's son Chaim has served the company as either an executive or director since 1992.
Ownership: The directors and executive officers as a group beneficially held 22.8 Million ordinary shares, representing approximately 2.42% of the outstanding shares as of December 31, 2012. This figure includes 14.6 Million shares beneficially owned by Dr. Phillip Frost, the former Chairman and CEO of IVAX Corporation, which TEVA acquired in 2006. The late Eli Hurvitz owned 10.06 Million shares of TEVA before he passed away. Notable institutional shareholders include the following firms:
Mondrian Investment Partners (21.4 Million shares representing 2.53% of TEVA's outstanding shares),
Franklin Mutual Advisers (18.55 Million shares representing 2.2% of TEVA's outstanding shares),
Scopia Capital (4.7 Million shares and 2 Million Calls representing 0.80% of TEVA's outstanding shares),
Camber Capital Management (2 Million shares and 2 Million Calls representing 0.48% of TEVA's outstanding shares),
Soros Fund Management (3.6 Million shares representing 0.43% of TEVA's outstanding shares,
Polaris Capital Management (1.36 Million shares representing 0.16% of TEVA's outstanding shares)
Michael Price's MFP Investors (350 Thousand shares of TEVA representing 1.75% of MFP's AUMs and
David Dreman's Dreman Value Management (165 Thousand shares of TEVA representing 56bp of DVM's AUMs)
SUMMARY OF OBSERVATIONS
I like the fact that the firm has been able to increase its solid gross margins from 43.5% in 2002 to 56% in 2010 before declining to 52% in 2011, 2012 and 2013. I expect that the company can maintain or steadily expand its gross margins due to its mammoth scale and growth from acquisitions as well as organic growth.
TEVA has increased its revenue from $2.5 Billion in 2002 to $20 Billion in 2013 and its EPS from $.76 to $1.41 during the same time period. TEVA achieved this through organic volume growth and through a number of strategic acquisitions. TEVA's acquisitions and reacquiring the marketing rights to Copaxone have resulted in an increased proportion of its revenue coming from branded pharmaceuticals. In the US, the Cephalon acquisition has resulted in the company generating more revenue from branded drugs than from generic drugs. Although TEVA's global corporate headquarters is in Israel, only 3% of its revenues come from Israel.
TEVA has a strong market share penetration for its products. Copaxone, TEVA's Multiple Sclerosis drug, has a US market share of 34.3% and is the leading treatment in the multiple sclerosis product market. TEVA announced that a longer-acting version of its bestselling drug Copaxone reduced relapses from multiple sclerosis more than a placebo in a clinical trial. Injecting 40 mg of Copaxone 3 times a week reduced relapse rates by 34.4% compared to a placebo. TEVA also enjoys strong market share in its generic drug business with about 20% of the market share in the US generic market.
I also believe that the firm can achieve operating leverage improvements. In 2006, TEVA's selling, general and administrative expenses were 18.7% of revenue ($1.57 Billion) and the company increased it to 25.2% in 2012 ($5.1 Billion). I believe that TEVA will work to contain and rollback its overhead spending in order to bolster operating margins and reinvest in higher productivity projects and operations. TEVA was also able to increase Research and Development spending from $495 Million in sales (5.9% of sales) to $1.36 Billion estimated for 2013 (6.8% of sales)
VALUATION AND PROJECTIONS
My $55 per ADR Fair Value is based on applying a 16.5 times Price to Earnings multiple to estimated 2016 earnings per ADR share of $4.26 and discounting the terminal value back to January 2014 at a cost of capital of 11%. I believe the PE of 16.5x reported EPS is justified due to TEVA's superior pharmaceuticals franchise and strength in generic pharmaceuticals. In addition, I believe that the multiple used is justified considering that the firm has previously grown faster than its industry and its price had declined by 36% from its 2010 highs.
I see TEVA resuming revenue growth in 2015 for its generic drugs and branded pharmaceuticals. I also believe that the company will be able to find new drugs to offset the impact of Copaxone going off patent in 2014 and that the market is underestimating Copaxone's resilience after it goes off patent. Finally, I believe that the company will be more prudent about acquisitions and devote more cash to dividends and share repurchases. Even though TEVA's amortization of intangibles was a non-cash expense, I did not include it as a benefit to the company's stock price in the interest of being conservative. I expect TEVA to accrue $1.1 Billion-$1.2 Billion in non-cash amortization expenses in FY 2014, which will boost TEVA's operating income once it completely amortizes its intangible assets.
KEYS TO INVESTMENT THESIS
I like that it generates strong free cash flows. Though TEVA is not debt free, the company generated over $3 Billion in free cash flows last year. I expect TEVA to generate $3 Billion in free cash flows this year as payments to settle outstanding legal issues from Shlomo Yanai's time as TEVA's CEO offset operational improvements executed by TEVA.
The firm has been able to maintain or grow its dividend every year since 1990 while many of its larger competitors saw itself forced to cut or freeze dividends.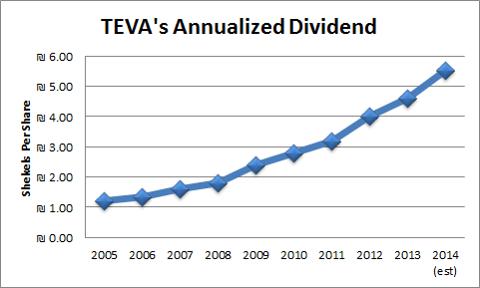 Source: TEVA Investor Relations and Our Estimates
I believe the price to earnings ratio is still significantly low. TEVA's adjusted PE based on non-GAAP adjusted EPS of $4.80 is 9x its adjusted 2014 EPS. Even using a GAAP basis PE based on 2014 forecasted GAAP EPS of $3.27 one is looking at a PE of 12.25x EPS. This is significantly less than its publicly traded generic peers.
According to PLOS ONE, a recent study demonstrates significant differences in biological and immunological effects between COPAXONE (glatiramer acetate, GA) and a purported generic glatiramer acetate (NYSE:GA), marketed in India, (Glatiramer®, Natco Pharma, Ltd., Hyderabad, India), with potential clinical ramifications. Although TEVA's COPAXONE loses its exclusivity in June 2014, its complex chemical properties do not allow for easy to replicate generic versions of the drug.
I like TEVA's presence in the generics sector. TEVA's profit from its portfolio of generic and branded drugs significantly exceeds the combined profits of its four major publicly traded competitors combined.
I am optimistic with its product pipeline. TEVA is increasing its R&D budget to 7% of revenue from the 6% it previously spent. TEVA's generic pipeline has 137 product registrations awaiting FDA approval, including 37 tentative approvals.
New CEO has experience with turnarounds and dealing with TEVA's mercurial Board of Directors. Teva's new CEO Erez Vigodman served on TEVA's board since 2009 and has experience managing relations with TEVA's board. TEVA's former CEO Dr. Jeremy Levin left the company following tensions between the company's management and its board after public criticism of TEVA's massive layoff plans. Vigodman also has experience with turnaround situations based on his experience as CEO of Makhteshim Agan Industries.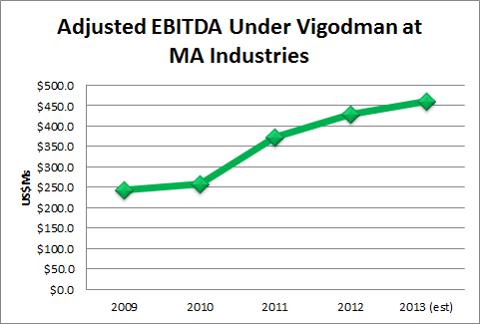 Source: Makhteshim Agan Industries Investor Relations
RISKS TO ACHIEVING FAIR VALUE TARGET PRICE
Failure of investment community to recognize TEVA's competitive advantages, resulting in a stagnant or declining price/earnings ratio.
Increased regulatory controls over the business that end up increasing costs of operations and or reducing revenue (profit margins) per unit sales.
Failure to develop and commercialize new products, increased turnover of key staff, competition from biosimilars, production quality risks (potential product recalls, regulatory action taken against the firm and shortages of key product inputs).
Competitive legal risks stemming from potential intellectual property infringement or if firms try to pirate TEVA's products.
Failure to develop new and generic drugs.
Management and board related (governance) issues
Currency fluctuations may result in a gain or drag upon conversion to US Dollars.
The EuroZone debt crisis providing headwinds to growth, particularly in heavily indebted markets like Greece, Portugal, Spain, Ireland and Italy.
PHARMACEUTICAL INDUSTRY OUTLOOK
The pharmaceutical industry has been facing the risk that widespread health-care reform will force mandatory and immediate price cuts on its products, hurting margins. Also, over the 2011-14 period(s), blockbuster drugs such as Lipitor, Plavix and Zyprexa will lose patent protection in the US. Longer-term, I believe that the industry's fundamentals are favorable because of the aging of western societies and remains one of the wide-margin, widest moat industries. The wide margin and moat is due to the specialized nature of the goods provided and the significant barriers to entry. I believe that generic drug makers will fare better than larger drug makers. As the increased cost of health care continues and the need for government cost controls I expect to see an increased share of generic drugs versus large, branded drugs.
I also see mergers and acquisitions in this industry as companies seek to add scale and strip out operating costs. In October 2012, Watson Pharmaceuticals acquired Actavis for $5.5 billion in cash plus milestone payments and changed its name to Actavis. In October 2013, the new Actavis acquired Warner Chilcott PLC for $5 billion in stock and assumption of $3.4 billion in debt. In May 2013, Valeant Pharmaceuticals Inc., a Canadian specialty pharma company, agreed to acquire Bausch & Lomb Inc., a privately held eye care company, for $8.7 billion in debt and equity. The deal would increase Valeant's eye care portfolio substantially. Valeant expects $800 million in cost synergies from the transaction by the end of 2014 and immediate accretion of 40% to earnings per share. The transaction, expected to close in the third quarter of 2013, is subject to normal closing conditions and regulatory approvals.
I also see a growth potential for biosimilars, which is the generic equivalent of biotechnology products. The market for biosimilars is still in its nascent stage owing to the absence of formal guidelines on the approval and trial process for these products in the US. Due to the different structure of biologics, manufacturers face an increased level of difficulty in proving that the efficacy of the generic biologic is of the same level as that of the original drug. On February 9, 2012, the FDA issued draft guidance on the review process for biosimilar drugs. The draft proposes that prospective applicants schedule an early meeting with the FDA to present product development plans and establish a schedule of milestones that would serve as landmarks for future agency discussions. From there, companies would use a step-by-step approach to show biosimilarity to an FDA-approved biologic drug, including conducting clinical studies comparing the biosimilar drug with the original product, as well as performing safety studies.
The FDA approved 39 new molecular entities (NMEs) in 2012, the highest number since 2003, and higher than the annual average of 24 NME approvals over the 2003-11 period (ranging from a high of 36 in 2004 to a low of 18 in 2007). There were eight approvals in the month of December alone. An analysis of the FDA data on NME approvals reveals that of the 39 NMEs approved in 2012, 13 were orphan drugs (i.e., drugs used to treat rare medical conditions) while another 16 were approved under the Priority Review Program. In 2011, 11 of the 30 new drugs were orphan drugs. Year to date through May 2013, the FDA had approved 13 NMEs. In 2012, drug firms launched 28 NMEs, down from 35 in 2011. Launched entities include nine new cancer treatments, the most in over a decade.
A renewal of the Prescription Drug User Fee Act (PDUFA), a program by which branded drug companies pay fees in order to facilitate faster FDA review of its new drug applications, also took effect October 1, 2012. Typically renewed every five years, PDUFA 2012 is the fifth renewal of this program since its inception in 1992. On June 26, 2012, the Congress passed PDUFA V in the form recommended by the FDA. It would add over $40 Million in new user fees and bring total expenditures paid by pharmaceutical companies for fiscal 2013 to $693 Million.
Overall, I believe the industry is fairly-valued as revenue pressures from patent expirations on many top-selling drugs offset cost cuts, merger synergies and share buybacks. However, I would use declines in the market to add to positions in high quality firms like TEVA and gains in the market to sell weaker firms.
VALUATION ANALYSIS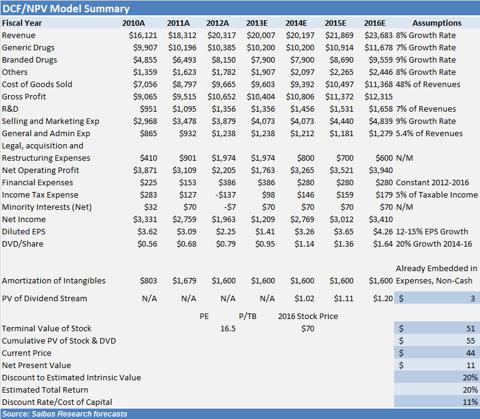 Disclosure: I am long TEVA, . I wrote this article myself, and it expresses my own opinions. I am not receiving compensation for it (other than from Seeking Alpha). I have no business relationship with any company whose stock is mentioned in this article.