One of my predictions for 2014 I made earlier in the year was that Bank of America (NYSE:BAC) would hit $20 a share by year end. That prediction looks solid right now. The company just delivered the best results of any of the major banks reporting this earnings season. The quarter was very positive and it is hard to know where to start. These quarterly earnings results are an important step to $20 a share in my opinion.
Earnings per share came in at 29 cents a share, three cents above the consensus.
Revenue came in at $21.7B, more than $450mm above expectations.
Net interest margin came in at 2.56% up from 2.35% a year ago. *Rising interest rates are a positive*
Credit loss provisions of $336M are $1.9B lower than year ago levels.
Net charge offs in the quarter were $1.6B compared with $3.1B a year ago.
Noninterest income came in at $10.7B, which was up 28% Y/Y.
The bank continues to cut operating costs. Noninterest expense of $17.3B was down 6% Y/Y.
*The only negative to the report was the decline of mortgage activity which is affecting all banks.
Analyst Commentary/Outlook:
Nomura did not wait for earnings results to initiate the shares as a "Buy" last week. After this earnings beat I would assume other analysts will upgrade their ratings and raise their price targets on B of A. I would also expect earnings estimates to be increased as the result of this earnings beat as well.
I believe the next value driver will be for the bank to get permission from the Federal Reserve to reinstate a substantial dividend payout. General Motors (NYSE:GM) announced yesterday that it was reinstating a 3% dividend after the government recently sold its remaining stake in the company. I would look for the bank to be able to do a similar move after it passes the next "stress tests" later in the quarter. Hopefully, we get this announcement by the end of the first half of 2014.
These quarterly results confirm that the bank is seeing a continuing upward trajectory and still has a long runway to eventually achieving its pre-crisis earnings power (See Chart).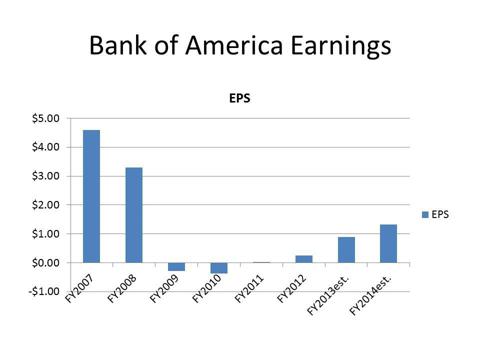 Click to enlarge
A fund manager profiled in Barron's this weekend stated he believes the company can achieve a return on equity of 12% to 13% and climb to a valuation of two times book value over the next several years. B of A is currently valued at 1.2x book value so this projection would mean a substantial move up for the stock in coming years. This earnings report confirms my optimism for the outlook for B of A in 2014 and I would not be surprised if my $20 a share yearend prediction might prove to be conservative. BUY
Disclosure: I am long BAC. I wrote this article myself, and it expresses my own opinions. I am not receiving compensation for it (other than from Seeking Alpha). I have no business relationship with any company whose stock is mentioned in this article.