As most of you who follow me know, I aim for stocks that can double in a period of 12 months or so. Not an easy thing to do, so when you get a 5-bagger once in a while, it's like winning a small lottery ticket.
I first recommended Fonar (NASDAQ:FONR) back in October of 2012, or a little over a year ago (please consider: Fonar: At Last, Light At The End Of The Tunnel?). Since that time the stock has gone from about $5 to about $25 today.
Usually when any stock makes such a run, sellers will want to cash out. You don't win the lotto every day.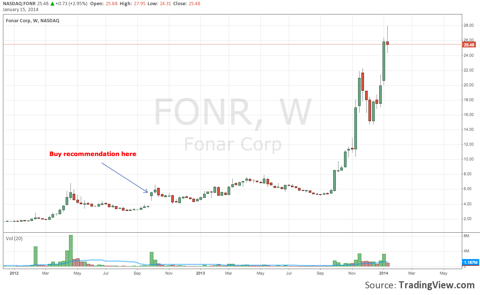 Don't get me wrong, there is nothing wrong with the company (until proven otherwise) and I think the stock can continue to perform well over the next several years, however since I do not think this stock can double from current levels over the next 12 months, it is technically no longer on my small cap recommendation list.
I always give management the benefit of a doubt, but I have to admit that the current CEO is not an inspiration to me (please read my initial article on the company in the link above). I have followed this company for a very long time and I cannot overlook the many blunders management has made over the years and the money shareholders have lost.
Sure, I was willing to look the other way when the stock was dirt cheap and my chances of losing were very slim -- and the potential for profit very high -- however I am not willing to look the other way after a 500% run . Because at some point in time everyone has to make the decision of when to sell.
The current P/E of Fonar is about 16. It is not very high but not very low either. But I do not think that Fonar deserves much of a premium yet. In my eyes, it has yet to prove itself longer term. Don't get me wrong, the company is on the right track and its recent acquisition strategy has done well, but I am still hesitant based on past management behavior.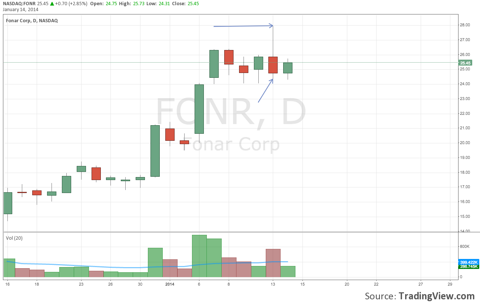 So getting back to why I think investors should sell today, let me focus your attention on the above chart. Two days ago the stock reached an intraday high of about $28 a share and sellers came in and knocked the stock down to about $24,40. That's about a 15% intraday swing on the sell side.
Of course it was a very difficult day for all major indices and there were sellers across the board that day, but nevertheless such a swing from my experience means that maybe sellers will be in control from now on.
Bottom line
If you read my recent article about the state of the market for 2014 (please consider: If You Want To Make Money This Year, You Have To Think Different), you will recall that I think 2014 will not be an easy year to make money. As a side note, it might also turn out to be a better year for the short-selling crowd than previous years. But it also means something else, investors might want to consider going into preservation mode this year. And that among other things might mean selling winners and being conservative and humble for a while.
On that note, and if you are riding on big profits in Fonar, I would consider selling, because as the saying goes, no one ever lost money selling at a profit.
Disclosure: I have no positions in any stocks mentioned, and no plans to initiate any positions within the next 72 hours. I wrote this article myself, and it expresses my own opinions. I am not receiving compensation for it (other than from Seeking Alpha). I have no business relationship with any company whose stock is mentioned in this article.