Tony Abbate, CFA is founder and Managing Director of Granite Value Capital, a Hanover based investment management firm that manages $29 million for high-net worth individuals. The firm is a strict follower of the value investment principles set forth by Benjamin Graham and Warren Buffett.
We recently had a chance to ask Tony about his top stock pick at present.
What is your highest conviction stock position in your fund - long or short?
Papa John's (NASDAQ:PZZA) is my highest conviction long position. Papa John's operates and franchises pizza restaurants. The company was founded in 1985 and went public in 1993. There are four primary reasons why I think Papa John's is a very attractive investment opportunity.
First, it is very attractively valued. It trades at 12 P/E ratio and an EV/EBITDA multiple of 6.0. (Enterprise Value is the market value of the company's equity plus total debt less cash.)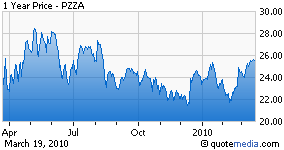 Second, despite operating in a competitive industry, it is an attractive business. The business is predictable. Operating margins have ranged between 6.2 percent and 8.6 percent over the past 15 years. The company generates attractive returns on invested capital. ROIC has averaged 53% over the past five years. Much of this is the result of the fact that 82 percent of their restaurants are franchised. This requires less capital investment than owning the restaurants outright. As a result, the company generates a very high amount of free cash flow. Trailing twelve month free cash flow relative to the company's enterprise value is 10.1%.
Third, the company's balance sheet is solid. Debt as a percent of total capital is 36%. Two years ago debt was 53% of capital. They have been reducing debt over the past two years in lieu of expanding the business.
Fourth, management is in shareholders' corner. They actively repurchase shares when the stock is cheap. They have reduced the company's shares outstanding by 16 percent over the past five years and by 52 percent over the past 10 years. When shares are repurchased at a discount to the company's intrinsic value, I think this creates significant shareholder value over time. Another item indicating management is in the corner of shareholders is the fact that insiders own 17.9% of company. Hence, they have an incentive to do what is in the best interest of maximizing shareholder value.
To what extent is this an industry pick as opposed to a pure bottom-up pick?
I am a stock picker. All stocks my clients and I own are based on a favorable bottom-up analysis. Each company we own for clients is analyzed from a risk perspective. My goal is to minimize business risk, balance sheet risk and valuation risk. Papa John's fares very well on these three levels.
I look to purchase companies when they trade materially below my estimate of intrinsic value. My goal is to acquire companies that trade between 55% and 65% of my estimate of intrinsic value. Each purchase is modeled after Benjamin Graham's emphasis of only owning companies with a 'Margin of Safety'. Papa John's trades at about 65% of my estimate of intrinsic value.
Can you describe the Papa John's competitive environment? How is it positioned vis a vis its competitors?
The restaurant industry is very competitive. Generally speaking, restaurant companies do not have what Warren Buffett calls a 'competitive moat' around their business. The only company that has a competitive moat is McDonald's (NYSE:MCD), which is the 'gold standard' of the restaurant industry. Papa John's direct competitors are Pizza Hut (part of Yum Brands (NYSE:YUM)), Domino's (NYSE:DPZ) and the 'Mom & Pop' pizza shops. A good 'Mom & Pop' pizza shop will blow a chain away in terms of quality. However, a recent national taste test showed that Papa John's pizza was rated the best among the pizza chains.
Can you talk about valuation? How does valuation compare to the competitors?
I analyze the valuation of non-financial companies from an Enterprise Value/EBITDA perspective. It is important to value a company across its whole capital structure. Prior to 1999 the company always traded above an EV/EBITDA multiple of 15.0. Since 2000 the company has traded in an EV/EBITDA range between 5.0 and 11.5. Domino's EV/EBITDA is 11. Yum Brands sells at 9.2 times EBITDA. McDonald's sells at a 10.1 multiple. Papa John's is extremely cheap. At the time of this interview, the company sells at an EV/EBITDA ratio of 6.0.
I have analyzed every public acquisition since 1996. I have a database that contains data on close to 1,800 acquisitions during this period. The two most comparable acquisitions I can pull from the database are Dairy Queen and OSI Restaurant Partners, the parent company of Outback Steakhouse. Both companies were acquired at an EV/EBITDA multiple of 9.0. If you apply this multiple to Papa John's, I get a fair value estimate of $38.70 per share. If we apply a 5.0 EV/EBITDA multiple to Papa John's, I get a downside estimate of $20.35. My estimated intrinsic value is about three times my estimated downside. I think Papa John's is an attractive risk/reward investment.
What is the current sentiment on the stock? How important is that in your assessment?

Only seven brokerage firms follow the company. There are five 'buy' ratings and two 'hold' ratings. Brokerage firms rate about 90 percent of the companies they follow as 'buys'. When you add in the fact that there are still significant conflicts of interest with investment banking relationships, I do not put much emphasis on these ratings. My opinion is this stock is a screaming buy.
Does Papa John's management play a role in your position?

Papa John's management is a steward of the company's capital. This is evident by their emphasis on stock buybacks. I believe this is an overlooked element of analyzing management. I look for management where their action speaks louder than their words. They may 'talk the talk' on company conference calls, but I want management that 'walks the walk'. Nothing is more evident of this than a company that buys back their shares when they are cheap. This management team understands how to allocate capital.
What catalysts do you see that could move the stock?
I believe two things could move the stock. First, as the company continues to buy back stock, pay down debt and shrink its capital base, the valuation assigned to the company should revert back towards a more normal valuation. Second, the company's international operation is performing very well. They are expanding into India and China. While U.S. operations are expected to be flat in 2010, they expect 20 percent growth in their international operation. So growth could be a catalyst.
What could go wrong with your Papa John's holding?

I think in general the next 5 to 10 years will not bode well for consumer spending. With U.S. consumer debt as a percentage of GDP still near an all-time high and unemployment around 10 percent, discretionary spending will remain under pressure as consumers change spending habits. It is possible Papa John's will be impacted by this environment. If I had to estimate, I think they will be less impacted than higher end restaurants and other discretionary companies. The cheap valuation of the stock in tandem with management's capital allocation skills should minimize the effect of any decrease in consumer spending.
Thank you very much, Tony.
Happy to participate.
Disclosure: Granite Value Capital is long PZZA for its clients. Tony Abbate and his assistant, Marlene Green, are long PZZA in their personal accounts.
Read more High Conviction Picks »
If you are a fund manager and interested in doing an interview with us on your highest conviction stock holding, please email Rebecca Barnett.