In mid October I wrote an article for Seeking Alpha about a company called 22nd Century Limited (NYSEMKT:XXII).
At the time I reasoned that 22nd Century was a company with the potential to reward investors with multi-bagger returns over the next ten years. What really caught my eye at the time was a deal that 22nd Century had just signed with British American Tobacco (NYSEMKT:BTI) that I thought was a huge validation of 22nd Century's technology.
There are plenty of companies with great stories, but when a major player in the same industry helps validate that story things become a lot more interesting.
The market so far has agreed with me as 22nd Century's stock price has more than doubled in the three months since my article.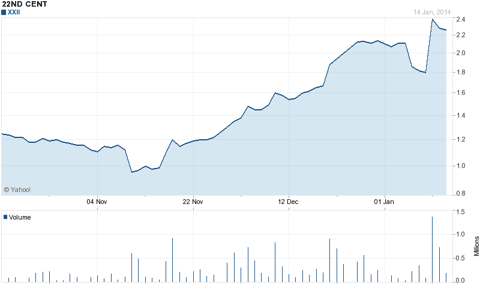 I thought now would be a good time for a refresher on the 22nd Century story given that the company has recently gained an analyst following with stock price targets as high as $9 per share (current share price of $2.40).
22nd Century - What The Company Does
If you could invent one thing in an effort to become famously rich what would it be?
Would it be a clean and renewable energy source that could power vehicles and radically reduce our global need for oil?
Or maybe a pill that greatly reduces the rate at which we age?
Perhaps you could go with the old standby which is to invent a cure for cancer?
All three of those would unquestionably make you rich, and 22nd Century is actually working on something that could have a big impact on the rate of cancer incidence.
22nd Century isn't trying to cure cancer, but it is trying to do something that would greatly reduce the incidence of the fatal disease.
22nd Century's main objective is to provide happy smokers with a safer alternative, and unhappy smokers with a better chance of quitting. That means that people who want to continue to smoke will have a lower likelihood of cancer and obviously so will those who quit smoking entirely.
This growth story is one that is based on a proprietary technology owned by 22nd Century.
That technology focuses directly on the tobacco plants themselves. The technology allows for the amount of nicotine (the addictive part) to be decreased through genetic engineering or breeding.
22nd Century is now on the cusp of moving from being a development-stage company to a revenue generating business.
That near term revenue is going to come from multiple sources that include:
- License agreement with British American Tobacco
- Sales of 22nd Century's proprietary brands Red Sun and Magic
- Delivery of Spectrum research cigarettes to the NIDA and FDA respectively
Over the longer-term 22nd Century will also pursue the $1 billion US smoking-cessation market with its proprietary X-22 cigarette, and will file with the FDA applications for modified risk cigarettes.
Let me tell you a little about each of these near term revenue sources and also what the longer term may hold.
License Agreement With British American Tobacco
In early October of this year British American Tobacco signed a global research license with 22nd Century that gave British American the right use some of 22nd Century's patents.
In exchange for that 22nd Century received $7 million up front, and licensing revenue of another $7 million expected over the next two years. British American can turn this research license into a royalty-based commercial license whenever it chooses.
British American is the second largest tobacco company in the world that operates outside of China. Having this heavyweight involved not only validates the technology that 22nd Century has but also provides a glimpse into how big this could become.
Obviously, British American choosing to move this to the commercial stage would be an enormous catalyst for 22nd Century shares. If that were to happen 22nd Century would get licensing revenue on every cigarette that British American sells that uses the technology.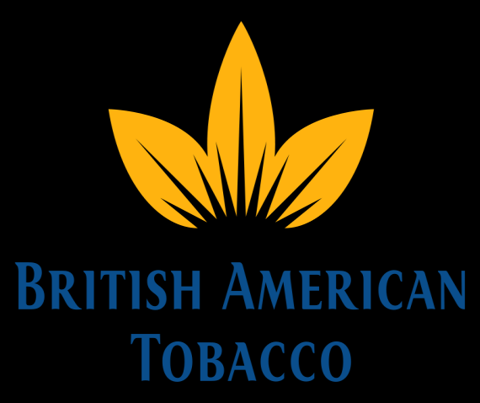 Proprietary Brands - Red Sun / Magic
In a key move 22nd Century Group and NASCO Products entered into a binding agreement for 22nd Century Group to purchase NASCO Products.
NASCO Products is a federally licensed tobacco product manufacturer and is also a participating member of the Tobacco Master Settlement Agreement known as the MSA. The MSA is an agreement among 46 U.S. states and the tobacco industry administered by the National Association of Attorneys General (NAAG). Acquiring an MSA membership is a critical step required to be able to sell and distribute tobacco products in the US.
Having an MSA membership is essential for 22nd Century because most other companies in the industry are unwilling to do business with a non-member.
Since 22nd Century to date has been a non-member of the MSA, attempts to partner with a larger MSA member to contract manufacture 22nd Century's brands has been unsuccessful. That has been an enormous hindrance for a small company like 22nd Century.
Now with an MSA membership soon to be in place, 22nd Century is going to be ability significantly escalate the speed at which it can form commercial relationships for product distribution.
In a second key move 22nd Century also announced in December that it had made the following acquisition:
22nd Century Group, Inc. (OTCBB:XXII) today announced that it has purchased all of the equipment at a cigarette manufacturing facility in Mocksville, North Carolina. Until now, 22nd Century Group's subsidiary, Goodrich Tobacco Company, had produced all of its products through contract manufacturers.

22nd Century Group and NASCO Products, LLC entered into a lease agreement for the 61,500 square foot manufacturing facility this past October. "This turnkey facility will speed up our own production and distribution of our brands by at least 6 months," stated Joseph Pandolfino, Founder and CEO of 22nd Century Group. 22nd Century plans to first manufacture SPECTRUM research cigarettes within the next 30 days and shortly thereafter begin production of its RED SUN and MAGIC super-premium brands. The Company also expects to enter into a manufacturing agreement with a strategic partner and to begin exporting its products later in 2014.
With these two items in place, 2014 will be the first year of sales for the company's proprietary Red Sun brand.
Meanwhile 22nd Century has already granted exclusive rights to distribute the Magic brand to a Dutch distributor that targets Belgium, the Netherlands and Luxembourg.
Because of the manufacturing restrictions relating to not having an MSA membership so far only a small quantity of cigarettes have been exported through this agreement. For the Magic brand (like Red Sun) 2014 is expected to see volumes increase significantly.
Modified Risk Cigarettes
22nd Century has also developed two proprietary modified risk cigarettes, referred to as BRAND A and BRAND B, which the company believes are less harmful than conventional cigarettes.
The company is in the process of preparing two modified risk applications to be filed with the FDA in accordance with FDA guidelines to seek FDA authorization to market BRAND A and BRAND B as modified risk cigarettes.
BRAND A is a very low nicotine (VLN) cigarette containing approximately 95 percent less nicotine than leading brands.
BRAND B is a low-tar cigarette with relatively high nicotine content.
The company expects to file both applications with the FDA in 2014.
Spectrum - Research Cigarettes
As a subcontractor to RTI International in a government contract, 22nd Century supplies NIH SPECTRUM cigarettes with variable levels of nicotine (from very low to high) for research purposes.
The Company estimates SPECTRUM will result in at least $10 million of research in smoking cessation trials and smoking behavioral studies by independent researchers, at no cost to the Company.
The Company has thus far delivered approximately 12 million SPECTRUM cigarettes.
Tens of millions of dollars of research, a portion of which has already commenced, will be conducted with SPECTRUM, which will greatly benefit 22nd Century which also receives a modest amount of revenue for this.
Longer Term - X-22 Smoking Cessation
X-22 is a kit of very low nicotine cigarettes going through the FDA-approval process as a prescription smoking cessation aid.
X-22 is a six-week treatment to satisfy a smoker's craving for conventional cigarettes while reducing nicotine exposure and nicotine dependence as well as breaking the association between the act of smoking and the usual dose of nicotine.
X-22 is the only smoking cessation aid that functions exactly like a conventional cigarette, which is why X-22 is attractive to smokers.
Further, X-22 does not cause any new side effects. Smoking cessation treatments are covered by 75% of private insurers, Medicare and Medicaid.
Six independent cessation trials with VLN cigarettes used in conjunction with NRT have shown encouraging results.
Smoking cessation is a $1 billion market. The next step in trying to tap this market for 22nd Century is to find a joint venture partner to fund further trials subsequent to which the product would go to the FDA for regulatory approval.
22nd Century - How Do We Think About Valuation?
There are four different items that need to factor into a valuation effort on 22nd Century.
1) The license with British American Tobacco
2) Value of the proprietary Red Sun and Magic brands
3) Value of the modified risk cigarettes (Brand A and Brand B)
4) Value of the smoking cessation product X-22
This looks like it could be complicated. But I actually think it is simple.
There are other revenue sources as well (sales of proprietary brands), but the 800 pound gorilla for 22nd Century is the nicotine reducing technology that British American is interested in.
The cigarette market is enormous; 22nd Century provides some data:
- There are 6 trillion cigarettes consumed annually
- Global cigarette sales total $610 billion
- US cigarette sales are $80 billion
- There are 1.3 billion smokers worldwide
- There are 45 million US smokers
More importantly for 22nd Century though, according to JP Morgan 90% of smokers would be willing to try a new brand if it was safer than their brand.
If 22nd Century's technology actually results in a reduced nicotine cigarette that consumers enjoy, then it could theoretically get tried by 90% of a $610 billion market.
90% of $610 billion is $549 billion. Compare that $549 billion figure to 22nd Century's current market capitalization of $140 million and you get a pretty good idea why this stock could go up ten, twenty or thirty times if everything works out right.
For shareholders to make a lot of money 22nd Century just needs to tap into a tiny portion of an enormous market. And if 22nd Century's technology works, it could tap into much more than a tiny portion.
That is what excites me about 22nd Century. It isn't that I necessarily have any great insight as to whether the company's technology is going to hit it big. I just know that if it does hit it big, we aren't talking about a double in share price. We are talking about something really special.
Risks/Challenges
This is a small cap stock that is basically a pure bet on an unproven technology (and product line). That should tell you that there is considerable risk involved here.
The stock price is sure to be volatile. The company may need to dilute shareholders in an effort to continue funding operations (they presently have sufficient capital for the near future). There are plenty of much larger companies in this industry that could beat 22nd Century to the punch. And there is no guarantee that the technology involved here will result in a product customers like.
If you take a homerun swing, you are also taking a chance that you miss the ball.
With 22nd Century that is what you get. World class potential, but no sure thing. That is what growth investing is all about.
Disclosure: I have no positions in any stocks mentioned, and no plans to initiate any positions within the next 72 hours. I wrote this article myself, and it expresses my own opinions. I am not receiving compensation for it (other than from Seeking Alpha). I have no business relationship with any company whose stock is mentioned in this article.