Ray Meadows is president of Berkeley Investment Advisors, which provides investment management services for high net worth clients. Ray is a CPA, CFA, and an MBA, and also has a Masters degree in economics.
We recently had a chance to ask Ray about his firm and his current top holding.
Hi Ray, to start can you tell us a bit about your shop?
Berkeley Investment Advisors provides investment management services for clients with $200,000 or more to invest. In addition, we provide advice on all aspects of wealth management with special emphasis on real estate investments. We are value style investors. We actively manage risk using careful security selection and by hedging positions when market conditions call for it. As a result, our clients lost no money in October 2008. The four year average return for our first four clients was 34% ahead of the S&P 500 index. Smaller companies provide the biggest profit opportunities and this is where individual investors have a big edge. We shamelessly use our size advantage to outperform the big guys!
What is your highest conviction stock position right now - long or short?
Highest conviction for me means easy to understand and relatively low risk of surprises combined with above target returns. On that basis, my top pick is a Real Estate Investment Trust called CapLease Funding (NYSE:LSE). Though Yahoo News sometimes confuses this with the London Stock Exchange, this is purely a real estate company.
The company's business is to own or lend on properties with long term leases to tenants with top credit ratings. The average rating of tenants within their total portfolio is A- from Standard and Poor's. On the properties they own rather than lend on, the average rating is A. The market has been indiscriminate in punishing this stock for its high leverage relative to peers without giving recognition to the higher credit quality of the underlying portfolio.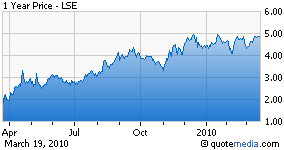 This is a relatively small company with assets of $1.9 Billion. Roughly 81% of their portfolio is owned properties and the rest is debt on net leased properties. They focus on single tenant triple net leases under which the tenants are responsible for all property expenses. Thus the portfolio is like a very high grade bond portfolio backed by real estate, except that the owned real estate provides long term inflation protection for the capital invested.
They use leverage to lower their overall cost of capital and boost returns to equity holders; most of this is non-recourse mortgage debt on the individual properties. Currently they have 75% leverage on the cost basis of assets - down from 80% before the credit crisis.
They are slowly deleveraging their balance sheet as their debt naturally amortizes. They have also opportunistically bought back some of their debt at big discounts when it becomes available. This clearly demonstrates that management is comfortable with servicing their debt. The nearest maturity of recourse debt is the expiration of their credit line in April 2011.
Thus they have locked in cash returns for most of the portfolio for 2010 and there seems to be very little refinancing risk.
To what extent is this an industry pick on REITs as opposed to a pure bottom-up pick?
In the real estate investment trust sector, we do not measure performance with GAAP earnings per share because depreciation recorded against real property assets is not a true economic expense. In general the capital expenditures to maintain asset values are much less than these charges. Thus we look at Funds From Operation (FFO) and Cash Available for Distribution (CAD). Looking at valuation multiples, we can see that the whole industry is cheap compared to historical norms. This is because of the increased risks from recession and tight credit on an industry that uses a lot of leverage.
But this is a bottom-up pick for me: this company has the most upside and least downside of any company I follow.
Can you describe CapLease's competitive environment?
The company is essentially a leveraged real estate portfolio. As such, they compete for good investment opportunities and low cost capital to deploy to such opportunities.
Management indicated in the last earnings call that in their market, property yields (Capitalization rates) ranged from a bit over 7% in primary markets up to 9% in secondary markets. Most opportunities are probably around 8%. If they used debt for 65% leverage on such properties, I estimate their current cost of capital at 11.2%. It is even higher if they use all equity (which they have suggested as a way to reduce the leverage).
Therefore it does not make sense for them to grow their portfolio in the current environment and management has stated such. There may be some competitors whose lower leverage and lower capital costs provide an advantage in the current environment in terms of growth opportunities. Note however that this is not a bad thing for current equity purchasers as they are earning very high returns on the Company's portfolio due to the market's high risk aversion towards real estate.
How do you assess CapLease's valuation - and how does valuation compare to peers?
Funds for Operations came in at .70 per share even after taking a large writedown on a vacant property in Rhode Island. The midpoint of their guidance for 2010 is .70 FFO and .74 CAD. When I started writing this, the upside was 30% but unfortunately the stock rose 10% in the time it took me to complete this analysis - but it's still a good deal! At a price of $4.86, they are trading at roughly 6.9 times FFO and their CAD yield is roughly 15%.
Currently they have set their dividend at .24 per year for a yield of 5% while they deleverage. There is plenty of room to double the dividend next year. In normal times a valuation of 10 times FFO would be a good price. In this environment, a multiple of 8 is more appropriate. This would imply a value of $5.60. Combining this with the dividend gives us a potential return of 20%.
The following table shows FFO multiples for a sample of peers:

Only Parkway Properties is close to LSE's multiple. This particular company did an equity offering in 2009 that diluted shareholders more than 20% and the CAD yield is only 7.4% throwing doubt on their definition of FFO. They also cut their dividend to 1.6% which indicates liquidity issues so this is a much riskier stock than LSE.
What is the current sentiment on the stock? How does your view differ from the consensus?
According to Yahoo Finance, the median target price is $5.50, roughly in line with my view, while consensus FFO for 2010 is actually .04 above my estimate. It seems that the market considers this stock risky enough to require a 20% return over the next 12 months. The company has effectively 75% leverage on A rated credits further backed by real estate.
My view differs from the market in that I think the leverage level is appropriate for the underlying portfolio and that therefore the risk here requires no more than a 12.5% return. I think the market is assessing this based on the overall commercial real estate market rather than looking at the tenants and leases in this particular portfolio.
Does the company's management play a role in your position?
Management is savvy to their current cost of capital versus their opportunities and in 2009 they focused on very high returns for deploying new capital. In the first 9 months of 2009 they issued 3.05 million new shares at an average price of $3.38 per share. Thus we can measure their 2009 cost of equity as 21% (2009 FFO of .70 per share divided by the average issue price). They then deployed 93% of this capital to buy back their convertible notes at deep discounts.
These notes can be put back to the company at par in October 2012 so the company is earning an average effective return on these purchases of over 50% annually. We like management that understands that shareholder value is created when returns on investments exceed the cost of capital.

What catalysts do you see that could move the stock?
If they can lease the Rhode Island property, that could lead to an upside surprise in FFO. An announced decision to stop deleveraging would send a strong signal that FFO and dividends were set to grow. As time passes and the portfolio demonstrates superior performance versus the commercial mortgage backed securities market, market participants should have more information with which to differentiate this portfolio – which should drive the price up towards a multiple of 8 times FFO.
What could go wrong with this stock pick?
They are reducing leverage and part of that program is that they will periodically issue stock at market prices. If they run out of investment opportunities whose returns exceed their cost of capital, their goal of reducing risk may cause them to dilute shareholder value in the process.
The risk of dilutive issuance recedes as the stock price improves so if management is careful to let the market react to the lowered risks (and push the stock price up) they may be able to lower leverage without hurting stockholder returns. But this does remain a risk for this issue.
Thank you very much, Ray.
Disclosure: Berkeley Investment Advisors is long LSE
Read more High Conviction Picks »
If you are a fund manager and interested in doing an interview with us on your highest conviction stock holding, please email Rebecca Barnett.