"You're either moving ahead and you're improving and you're making it more valuable and more useful to the customer or you're not."

-Ford CEO Alan Mulally
One of the only stocks I've been writing about a ton in 2013 that I haven't had a chance to go long yet is Ford (NYSE:F). So far, I've missed the dividend hike that I've been claiming was going to happen since mid 2013. Go figure.
Ford has been up 15% in the last twelve months, but has been up almost 800% since its all time lows in the midst of the financial crisis. Since then, the company has bore down, executed, and reinvented themselves into something the "old" Ford could have never been.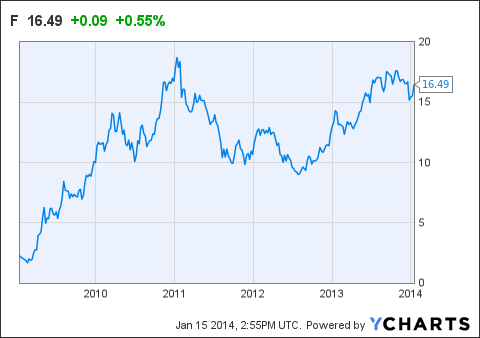 Regardless, I recently named Ford as one of my 7 More Attractive Trades for 2014 based on the following points:
Ford is spearheading the U.S. auto turnaround and had a record 2013 across the board, even with slightly less confidence about 2014 recently.
Ford's Fusion is expected to go head to head with the Toyota Camry for the best selling sedan in the U.S. in 2014.
I argued Ford was likely to raise its dividends in 2014. This happened just last week.
Ford will be positively impacted by the European auto markets having bottomed and turning around.
There is no doubt that the Fusion was the secret weapon for Ford in 2013 - setting sales records and redefining Ford in the midst of the U.S. auto boom. The company is hoping that the Fusion can have another banner year in 2014 and go head to head for top sedan in the U.S. market.
This coming year, Ford is going to try and introduce another "game changer" for the "reborn" company - the new Ford F-150. The F-150 was heralded as one of the biggest vehicle revealing at the Detroit Auto Show this past week. I mentioned it in passing my article "Stocks in Play at the Detroit Auto Show" - but failed to go into detail about it.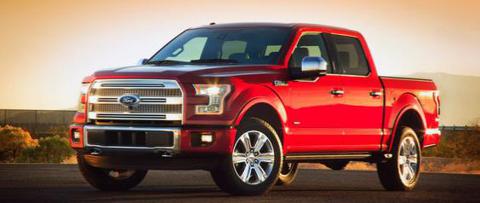 The angle on the "new" F-150? The truck drops about 700 pounds of weight, due to being made with lightweight aluminum. The pros? It's likely to contribute to much better fuel economy. The cons? Aluminum is generally more expensive than steel, and it's all going to be a question of whether or not your typical Ford driver is going to take "macho" exception with not driving around in a pile of steel. Fuel economy isn't always the first thing on the mind of Ford truck drivers, to be honest.
The design, in and of itself, reminds me of the Fusion - they did enough to clearly update and refresh it, but not so much that old Ford aficionados would be turned away.
If the F-150 can be a major success like the Fusion - through upgraded fuel economy and a sleek new body that does anything but scream the Ford of 2001, Ford could be blazing an impressive path through 2014.
Ford is taking a gamble here, but it's one that I'm bullish on. And, now's the time for them to do it - the Ford brand has more energy behind it than its had in 20 years. Now is the time for the company to embrace small changes like this, so they don't get caught under the wave of change.
As an investor, I remain bullish on Ford. The increased dividends are a sign of things to come for the company as it once again slips into its heyday for the first time in decades. With the auto industry recovering worldwide and Ford not continuing to make archaic looking vehicles like they were pre-crisis, Ford could be a major long-term success story for investors.
Disclosure: I have no positions in any stocks mentioned, and no plans to initiate any positions within the next 72 hours. I wrote this article myself, and it expresses my own opinions. I am not receiving compensation for it (other than from Seeking Alpha). I have no business relationship with any company whose stock is mentioned in this article.