The Mortgage Bankers Association (MBA) today reported is Weekly Applications Survey, which measures applications for mortgages. It showed a surge in activity, giving real estate relative stocks and especially mortgage originators, a lift in early Wednesday trading. Temper your enthusiasm, though, as the latest gains are not to be misread; the mortgage market is not quite that hot.
The MBA showed that its Market Composite Index of mortgage activity gained by a seasonally adjusted 11.9% in the period ending January 10, 2014. Purchase activity, or mortgage applications on home purchases, rose by 12%, while refinancing activity improved by 11% on the week. That is amazing right? Wrong!
I have been following the real estate sector for over two decades now, and have gained some familiarity with the regular reports and their flaws. I have noticed something in particular about the MBA's weekly mortgage report that keeps me from writing wildly varying summaries from week to week on the often volatile data point. For instance, last week we might have said the sky was falling given the decline in mortgage activity. This week, we would have climbed back off the ledge and celebrated life. Let's take a closer look shall we?
Obviously, a weekly measure is going to vary around holidays. "But the report is seasonally adjusted Greek!" you might yelp in response. Yes, it is seasonally adjusted, as evidenced by the unadjusted 61% increase in the Market Composite Index week-to-week. Still, I have noted that around holidays, activity still seems to be more volatile than through regular periods. In the past, I've noted my belief that while the report may be adjusted for the one-day holiday, it may not adequately account for business drop-off that occurs on the day before and the first workday after the holiday, as Americans prepare for it and recover from it. This is something that number counters focused on the pure math might miss, but it makes perfect sense nonetheless. And the evidence is in the wild swings week-to-week, which I have noted in my regular following of this data point.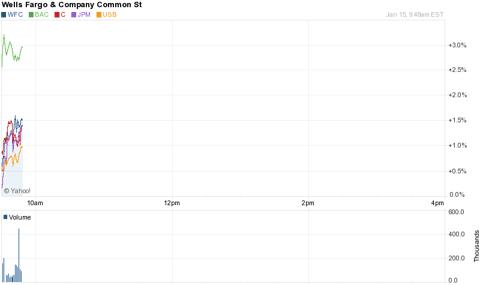 As you can see, the shares of nation's most important mortgage originators are moving sharply higher Wednesday. Now, a good bit of that is due to the strong EPS report from Bank of America (NYSE:BAC), which we recommended again yesterday in our EPS preview piece. BAC is up more than 3% today after a gap open start to the morning, and we are proud to have recently called it our top real estate play of 2014.
| | |
| --- | --- |
| Mortgage Originator | 1/15/14 Morning Gain |
| Bank of America | +3.1% |
| Wells Fargo (NYSE:WFC) | +1.5% |
| J.P. Morgan Chase (NYSE:JPM) | +1.1% |
| Citigroup (NYSE:C) | +1.1% |
| U.S. Bancorp (NYSE:USB) | +0.9% |
Certainly, the company's good news had something to do with the gains of the other major mortgage originators for real estate today, but it did not have everything to do with it. That is evidenced by the 1.0% gain on the morning by mortgage insurer MGIC Investment (NYSE:MTG). This latest stellar mortgage report from the MBA certainly is providing some uplift. Unfortunately, it is a bit overdone, and so I suggest you temper your enthusiasm in the real estate relative stocks today.
Disclosure: I have no positions in any stocks mentioned, and no plans to initiate any positions within the next 72 hours. I wrote this article myself, and it expresses my own opinions. I am not receiving compensation for it. I have no business relationship with any company whose stock is mentioned in this article.