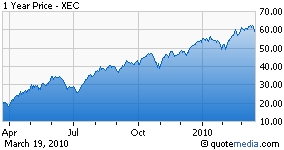 Buy-recommended Cimarex (NYSE:XEC) offers unlevered appreciation potential of 9% to a McDep Ratio of 1.0 where stock price would equal Net Present Value (NPV) of $65 a share, up from $60. Along with the release of fourth quarter financial results on February 17, management raised its guidance on 2010 production for the second time in less than two weeks. Big wells flowing liquids-rich natural gas may power unlevered cash flow past a billion dollars for the current year.
Higher production and higher reserves support increased NPV in an industry context. "We've been on a roll," exploration chief Tom Jorden exclaims about drilling near the city of Beaumont on the gulf coast of Texas. Also pointing to "very, very good results in the Cana play", Mr. Jorden relates that recent wells in the western Oklahoma program "continue to surprise" favorably.
Meanwhile, along with our three consecutive upward revisions in NPV, Cimarex stock trades at the highest ratio to 200-day average of any company in our coverage. Yet, Cimarex offers competitive value among income and small cap stocks. Not knowing when the trend will change or from what level, we suggest that investors rebalance from time to time.
Originally published on February 19, 2010.