Contrarian Corner: MDC Holdings Inc.
Way back in the glory days, MDC Holdings Inc. (NYSE:MDC) hit an all-time high of over $85 in July 2005. It made its post great recession lows at below $15 during October 2011. And then it climbed to over $42 by November 2012. During 2013, I attempted to break out of the $40 area during January, March and May and failed. And by September 2013, it made lows at $27. Since the low, the stock has recovered to $30.94 having created an inverse head and shoulders pattern. It now struggles with resistance provided by a declining 200 day simple moving average.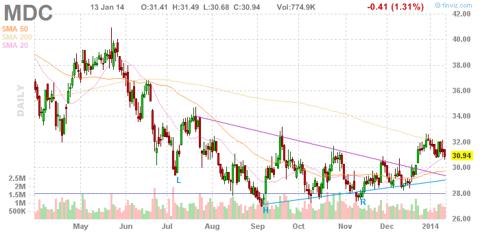 Click to enlarge
I like stocks that are punished by markets for an extended duration because the prospects of purchasing value are best at such times. Having said that, I am wary of walking into a value trap. My question is can MDC Holdings revisit its 2013 high of over $40, and if yes, can it proceed to reach for the all-time high at over $85?
About MDC Holdings
MDC Holdings operates in the home building and financial services segments. In the former segment, they purchase finished plots, construct and sell single family detached homes, under the Richmond American Home brand. They operate principally in Arizona, California, Nevada and Washington out west, Colorado and Utah out mountain-side, Virginia and Maryland, which includes Pennsylvania, Delaware, and New Jersey in the east, and have other homebuilding operations in Florida and Illinois. The financial services segment through HomeAmerican Mortgage Corporation, American Home Insurance Agency, Inc. and American Home Title and Escrow Company originates mortgage loans, offers third-party insurance products and title agency services to its customers. In addition, through Allegiant, they cover insurance needs of their homebuilding subsidiaries and certain subcontractors, with StarAmerican Insurance Ltd., a wholly owned subsidiary of MDC Holdings, acting as a re-insurer of Allegiant's claims.
Why MDC Holdings
The destruction wreaked by the Great Recession was humongous. Household formation was first destroyed and then crippled. I remember reading a Bloomberg article during December 2013 about children living in a parent's basement. And as I read it, I realized that time stops for no-one: those who lost jobs will want their homes back as unemployment declines and the participation rate rises, and those who grew into adulthood in the past six to seven years will be wanting homes too. The housing market has seen a robust recovery for awhile now, but the pent up demand is substantial. There is no reason to shun homebuilders yet. And MDC Holdings' brand and geographic focus and diversity make it attractive.
What do the numbers say?
MDC Holdings offers a dividend of $1 per share, which provides a yield of 3.23%. The payout ratio based on the forward earnings for 2014 of $1.92 indicate a payout ratio of 52%, so there is no reason to expect a dividend cut.
The forward PE Ratio of 16.11 is lower than that of the S&P 500. During the past five years earnings per share has grown at 15.9%. And over the coming five years, analyst project growth of 44.77% annualized. Historic growth rates and growth expectations are supportive of higher than market multiples.
Insiders and intuitions own 6.8% and 80.2%, respectively. The price to book value is 1.27, which indicates a book value of $24.36 and with 2014 earnings expected at $1.92, the return on equity is expected to come in low at 7.8%. Total debt to equity is high at 96.09%, but that is not surprising in view of the financial services aspect of its business. And the long-term debt to equity of 92.8% suggests no great urgency to re-finance. During January 2014, the company offered 10-year notes at 5.5%, expected to be used to repay 5.375% notes due 2014. It is clear that there is some rise in finance costs, but it's certainly not a killer. In January 2013, Faruqi & Faruqi, LLP launched an investigation against MDC Holdings in connection with its conduct in seeking shareholder approval for executive compensation. Executive compensation is an issue at MDC Holdings, just as it is an issue throughout much of the U.S. I feel shareholder activism on executive compensation should be encouraged. But ultimately an unsuccessful outcome would leave the numbers unchanged, while a positive outcome would allow shareholders to more efficiently influence or control future compensation decisions. Overall this is indicative of average (not high) corporate quality and governance.
For those of you who are interested in more data feel free to have a look at the data from finviz.com below.

What's it worth?
For a homebuilder such as MDC Holdings I'd expect a return on equity of 7.8%. However, the non-cash return on equity (Net Income - Interest income from cash) / (Book value of equity - Cash and Marketable securities) can be expected to be nearer 13.75%.
With a return of equity expectation of 7.8% and a payout ratio of 52.08%, I am looking for long-term growth potential of near 3.75% in real terms. Add to this the present dividend yield of 3.23% and I arrive at a long-term real return expectation of about 7%. Given historic real long-term returns from the broad markets of 6.5%, 7% from a stock with a beta of 1.63 is too low: based on a very long-term real risk free rate of 1.1% and a very long-term real market rate of return of 6.5%, I'd be looking for nearer a 9.9% from a stock with a beta of 1.63. However, since I am interested in evaluating the potential of the operating assets of the firm, assuming that the amount re-invested flows to operating assets, a long-term growth rate of 6.6% is indicated. Add to this the present dividend yield of 3.23% and I arrive at a long-term real return expectation of about 9.8%. This is reasonable for the stock with a 1.63 beta, relative to where the S&P 500 is priced today.
Is it worth buying now?
I believe MDC Holdings is rightly priced at $30, and the technical position is supportive. In addition, while ten-year bonds are yielding over 2.8%, which falls short of the 3.7% decade median, and it is in-line with the 2.9% six-year median, rates touched 3% and more during early January 2014. This level is two standard deviations over the one year median of 2.25%. It should decline towards 2.56% in the short term, and such a move would be supportive to a rate sensitive stock such as MDC Holdings.
Thus there is a case to buy MDC Holdings. However, the stock is not attractive for deep value investors such as myself until it's closer to $21 to $24 levels. It belongs on a watch list as the high beta could drive the stock to a better entry point should the broad markets weaken.
Disclosure: I have no positions in any stocks mentioned, and no plans to initiate any positions within the next 72 hours. I wrote this article myself, and it expresses my own opinions. I am not receiving compensation for it (other than from Seeking Alpha). I have no business relationship with any company whose stock is mentioned in this article.