For investors looking for an small cap contract drilling service provider with strong fundamentals that is currently trading at a discount, Atwood Oceanics (NYSE:ATW) is a company worth further investigation.
Attractive Valuations
At this point in the market some of Atwood's valuation metrics look attractive. Currently, the stock is trading at just 6.22x forward earnings and 9.4x current earnings. This is 10.21% less than 3 year average of 10.36x earnings.
Analysts at MSN are expecting Atwood to outpace the industry with a five year growth rate of 20.00% compared to the industry average of 13.30%.
Bloomberg is expecting a significant increase in earnings over the next couple of years. The average estimate from 14 analysts is revenue to hit $1.6 billion in 2015. This represents an increase of 68.75% over the next 2 years.
This growth rate expectation leads to a PEG ratio of just 0.40 according to finviz.
So, what are some of the drivers contributing to this bullish stance?
Global Demand for Offshore Drilling
Due to increased global energy demand aided by advanced technology, that in turn is reducing costs and improving safety, the tide has turned and it has become economical for companies to pursue deep-water reserves. As leading major E&P companies such as Exxon (NYSE:XOM), Chevron (NYSE:CVX) and Petroleo Brasileiro SA or Petrobas (NYSE:PBR) have increased their presence in deep-water regions, they have increased CAPEX spending to support these developments. Over the next five years, the offshore drilling services market is expected to grow from $73.1 billion in 2013 to $121.1 billion by 2018. This is an expected growth of $48 billion or a compounded annual growth rate of 10.6%.
To compete with competitors such as Transocean (NYSE:RIG), Seadrill (NYSE:SDRL) and Noble Corp. (NYSE:NE), Atwood Oceanics has spent a significant amount of CAPEX on upgrading and purchasing a newer fleet.
Atwood is expanding and transforming their rig fleet by constructing state-of-the-art ultra-deepwater floaters and high-specification jackups. The company is expecting significant earnings from the rigs coming online over the next three years. As the chart indicates, Atwood is expecting an incremental $6.74 earnings per share from newbuild rig deliveries over the next 3 years.
Click to enlarge
Chart Sourced by Atwood Oceanics
Because revenue in backlog is basically locked-in, it is a good leading indicator for the business performance and reflects the amount of the risk in your revenue forecast. With Atwood having $1.022 billion in 2014, $1.184 billion in 2015 and $1.442 billion in 2016 in backlog this indicates that Atwood has already secured significant revenues over the next three years.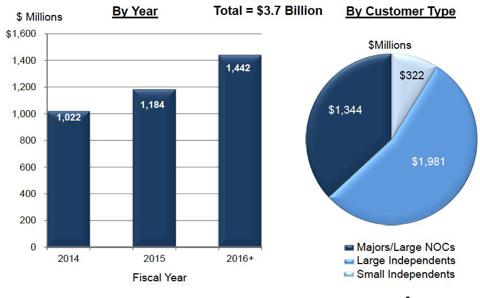 Click to enlarge
Chart Sourced by Atwood Oceanics
Estimated earnings
Looking forward to 2014, Using Atwood Oceanics thee year average of 10.36x earnings and a 2015 eps estimate of $8.00 this gives the stock a price target of $82.88. This estimate indicates 59.91% upside over the next couple of years.
Conclusion
With significant growth in the offshore drilling market and Atwood Oceanics new rigs coming online, this will have a significant impact on the company's earnings. As of December 2013, Atwood has secured backlog orders in the $1.4 billion range for 2016. As these factors are driving earnings, analysts have a five year growth rate of 20.00%, outpacing the industry average of 13.30%. Based on the company's attractive valuations, newer rigs, strong offshore market, and secured backlogs this makes Atwood Oceanics a strong buy.
Disclosure: I have no positions in any stocks mentioned, and no plans to initiate any positions within the next 72 hours. I wrote this article myself, and it expresses my own opinions. I am not receiving compensation for it (other than from Seeking Alpha). I have no business relationship with any company whose stock is mentioned in this article.