Chevron (NYSE:CVX) updated the market last week with a slightly disappointing outlook for its fourth quarter earnings. In my opinion this is just a small short-term setback as the long-term growth prospects for Chevron remain intact.
So despite the fact that shares continue to trade near their all-time highs, I remain very optimistic about the firm's prospects. The sizable investments in recent years are about to pay off boosting future production, while the current valuation is still very fair.
A Disappointing Update
On Thursday, Chevron updated the market and shareholders with the progress for the fourth quarter. The oil major now sees earnings results being comparable to the third quarter of last year. In the third quarter, Chevron reported earnings of $5.0 billion, or $2.57 per share.
Consensus estimates for fourth quarter earnings stood at $2.92 per share. As such, the flat earnings guidance is quite a disappointment. Analysts have perhaps factored in a greater contribution from new projects, including that of Papa-Terra, and less maintenance. Traditionally, the fourth quarter is very strong for Chevron as revenues in the fourth quarter of 2012 came in as high as $7.2 billion.
The lack of earnings growth compared to the third quarter is due to the upstream business. Earnings at the business are seen lower compared to the previous quarter, while downstream earnings are expected to improve.
Note that Chevron by now is about 2 months into the quarter, so there might be little room and time left for surprises to this estimate.
Total production for the first two months of the fourth quarter came in at 2.56 million barrels, down from production of 2.58 million barrels in the third quarter. Production in the fourth quarter of 2012 totaled 2.67 million barrels as Chevron planned more downtime and maintenance in the Gulf of Mexico, Australia and Angola.
The absence of maintenance activities at the El Segundo refinery in California boosted the results in Chevron's downstream activities.
Chevron's fourth quarter results are scheduled to be released on the 31st of January.
Chevron Remains Positioned For Future Growth
Back in December, Chevron annnounced its 2014 capital and exploratory investment program for 2014. Even as the budget is expected to fall by $2 billion compared to 2013, the program at $39.8 billion is huge, representing about $109 million in investments every calendar day.
Excluding the expenditures by affiliated parties, the budget falls down to $35 billion. Note that the vast majority is tied to the upstream business with anticipated investments to the downstream business anticipated at just $3.1 billion.
2014 will remain a peak year driven by the Australian LNG Gorgon project, moving it closer to production. Other projects require big investments as well. As can seen below there are 16 projects scheduled until 2017 in which Chevron has a greater than $1 billion share. Chevron is involved with 50 projects in which its investment share is greater than $250 million.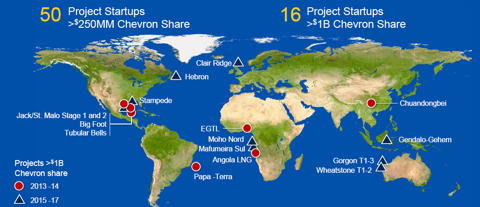 Click to enlarge
Diversification Is Very Strong
While Chevron is well known for its growth prospects, its diversification in terms of geography is really strong as well. While this makes the company always susceptible to some nationalization risks for example, note that this diversification is a major strength for Chevron and its shareholders.
In essence, Chevron generates roughly a quarter of production in North America, Africa and Latin America, EMEA and the Asia-Pacific region. Proven reserves show a similar picture as seen below.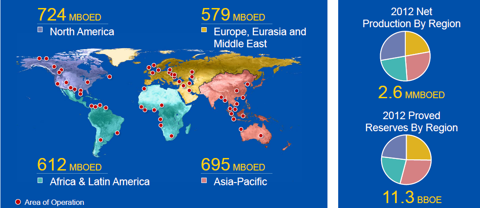 Click to enlarge
2013 Has Been A Difficult Year
The past year has been a difficult year. Given the update for the fourth quarter, earnings are seen around $21.5 billion for 2013. This implies that earnings are seen down about 18% compared to the year before, while revenues are expected to fall by merely 2% to $230 billion.
Struggling production and lower prices result in lower earnings compared to the $26-$27 billion reported in the years 2011-2012. Despite the decline compared to these peak years, Chevron has grown its operations in terms of revenues and earnings significantly over the past five-year period.
Despite the declining earnings in 2013, shares rose some 10% over the past year as the market is anticipating output from the massive investments made in the past years. Shareholder payouts have been strong as well with the $1.00 per share quarterly dividend providing investors with a 3.3% dividend yield.
Despite the massive investments and solid payouts to investors, the balance sheet remains rock solid. Chevron has access to nearly $19 billion in cash, equivalents and short term debt. Factoring in the debt of the firm, and Chevron operates with a roughly flat cash position.
Implications For Investors
Halfway through December I checked out Chevron's prospects following the release of the capital expenditures budget. I noted that Chevron remains in "full-growth" module with capital expenditures being roughly triple the size of current deprecation charges of around $15 billion per annum.
I was and continue to be upbeat about Chevron's growth prospects following the continued progress on the Gorgon project in Australia. By now the project is expected to cost about $54 billion. Chevron still targets production to start halfway through 2015, estimated at some 400,000 barrels of oil-equivalents per day. Note that this would represent roughly 15% of total current oil-equivalent production.
As discussed above, Chevron is focusing on a worldwide scale on growth with other near term growth prospects coming from the Angola LNG project, the Papa-Terra and EGTL projects.
With anticipated production and associated cash flows coming online in the coming years, as capital expenditures are expected to fall further, free cash flows should increase significantly going forward. This allows Chevron to fully fund its solid dividend yield of 3.3% and share repurchases which currently run at a rate of 2.2%. Despite the massive investments in the past years, the balance sheet of the firm remains rock solid, which is quite an achievement.
I continue to believe that Chevron offers the best of both worlds. The oil major offers operational excellence, a combined 5.5% yield in terms of dividends and repurchases, and prospects for growth. Being valued at roughly $230 billion with shares trading at $120 per share, the valuation is still very appealing. Shares trade at roughly 11 times 2013s earnings and 9 times peak earnings from 2012.
As such, I continue to see Chevron as a really good play offering both yield and growth. I remain optimistic about the company's long-term prospects.
Disclosure: I have no positions in any stocks mentioned, and no plans to initiate any positions within the next 72 hours. I wrote this article myself, and it expresses my own opinions. I am not receiving compensation for it (other than from Seeking Alpha). I have no business relationship with any company whose stock is mentioned in this article.