The evidence continues to pile up that reinforces our opinion that investors should be taking profits in the 3D printing sector on strong rallies. We have been called a bear for making these statements, but that is simply not the case. A better description would be a prudent speculator, and with the 3D printing names it is important to recognize that speculation is exactly what is occurring right now.
That is the only way to describe the volatility and cult-like status many of these names have gained among retail investors and day traders.
Chart of the Day:
So long as the Nasdaq Composite remains strong it will provide a nice support for the 3D printing names. We say this because over time we have seen gains in the Nasdaq help propel niche tech bull markets as gains in the general market trickle down into riskier names seeking greater returns as investor confidence grows. A general tech bull market is very bullish for the 3D printing bull market.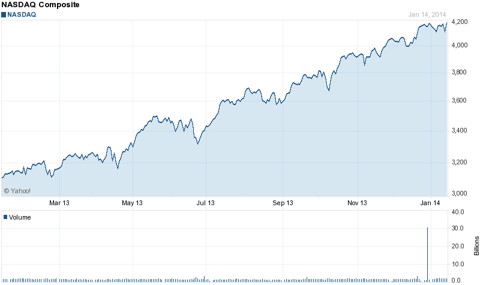 Source: Yahoo Finance
We have economic news today and it is as follows:
MBA Mortgage Index (7:00 a.m. EST): Est: N/A Act:
PPI (8:30 a.m. EST): Est: 0.3% Act:
Core PPI (8:30 a.m. EST): Est: 0.1% Act:
Empire Manufacturing (8:30 a.m. EST): Est: 3.5 Act:
Crude Inventories (10:30 a.m. EST): Est: N/A
Fed's Beige Book (2:00 p.m. EST): Est: N/A
Asian markets finished higher today:
All Ordinaries -- up 0.64%
Shanghai Composite -- down 0.17%
Nikkei 225 -- up 2.51%
NZSE 50 -- up 0.98%
Seoul Composite -- up 0.37%
In Europe, markets are trading higher this morning:
CAC 40 -- up 0.66%
DAX -- up 1.16%
FTSE 100 -- up 0.37%
OSE -- up 0.81%
Commentary
Brokerages continue to add 3D printing companies to their recommended lists as their analysts try to capitalize on being bullish of this hot industry. Recently a number of names have seen analysts say positive things, with Stratasys (NASDAQ:SSYS) being named to FBR Capital's Top Picks List coming to mind. This week that has seemed to change as we have seen a few downgrades and price targets being lowered. Worst of all is the news from ExOne (NASDAQ:XONE) which is one of the smaller players in the industry and constantly rumored to be a takeover target for either Stratasys or 3D Systems (NYSE:DDD).
Although we do not believe that the 3D printing bull market is dead, we do see the possibility that consolidation takes place after recent gains. 3D Systems could retrace all the way back to $80/share, at which point we think that support would kick in.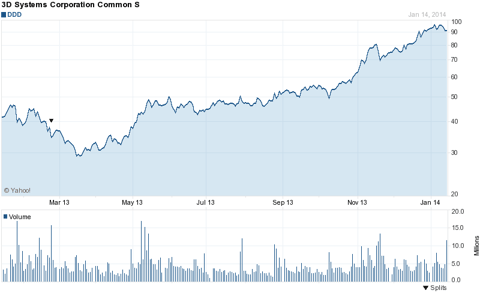 Source: Yahoo Finance
ExOne shares came under pressure in after hours trading, adding to losses from the regular trading session, as the company reported that some of their international shipments had been deferred into the 2014 fiscal year due to their customers' purchasing policies. The company cut their 2013 revenue guidance to $40-42 million, down from $48 million which the company had previously used as guidance. The 20% cut was drastic and will force analysts to also come out and adjust their revenue figures for the company as their consensus was $48.2 million, slightly above ExOne's own figures. Expect possible downgrades and adjustments to price targets on the news.
Voxeljet (NYSE:VJET), a German 3D printing company, has already come under pressure due to reports from short sellers and is somewhat of a weak link these days due to its small book of business and history of being attacked. Voxeljet shares came under attack yesterday and will most likely end today in the red as the ExOne news sinks in. This is one of the names we would steer clear of in the industry due to the perceived baggage that exists.
To many traders Voxeljet is a broken stock after the short sellers attacked. It will take awhile for that 'taint' to wear off, but in the meantime investors should not be surprised if new negative reports were to surface.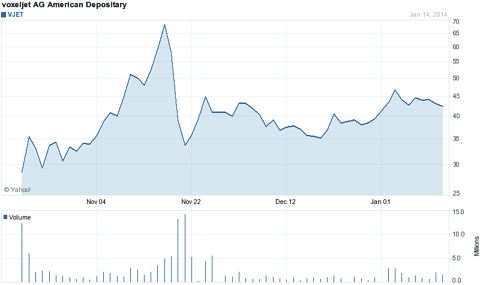 Source: Yahoo Finance
Although there are those who follow the industry that dislike Organovo (NYSEMKT:ONVO) being included as a 3D printing stock, we view it as a play on 3D printing and technology and thus include it due to its unique nature. Organovo is most certainly a stock reserved for the speculators, but it has exposure to 3D technology and biotech/healthcare industries. Out of the smaller 3D names we think this one is an outlier due to its exposure to the biotech/healthcare area. The company is somewhat of a hybrid which can be included in two super hot industries right now and we think that this might make Organovo's shares a better performer over the next six months than say a Voxeljet. The company's shares have been extremely volatile though and they are not without a high level of risk.
Looking beyond the smaller players within the industry though, we think that the larger names might have been sold off unfairly this week. After all, Stratasys saw its shares move sharply lower when they provided guidance that shows solid top-line growth but weaker EPS figures. The company's 2014 guidance called for revenues between $660-680 million (well above the analysts' consensus of $657 million) and EPS of $2.15-2.25 (which is below the analysts' consensus of $2.33/share). Our view is that Stratasys and 3D Systems will both continue to invest heavily in their businesses, as both have reiterated, which will cause EPS to remain weak in analysts' eyes. The strong top-line growth thus far continues to demonstrate to us that this is a wise investment on their part and eventually the analysts will jump on board.
On the current pullback in 3D printing stocks we like the larger names as the smaller players continue to come under pressure. Looking ahead to later quarters in 2014 we still think that the possibility exists for further 3D printing names to have IPOs and any new issues would have the potential to draw further attention to the sector as has happened in the past.
Disclosure: I have no positions in any stocks mentioned, and no plans to initiate any positions within the next 72 hours. I wrote this article myself, and it expresses my own opinions. I am not receiving compensation for it (other than from Seeking Alpha). I have no business relationship with any company whose stock is mentioned in this article.