International Game Technology (NYSE:IGT), an equipment manufacturer and services provider to casinos, recently scheduled its Q1 earnings report and the event is slated for Thursday, January 23rd. The stock has sold off substantially with announcement, exceeding the broader market's 1.3% decline, to depreciate 3.14% on Monday before closing at $16.95. Its behavior is eerily similar to what happened in mid-November, when the company announced a fifth consecutive dividend increase and the share price plummeted to under $16.50! Having used the opportunity to purchase shares, a return has been earned and next week's report should be a captivating one.
IGT stock may continue to vacillate on a day to day perspective. However, there currently is indication of long term value. On the other hand, anyone who continues to hold a $17 option(s) that expire(s) after Friday might be concerned.
Coverage is picking up. Sterne, Agee & Leach has issued a January 14, 2014 Industry Report that is positive on the name overall but discloses Earnings Per Share and Free Cash Flow ("FCF") estimates that are below consensus. Otherwise, the Wall Street firm reiterates its Buy rating and maintains a Price Target of $21.50 that has been in place since November, 2013. As shares currently trade at close to $17, nearly 27% upside is indicated.
Further, the stock is cheap on a 2014E price to earnings ratio. Using a consensus of $1.29, it trades at 13x. The discount to the S&P 500's 15.95x makes a case for investors. Further, the company is projected to grow at 14.5% over the next five years. Using all of these metrics, equity is inexpensive.
Trailing Twelve Month FCF Yield figures are reasonable. However, they do not suggest the same bargain that is found under earnings growth. Here is a YCharts display comparing industry firms.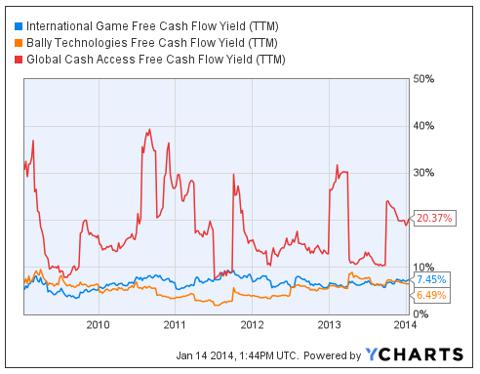 Click to enlarge
Turning to dividends, IGT's payout is now $0.11 per quarter and the yield is 2.6%. It offers a nice reward for investors but does not put a floor in place if something calamitous occurs. Yet, the company is quite shareholder friendly as it consistently lowers its outstanding stock through buybacks. A $200 million accelerated repurchase program authorized months ago should be nearly complete; and the stock price has tended to stay below $18 for its duration. Sterne Agee states that the company's "Strong balance sheet" should allow for "Accretive acquisitions, additional buybacks, and higher dividends" in the future.
It is enjoyable to partake of IGT's capital allocation policies. Here is a graphic from Fidelity Investments showing the phenomenal increase in dividend payments to shareholders over the short term:

Click to enlarge
Clearly this has not been your conventional dividend growth stock! However, allow me to write to the investment community that I think they can increase it by another penny at least. If the past Quarter is any indication, the next dividend would not be declared on Thursday, but afterwards. The matter is speculative, but if the results are strong enough, and the dividend goes to $0.12 per share, anyone who purchases at $16.95 would then enjoy a 2.8% yield. The mid-cap equity belongs to the S&P 500, and its relatively generous payout renders it competitive with the index.
There are reasons to anticipate strong performance. In its report, Sterne Agee specifies that the potential for higher interest rates should reduce its jackpot expense. Another matter that should prove captivating involves IGT's acquisition of DoubleDown Interactive ("DDI"), an Internet game producer. Per CFO John Vandemore, the transaction should prove GAAP accretive this quarter. While it is not organic growth, it seems to be a worthwhile acquisition in times of booming mobile device usage.
DDI's flagship product has been one of the popular games on Facebook (NASDAQ:FB). However, DoubleDown has not been listed amongst Facebook's Top 25 Apps recently. While current monthly active usage statistics place it outside the Top 50, it is ranked #25 when searching under Daily Active Users. Data does show it remaining popular across Facebook, Apple's (NASDAQ:AAPL) iOS, and Google (NASDAQ:GOOG) Play platforms.
To summarize, IGT offers value and fairly generous capital allocation policies for shareholders. While growth is projected, the upcoming report should be actively followed. A $0.12 quarterly payment would be welcome; however, it needs to be supported by operational performance. If the company shows that it is executing, we could have higher earnings estimates to divide by a reduced number of shares outstanding. Of course, nothing is guaranteed. Information about Facebook and iOS is something to pay attention to also.
Disclosure: I am long IGT, AAPL, . I wrote this article myself, and it expresses my own opinions. I am not receiving compensation for it (other than from Seeking Alpha). I have no business relationship with any company whose stock is mentioned in this article.