In the initial days of 2014, Select Comfort (NASDAQ:SCSS) has already set the tone as being one of the market's worst performing stocks. Thus far in 2014 it has lost 17% of its value following a sales warning that came in well below analyst expectations. For competitor Tempur Sealy (NYSE:TPX), 2013 was a great year, but some are betting that Select Comfort's guidance is a sign of industry performance. Yet, is this a correct assumption?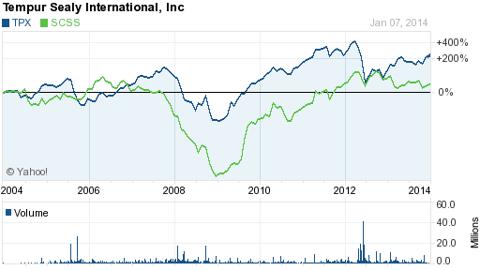 You can see in the chart above that Tempur Sealy and Select Comfort have a tendency to trade in tandem, or at least have for the better part of 10 years.
Both companies sell high-end mattresses, making it reasonable to assume that if one company suffers the other will as well. And by using this logic, investors have been able to predict trends, including industry-wide strength, weakness, and future stock performance. The problem is that after Tempur's acquisition of Sealy, this logic has become, well… illogical-- and it has made Tempur a very hard stock to predict for the near-term.
What Went Wrong with Select Comfort?
Select Comfort's revenue and EPS warning was short and sweet.
The company said that fourth quarter sales would be $231 million -- analysts expected $242 million -- which represents flat comp sales. Furthermore, Select Comfort says its EPS will come in below estimates and that sales post-Cyber Monday were weak-- and that this demand will continue through 2014.
Essentially, Select Comfort is saying that consumers aren't buying mattresses, which is not a good sign for the industry.
What About Tempur Sealy?
If Select Comfort is citing weak consumer demand and is guiding for a lower EPS-- implying pricing struggles-- then common sense suggests selling Tempur Sealy now as it has only declined 2.5% in 2014.
Yet, this logic is where the outlook for Tempur Sealy becomes tricky. To explain, let's look at the retailer Conn's (NASDAQ:CONN), which is essentially a smaller and faster growing Best Buy. Conn's has rallied with gains of 160% over the last 12 months, including gains of 40% in the last three months, which mostly came in the month of December following its third quarter report.
This is a company that grew total sales by 50%, and continues to grow comparable sales at a rate of near 25% year-over-year. Not to mention, Conn's is a company that maintains gross margin at 40%, compared to Best Buy at 26%. The reason is because Conn's has seen a sudden boost in demand for both furniture and mattresses.
Conn's specifically noted that mattresses and furniture were the reason for its sales and margin growth. If we look at the company's conference call we find that management provides specific numbers, saying mattress and furniture sales nearly doubled year-over-year to $63 million.
But what's interesting about Conn's data is that it's the same period where Select Comfort just reported significant weakness. Yet, according to Conn's, mattress sales increased 40% on a volume basis while the average price-per-unit increased another 19%. This completely contradicts the outlook given by Select Comfort for mattresses.
Why Will Tempur Sealy's Outlook Differ from Select Comfort?
What's interesting about Conn's is that the company doesn't carry a wide assortment of mattresses. Conn's sells just a few brands, with one being Sealy; Select Comfort is not included. Now, with mattress and furniture sales being $63 million it is impossible to determine the actual price increase, total sales, and overall performance of Sealy mattresses as a brand. However, investors have to assume that Sealy played a large role in the growth of Conn's during the third quarter, as the Conn's core brands are Sealy and Serta.
With this in mind, Tempur Sealy reported quarterly sales of $735.5 million in its last quarter. Just to be safe, let's estimate that Conn's sold $10 million worth of Sealy mattresses in the third quarter. Accordingly, Conn's is a relatively small retailer of Tempur Sealy products, likely 1% to 2% on an annual basis. However, Conn's might be a better gauge of Tempur Sealy's fundamental performance versus using Select Comfort alone.
Strong Sealy performance
Prior to Tempur Sealy's acquisition of Sealy, it competed directly with Select Comfort in the high-end mattress business. Consequently, one company's fundamental performance was a great indication of future performance for the other. Additionally, Tempur Sealy is more diversified following the Sealy acquisition, as Sealy makes both low and high-end mattresses and appeals to a broader consumer base.
Even if Select Comfort's outlook is an indication of weakness in the high-end space and that Tempur-Pedic sales could suffer, Sealy might still be a growth driver and a reason for optimism. Keep in mind that Sealy represented $389.9 million of Tempur-Sealy's $735.5 million in total revenue in its last quarter-- or 53% of sales. If we use the same $10 million estimate that Conn's might have contributed to Sealy sales then we're now looking at a 2.5% to 3% annual contribution. While this number is still small, it would be difficult to imagine a scenario where sales and pricing power would be so bullish at one store, but then linger everywhere else in the U.S. Ergo, investor's should take Conn's earnings as an indication that sales of Sealy will be strong-- but that Tempur-Pedic could see some weakness in connection to Select Comfort.
Conclusion
Despite Tempur-Sealy's one-year 55% return, it still trades about 40% off its 2012 high. This is a company that acquired an equally large company with Sealy and now gets to utilize Sealy's infrastructure, manufacturing facilities, and distribution network to create synergies between the two businesses, which over time should drive EBITDA growth. Invariably, Tempur Sealy is still a super affordable stock and a diversified company-- but it is also a high-risk, high-reward investment.
Select Comfort implies weakness while Conn's implies strength. And as fate would have it, Tempur-Sealy's business is split nearly 50/50 as to which segments could be strong or weak. With nearly 20% of the stock float being short, a strong quarter could drive significant gains; but a bad quarter could produce significant losses. As a result, Tempur Sealy becomes the ultimate high-risk, high-reward investment.
Yet, using just the facts (or what we know about current demand), zero percent same store sales or a slight decline in Tempur-Pedic, coupled with a double-digit price increase and strong sales gains in Sealy should produce a strong quarter. Overall, this ratio would still produce total growth in a company that is split 50/50 with Sealy and Tempur-Pedic. Because although Conn's is a very small contributor to Tempur Sealy's top-line, Conn's is also a top-retailer with industry-leading growth. Hence, Conn's wouldn't have posted 25% same store sales growth or 50% total revenue growth if it were pricing mattresses substantially higher than its peers. In essence we have to use Conn's performance as an indication of supply and demand. Given the facts and factoring in the risks involved, Tempur Sealy looks like a good investment with substantial upside prior to reporting earnings at the end of this month.
Disclosure: I have no positions in any stocks mentioned, and no plans to initiate any positions within the next 72 hours. I wrote this article myself, and it expresses my own opinions. I am not receiving compensation for it. I have no business relationship with any company whose stock is mentioned in this article.