Suncor Energy (NYSE:SU) has a proven record of executing growth projects. The management's proactive nature is indicated from improved production capacity at lower operating costs. Over the next five years, Suncor plans to increase production capacity to about 500,000 barrels per day, or bpd, up from the current production rate of an estimated 365,000 bpd.
One major project in Suncor's pipeline is Fort Hills. Suncor has a 40.8% stake in this project. This project has a production capacity of 180,000 bpd and is expected to generate stable cash flows for 50 years. Other Suncor projects are shown below: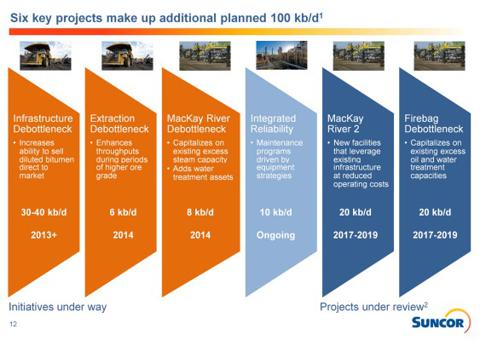 Click to enlarge
These projects are expected to benefit the company because of increased production at reduced costs. Also, the debottleneck projects are less capital intensive and have low risk.
Infrastructure DB - This project will increase third-party diluent imports, enhancing Suncor's ability to sell diluted bitumen directly to the market.
Extraction DB - This project will add equipment, enhancing throughput rate.
MacKay River and Firebag DB - This project will debottleneck the water treatment facilities, which will help Suncor full utilize oil-handling capacity.
MacKay River 2 - This project aims to leverage operations by building a new central processing facility in near existing facilities and thereby reduce costs through economies of scale.
These projects are expected to increase Suncor's oil sands production by an estimated 100,000 barrels per day. This could result in revenue (combined) of $6.05 million per day, or $2.21 billion on an annual basis, going forward. Additionally, Suncor has a target of reducing operating costs from $35 per barrel currently to $33 per barrel this year, by expanding its scale of operations. If the company maintains this operating cost for all these projects, it could save $200,000 per day, or $73 million per year for the additional production capacity.
Uniquely positioned
Two of Suncor's compelling factors are the reserves it has in store and the prices that these resources will fetch in the future. Suncor has estimated oil reserves of 6.9 billion boe (proved + probable), and 23.5 billion boe of contingent resources. The company has the largest reserves in the oil sands, which are expected to last until 2047. This makes Suncor uniquely positioned compared to most of the oil majors.
Of note, Suncor sells 93% of its oil at Brent prices and only 7% at the relatively cheaper WTI prices. Brent crude tracks the global crude oil prices, whereas WTI represents the oil prices prevailing in the U.S. The premium of Brent over WTI narrowed to $4 per barrel in July 2013 but has improved to $13 per barrel in December 2013. WTI is expected to trade at a discount of $12 per barrel compared to Brent in 2014. Thus, Suncor will benefit as a result of its exposure to global oil prices. Based on the company's guidance for 2014, it could sell approximately 488,250 bpd of its refined products at Brent prices. If the price forecast for 2014 holds, this could result in revenues of approximately $51 million per day or $18.7 billion for the year.
Suncor's rival Canadian Natural Resources (NYSE:CNQ), meanwhile, suffers from having to sell its oil at WTI prices. Another concern for Canadian Natural is that it exports oil to the U.S. at Western Canadian Select, or WCS, prices, which are even more depressed compared to WTI prices. WCS traded at an average discount of $32.2 per barrel to the WTI in the fourth quarter of 2013. However, the WCS-WTI price differential is expected to stay low this year because of the positive catalysts fuelled by refinery conversions, improved crude by rail transport, and pipeline capacity improvements. An indicator of lower WCS differential is that the forward market for this year is $19 per barrel. Canadian Natural has seen record heavy-oil production for 11 consecutive quarters. The company produced 140,500 barrels of heavy crude per day in the third quarter of 2013. Thus, the company can be expected to benefit from the rise in WCS prices this year.
Conclusion
Suncor is a long-term growth story that should attract investors with a long-term perspective. While it remains nicely positioned to achieve growth in the future because of its portfolio of projects, investors can also consider this stock because of its dividend yield of 2.1%, which is growing. Suncor has improved its dividend by a CAGR of 30% over the last five years, which augurs well for investors looking for steadily increasing returns. The company is also expected to benefit from the Brent premium over WTI going forward. I am bullish on this stock.
Disclosure: I have no positions in any stocks mentioned, and no plans to initiate any positions within the next 72 hours. I wrote this article myself, and it expresses my own opinions. I am not receiving compensation for it (other than from Seeking Alpha). I have no business relationship with any company whose stock is mentioned in this article.