Investors in Bank of America (NYSE:BAC) reacted with enthusiasm to the release of its fourth quarter results. After competitors JPMorgan (NYSE:JPM) and Wells Fargo (NYSE:WFC) opened their books a day earlier, the results of the bank look very solid.
Bank of America showed very strong revenue growth, while keeping costs in check and boosting its net interest rate margins. Despite these drivers, the bank trades at "rich" multiples compared to some of its competitors, as it still has lots of progress to make in terms of profitability.
Fourth Quarter Highlights
Unlike its competitors, Bank of America managed to grow revenues. Reported revenues rose by 14.9% to $21.70 billion, comfortably beating consensus estimates at $21.24 billion. Excluding debt valuation adjustments and fair value adjustments, revenues rose by 13.8% to $22.32 billion.
The bank made a huge improvement in profitability. Reported earnings came in at $3.44 billion compared to "just" $732 million last year. Earnings per share came in at $0.29 per share, beating consensus estimates by two cents.
Looking Into The Performance
Bank of America managed to report solid revenue growth. Net interest revenues rose by 4.2% to $11.00 billion, notably on the back of wider net interest rate margins which expanded by 21 basis points to 2.56%.
The real growth came from non-interest income, which actually fell at other banks. Revenues came in at $10.70 billion, up 28.4% on the year before. Lower warranty expenses and greater investment banking fees are drivers behind growth.
Besides top line growth, the bank benefited from a reduction in non-interest expenses and lower provisions for credit losses. Non-interest expenses fell by 5.7% to $17.31 billion, down by little over a billion compared to a year ago. The bank cut its staff by some 9%, now employing little over 242,000 workers on a full-time basis.
Provisions for credit losses were just $336 million compared to $2.2 billion last year. Note that net charge offs were $1.58 billion, resulting in a reduction of loan and lease losses.
Liquidity/Capital
Investors like the results, notably the strong topline growth for the final quarter. Shares rose towards $17 per share on the back of the results. This values the bank at 1.2 times tangible book value at $13.79 per share and 0.8 times its regular book value at $20.71
Bank of America's Tier 1 Common Capital Ratio came in at 11.19%. On a Basel-III method, this ratio came in at 9.96%, up 71 basis points compared to last year.
Full year revenues of the bank rose by 6.7% to $89.0 billion. Strong revenue growth, lower staff expenses and lower provisions were a huge boost to earnings which came in at $10.1 billion for the year. This compares to earnings of just $2.8 billion last year, despite the fact that the balance sheet shrank by little over a percent to $2.16 trillion.
What Potential Is Left?
Bank of America is firing on its cylinders, reporting earnings of around $14 billion at an annual rate at the moment. It was well known that the bank is making progress in cutting costs, yet the topline revenue growth is very impressive, especially compared to the likes of Wells Fargo and J.P. Morgan. The relative smaller mortgage business of the bank is creating less of a headwind compared to other banks, yet this does not explain the entire strong outperformance.
Therefore cost cuts and top line growth continue to drive earnings, yet the potential for further lower provisions is limited. Provisions are already lower than current charge-offs despite stabilizing credit quality trends. This results in continued pressure in the allowance for loans and leases. These fell by nearly $7 billion over the past year, with the allowance being reduced to little over $17 billion at the moment. Of course, these trends cannot last forever.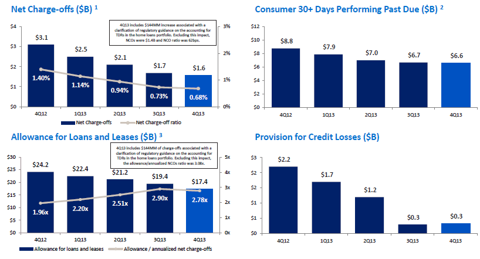 Click to enlarge
Implications For Investors
Trading around $17, the bank is valued around $180 billion, or around 18 times annual earnings of $10.1 billion. The bank is lagging in terms of profitability compared to Wells Fargo and JPMorgan but is catching up rather nicely, reporting solid revenue growth. The $3.4 billion earnings falls short of earnings reported north of $5 billion by its bigger rivals, requiring more improvements to be made.
At the current annual earnings run rate of $14 billion, this valuation comes down to 13 times annual earnings. The dividend yield is not compelling either at just 0.2%, as the bank still requires FED approval to pay out more competitive yields, given the historically weaker balance sheet.
The bank still has a few strives to make, including in terms of profitably. Reported return on equity of 7% for 2013, comes down to about 10% at the current run rate, which is not very appealing. While top line growth is very impressive, I would need to see sustainable earnings north of $15 billion going forward before the bank gets interesting in my opinion.
While $15 billion in earnings could be attainable, the next leap forward will be very difficult, especially given the lower allowances for bad credit. Therefore I believe the bank is fairly valued, as I don't see compelling upside at current levels.
Disclosure: I have no positions in any stocks mentioned, and no plans to initiate any positions within the next 72 hours. I wrote this article myself, and it expresses my own opinions. I am not receiving compensation for it (other than from Seeking Alpha). I have no business relationship with any company whose stock is mentioned in this article.