When Edward Snowden leaked classified NSA documents, there was outrage. Outrage everywhere. The most interesting outrage, however, was directed toward companies that we allow into our personal lives: Google (NASDAQ:GOOG), Microsoft (NASDAQ:MSFT), Yahoo (NASDAQ:YHOO), Facebook (NASDAQ:FB), AOL, Skype, YouTube, & Apple (NASDAQ:AAPL).
Of course, the above mentioned government collaborators all reacted with some form of indignation and denial. Fair enough. But what happened next seemed to be almost too convenient, and an opportunity for gross speculation. Google decided to encrypt all searches.
For those up to date on search news, it was well known that Google was (somewhat) restricting organic search query data at a rate of about 50%. But soon after the NSA scandal, Google raised that number to 100%, seemingly in response to the public uproar against them.
And that would seem to make sense. One day, there's a public uproar against Google because of deficiencies in their user-privacy and possible connections to the NSA, and soon after, those worries about privacy mollified with a seemingly urgent action.
While this logic does carry some correlational weight, I offer another case which carries a whole lot more correlational weight: In those eight curious days between the news of the Snowden leak and Google's move to encrypt 100% of search queries, some startling search traffic occurred with one of Google's tiniest competitors, DuckDuckGo, if you can even call them a competitor.
"It took 1445 days to get 1 million (daily) searches, 483 days to get 2 million searches, and then just 8 days to pass 3 million searches."
Can you guess when DuckDuckGo proudly sent out the above-tweet? If you clicked on it, you'll see June 18th as the date. Or, roughly 8 days after Edward Snowden leaked the NSA news.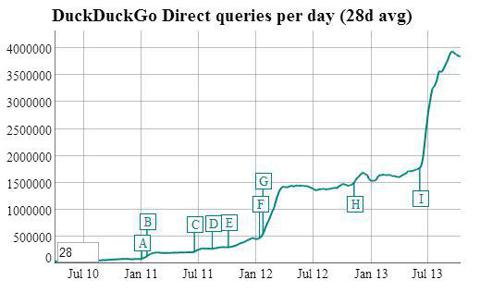 Now, before you overreact to the impressive-looking growth numbers of DuckDuckGo's queries per day, bear in mind the grand-scheme-of-things chart. Actually, a chart wouldn't even be fair here, as DuckDuckGo's overall query-per-day numbers are not even 1% of Google's. In fact, they don't even crack Com Score's monthly ranking:

Regardless, DuckDuckGo's search traffic was tremendously strong in those eight days, to the point that I am sure Google took notice. DuckDuckGo surged due to their promise of privacy, which was publicized with this marketing campaign.
The question remains, did Google encrypt 100% of search because of NSA concerns? Or were they nervous about the tremendous growth displayed by a tiny competitor? It seems clear that the answer is a combination of the two. Regardless, my takeaway was simply that DuckDuckGo's percentage growth after the NSA news, even a week after the NSA news, has been staggeringly higher than Google's. Sure, they are still a tiny competitor, but how could Google not take notice?
And now? 2014 has been a short but promising year for DuckDuckGo, with January 7th being their biggest search day ever in their small history, hitting nearly 4.5 million searches.
Google investors might not care much for a small search engine in possession of an increasingly importance niche (privacy), but they should care about Google's financial puzzle.
In Q3 2013, Google earned $14.9 billion, with $13.1 billion of that coming from ad revenue. Essentially, this means that 86% of Google's revenue STILL comes from search. I write the word "still" because the expectation created in the last few years was that Google's foray into hardware would begin to show signs of real future revenue.
But with so much of Google's profit margin and identity stemming from search, one has to be apprehensive as to whether Google is at risk, and not just from DuckDuckGo. Microsoft's Bing It On campaign certainly raised Google's eyebrows, and they don't seem to be slowing down. Yahoo's Marissa Mayer is said to be trying to get out of the Yahoo/Bing partnership, and it is a near certainty that Yahoo would not be allowed to partner with Google due to anti-trust laws, meaning that they too will go for the search throne.
Google is a giant, and seemingly untouchable, but the rock that holds the weight of their golden fortune seems to have cracks in it. Search is the treasure, and many proverbial pirates are after it.
Disclosure: I have no positions in any stocks mentioned, and no plans to initiate any positions within the next 72 hours. I wrote this article myself, and it expresses my own opinions. I am not receiving compensation for it (other than from Seeking Alpha). I have no business relationship with any company whose stock is mentioned in this article.