William Sharpe's Financial Engines made its highly anticipated market debut on Tuesday in what was this week's sole IPO. The technology-enabled investment adviser raised $127 million by listing 10.6 million shares on the NASDAQ at $12, above the proposed range of $9-$11; it was the first IPO this year to price above the midpoint of its range.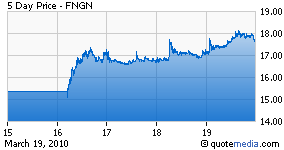 Backed by well-regarded venture firms including Foundation Capital, New Enterprise Associates and Oak Hill, Financial Engines was originated to cater to the retirement needs of less affluent individual investors and hopes to benefit from positive trends in the retirement industry, such as the notable shift toward defined contributions plans, automatic enrollment into 401(k) plans and a changing regulatory backdrop that reduces the fiduciary risk associated with offering investment advice. The company was founded in 1996 and is based out of Palo Alto, CA.

Its promising fundamental story and outlook were well-received by investors on Tuesday and the stock rose 44% to a closing price of $17.25. Financial Engines' performance boasts the highest first day return since September 23rd of last year, when lithium-ion battery provider A123 Systems (AONE) saw its stock jump 50%. The company now ranks third among our list of highest first day "pops" in the last twelve months, trailing Open Table (NASDAQ:OPEN) (60%) and A123 Systems.

The success of Financial Engines' deal coupled with the increased flurry in IPO filings over the past several weeks points to a pickup in IPO activity on the horizon. There have been fifteen initial filings so far this month, matching the number filed during the entire month of February, and twelve companies have already filed specific terms, as compared with ten in February.

In addition, there are eleven upcoming IPOs that are scheduled to price and trade before the month's end. Next week's deals include Calix Networks (NYSE:CALX), First Interstate Bancorp (NASDAQ:FIBK), MaxLinear (NYSE:MXL), Alma Maritime (AAM), The Film Department (NASDAQ:TFDI) and China Lodging Group (NASDAQ:HTHT); if all six deals are completed, it will be the busiest week for IPOs in roughly six months.