Outlook: While markets seem to be cruising along in a stealth rally mode at a low altitude with a mild economic tailwind, political "air pockets" lie ahead. A potentially dysfunctional government and outright partisan enmity may impose economic uncertainty and market instability up to mid-term elections. This could lead to a near-term correction and a longer-term buy opportunity. Odds: 40%.
CEF Weekly Review: The 13 closed-end fund (CEF) types on average posted a 0.4% increase for the week ending 3/19/10. The high-low spread was 1.1% vs. 1.9% last week. On an aggregate, unweighted basis, the weekly average price change for the 500 CEFs was up 0.3%.
The weighted 49 CEFs comprising the Claymore CEF Index registered a decline of -0.2% for the week and a 1.0% gain YTD. The S&P 500 increased 0.9% for the week; up 4.0% YTD.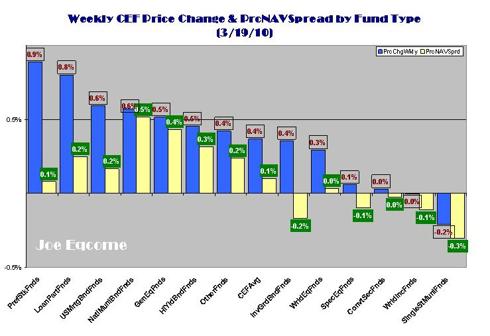 Click here for YTD CEF Performance. The table is based on a smaller CEF sample size as all the data fields are not available for the CEF universe.)
The Eqcome CEF Fear Index essentially flat as the average price advanced 0.3% and average NAV advanced 0.2% for the week.
The CBOE Volatility Index (VIX), which typically moves inversely with the stock market—but is mostly a measure of volatility—fell 3.5% for the week. It again neared its 52 week low. This was despite "quadruple witching" (the expiration and settlement date for four types of options and futures contracts) which typically generate greater volatility and volume. The S&P 500 average daily trading volume dropped 4.5% from the previous week to 4.588 billion shares despite 5.2 billion shares traded on Friday.
CEF Weekly Fund Type Performance: Fund type performance was a strange mix of equity and fixed-income with no clear trend. Typical asset classes associated with banks, PrefStkFnds, LoanPartFnds USMrtgBndFnds all generated strong relative performance. Maybe the Fed's move to keep interest rates low coupled with more banks raising capital to pay off TARP funds bolstered investors' confidence in these sectors.
There was also a bifurcation of the muni fund types. NatMuniBndFnds registered a positive, above-average performance with SingleStMuniFnds generating a decline. State budgets are under pressure and investors are cautious regarding this asset class. Both WrldEqFnds and WrldIncFnds traded on the duel concerns still lingering over sovereign debt and a possibly over-heated China economy.
The PrcNAVSprds[1], which typically move in the direction of stock prices, saw only one material divergence. InvGrdBndFnds average NAV advanced greater than the price. With India's recent rate increase, investors are concerned rates will likely rise sooner-than-later. This might have caused the underlying bonds to appreciate greater than the CEF's stock price. The jump in PrefStkFnds price relative to the NAV is worthy of further consideration.
CEF Winners and Losers: One of the CEFs with the greatest positive PrcNAVSprd for the week was Flaherty & Crumrine Preferred Income Opportunity Fund (NYSE:PFO). PFO share price surged 14.5% while its NAV advanced a more modest 1.2% generating a 13.2% positive PrcNAVSprd.
While there was no news on the tape, the average daily volume in the last three days of the week was 174,000 shares for a stock with a 3 month average daily volume of 36,000 shares. Someone wanted to own this stock.
This week's CEF with the one of greatest negative PrcNAVSprd was Evergreen Utility and High Income Fund (NYSEMKT:ERH). ERH continued its 21.4% PrcNAVSprd slide of the previous week with a 5.2% further drop in its PrcNAVSprd as its price skidded 5.1% and it NAV increased 0.1%. Last week, ERH announced a 31.8% reduction in its distribution from its previous monthly rate of $.11 per share to $.075 per share. Apparently investors weren't finished meting out punishment.
Currently, ERH is trading at a 7.5% distribution yield based on the new monthly distribution rate and at a premium of 4.1%.
Economic & Earnings Outlook: (Click here for next week's economic calendar; click here for earnings announcements and estimates.)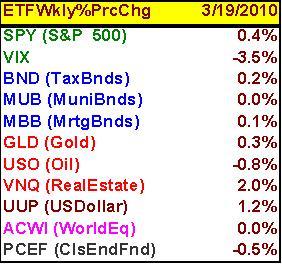 ETFs: (Click here for ETF YTD sector performance.)

Insider Trading: Horejsi Group (Horejsi) continues to dominate CEF insider trading. For the third week of March it added to its two earlier positions of the previous week to Boulder Growth & Income Fund (NYSE:BIF) and Boulder Total Return Fund (BTF).
Horejsi added 145,674 shares to its BIF position at an average price per share of $6.41 for a capital outlay of $934,822. Its aggregate capital commitment for the month has been approximately $2.0 million. Horejsi owns 33.1% of the outstanding shares.
With reference to BTF, Horejsi added an additional 23,339 shares at an average price of $14.35 for an additional expenditure of $335,101. Total capital outlay for the month was $1.5 million. Horejsi owns 24.2% of BTF's outstanding shares.
Rodney F. Danmeyer, a director of both Van Kampen Select Sector Muni Trust (NYSEMKT:VKL) and Van Kampen Muni Opportunity Trust (NYSE:VMO), added approximately $150,000 to each of the CEFs. Theodore R. Jaeckel, Jr., a portfolio manager at Blackrock, continued to add to his March insider purchases at Blackrock Munivest Fund II (NYSE:MVT) with a 2,100 share incremental purchase at $14.28 per share. This upped his holding in MVT to 6,866 shares. There was other de minimis insider buying. (Click here for a hyperlink to the Joe Eqcome CEF Weekly Insider Report.)
CEF Distribution Announcements This Week: The following is a link to a table of CEF distribution announcements this week as well as the previous week's with yet expired ex-dividend dates. The list is not intended to be inclusive. (Click here for Weekly CEF Distribution Announcements.)
Significant CEF Corporate Events: The respective Boards of SunAmerica Focused Alpha Growth Fund (NYSE:FGF), and SunAmerica Focused Alpha Large-Cap Fund (NYSE:FGI) announced on March 17th, as part of its continuing efforts to increase shareholder value, that the Board of Directors of each Fund will establish a Special Committee (the "Committee") to examine and explore ways to address the discount between the market price per share and the net asset value per share. The Board will report its conclusions to the shareholders of the Fund. (This is exactly what I have been recommending for the Board of ADX. See: Adams Express Pay Attention: FGF & FGI Boards Create Committee to Enhance Shareholder Value (3/19/10))
Greater China Fund's (NYSE:GCH) registration statement for its rights offering was declared effective 3/17/10 by the SEC. GCH will issue to its shareholders of record as of the close of business on 3/23/10 one transferable right for each share of common stock held. Right holders will be able to subscribe to 1 share for every 3 rights held for an aggregate of up to 7,603,555 shares. Subscription price will be calculated based at 90% of the average of the four preceding trading days prior to the expiration date of the rights offering. Unlike the Pimco Income Strategy Fund (NYSE:PFL), the GCH rights appear to be non-transferable.
The Nuveen Municipal Advantage Fund (NMA) and Nuveen Premium Municipal Fund 4 (NPT) announced they have respectively priced a $296.8 and $262.2 million private offering of Variable Rate Demand Preferred (VRDP) shares placed with qualified institutional buyers, as defined pursuant to Rule 144A under the Securities Act of 1933. The proceeds from this offering will be used to redeem at par all of the fund's outstanding auction-rate preferred shares (ARPS). The fund expects to issue a formal redemption notice for the ARPS on March 19, 2010.
Cohen & Steers announced two mergers of it CEFs. Cohen & Steers Worldwide Realty Income Fund (RWF) merged with and into Cohen & Steers Quality Income Realty Fund (NYSE:RQI) at the close of business on Friday, March 12, 2010. Cohen & Steers REIT and Utility Income Fund (RTU) merged with and into Cohen & Steers Infrastructure Fund (NYSE:UTF) as of March 12, 2010. (This is how a fund advisor buries its dead.)
John Hancock Bank and Thrift Opportunity Fund (NYSE:BTO) announced today that its Board voted to approve the adoption of a new managed distribution plan (the "Plan"). The Adviser believes that the Plan may enhance shareholder value and potentially decrease the discount between the market price and the net asset value ("NAV") of the Fund's common shares. Under the new Plan, the Fund will make quarterly distributions of an amount equal to 1.25% of the Fund's net asset value, based upon an annual rate of 5% as of each measuring date.
CEFs Focus for the Week: Liberty All-Star Growth Fund (NYSE:ASG). ASG is a diversified, multi-cap growth fund for investors seeking capital appreciation. The stock is currently trading at a 10.8% discount to its NAV. Trading in a single digit fashion ($3.75 per share), it is assessable for smaller retail investors for "round lots" purchases (100 shares).
Distribution of Appreciation: Since growth stocks tend to retain capital as opposed to paying it out to shareholders, there is little net investment income (NYSEMKT:NII) to distribute. As a consequence, its ASG's distribution policy is to pay out 6% of its net asset value per year.
While I'm not a big fan of managed distribution programs, what provides me a greater level of comfort in the case of ASG is that its accumulated net portfolio depreciation is a modest $.06 per share. This would imply that almost all of it accumulated distributions have been from historical capital gains it's generated. (Unlike the Cornerstone Progressive Return Funds (NYSEMKT:CFP) which had many of the attributes of a "pump and dump" scheme and has never made any money for its shareholders in its primary business of investing.)
ASG Recommendation Reasoning: In a cyclical stock market recovery, the first advance is usually dominated by deeply discounted, lower quality stocks likely to experience a sharp rebound from depressed prices. The second phase of the recovery usually includes stocks that would benefit from increased economic activity. These are usually the growth stocks which are the investment mandate of ASG. Its beta (stock's relative market performance to the S&P) is 1.1—or, slightly higher than the market in general. If there is a market dip, this would be an opportune time to accumulate shares.
Unique Investment Structure: ASG has a unique investment structure. As opposed to one manager responsible for all stock selected for the portfolio, the advisor, ALPS Advisors (ALPS) employs a multiple investment manager approach by allocating funds to different growth sectors by capitalization and sub-contracts stock selection to an independent, institutional advisor with a specialization in growth stocks in that particular market cap segment—small, mid or large.
One of the downsides to this multiple investment manager structure is a higher expense ratio of 1.45% versus 1.2% for its peer group after taking out the outliers on the upside due to very small assets under management.
Its portfolio is heavily weighted towards information technology which should get a boost in the early stage of an economic recovery. Mark T. Haley, an insider, purchased an additional 10,000 shares at 3.73 per share upping his stake on March 11, 2010 to 22,288 shares.
This is a capital appreciation idea and could be volatile particularly if the stock market hits some turbulence.
---
[1] A positive PrcNAVSprd can be interpreted as negative because it typically signals a share price movement less favorable than the NAV. All things being equal, price and NAV should move in tandem. A price movement greater than the NAV may indicate the stock is overvalued relative to its NAV which in theory is the stock's intrinsic value. The opposite would be true for a negative PrcNAVSprd.

Disclosure: Author owns a diverse portfolio of CEF's that include BIF, ADX and ASG