The news around shopping during the holiday season was dominated by two separate stories. One talked about how traffic to brick-and-mortar stores was well below expectations, and that these retailers were forced to discount tremendously to drive sales. The other talked about how an enormous late surge in packages coming from e-commerce companies overwhelmed the capacity of UPS and, to a lesser extent, FedEx (NYSE:FDX), and caused many of these packages to arrive after Christmas.
But, to me, these two stories are not at all separate, they simply reflect different sides of the same narrative: We're in the midst of a profound structural shift from physical to digital retail.
The drivers of this shift are simple:
Online retail has strong cost advantages over its offline counterparts and is rapidly taking share in many retail categories through better pricing, selection and, increasingly, service.
These offline players have high operational leverage and many cannot withstand declining top-line revenue growth for long.
The resulting bankruptcies of physical retailers remove competition for online players, further boosting their share gains.
So, how has this shift been playing out? Recent data suggests that it's happening faster than I could have imagined.
The U.S. Census Bureau publishes what I consider to be the most accurate figure on e-commerce penetration in the U.S. It reports that e-commerce penetration of total retail sales in the U.S. was around eight percent in 2012. But, as I've blogged previously, this aggregate figure seriously underestimates the impact of e-commerce in large sectors of the retail landscape. Let's unpeel the onion and look at the next level of reporting from the Census Bureau, where it segments the retail landscape into six large categories of goods. It's at this level that things start getting more interesting: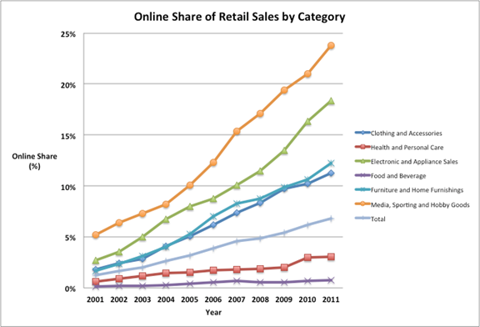 The data suggests that there are two very different patterns going on with respect to e-commerce penetration. The two largest categories - "Food and Beverage" and "Health and Personal Care" - show e-commerce penetration well below the overall average. These categories essentially are the domains of grocery stores and drug stores, and e-commerce (at least to date) has achieved only modest penetration of these massive categories (but Amazon (NASDAQ:AMZN) Fresh has designs on changing that).
The other four categories are what I would consider to be the domains of traditional specialty retail categories, the ones that are transacted in the malls of America. All of these demonstrate e-commerce penetration well above the overall average, ranging from a low of 12 percent for "Clothing and Accessories," up to 24 percent for "Media, Sporting and Hobby Goods." It's in these specialty retail categories where e-commerce to date has had its strongest impact.
One additional observation is that the pace of online share gain in the specialty retail categories shows absolutely no signs of slowing down. All of these charts are "up and to the right."
So it's clear that a growing share of the retail pie in the specialty retail categories is being captured by e-commerce. Now let's throw in one more massive complication for brick-and-mortar retailers in these categories: The total retail sales in these markets have been extremely sluggish, and have barely recovered back to pre-recession levels. This is a toxic combination - physical retailers in these categories are losing share of a total retail pie that isn't growing. The inevitable result is that the portion of the pie left available for physical retailers is shrinking rapidly: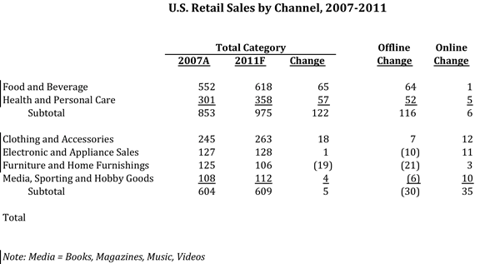 And that's just what's happening. The Census Bureau reports that the four specialty retail categories representing total sales of just over $600 billion grew by only $5 billion between 2007 and 2011 (the last date that this level of detail was reported). That's less than one percent over four years. The e-commerce players increased their cumulative sales in these categories by $35 billion over the time period. This means that the cumulative sales of brick-and-mortar retailers shrank by $30 billion in just four years!
The result of these macro shifts is a Darwinian struggle playing out in the malls of America among physical retailers. Some recent retail news:
The stark reality for brick-and-mortar retailers is that there currently are just too many stores. Remember, these retailers have very high levels of operating leverage, and a meaningful decline in sales can quickly render them unprofitable and eventually unviable. And $30 billion in lost sales is most definitely a meaningful decline in sales. It's not surprising that few retailers are opening new locations, and that a large number are shuttering existing ones.
The retail world is changing, and we're seeing creative destruction play out before our eyes. And the speed at which it is happening is absolutely stunning. UPS and FedEx had better start building out their fleets, big time - these trends are only accelerating.