By Kenny Fisher
The Canadian dollar has steadied on Wednesday after losses on the previous day, as USD/CAD trades in the mid-1.09 range in Wednesday's North American session. The currency has lost close to 300 points in January, and is trading at its lowest level against the US dollar since October 2009. Earlier in the day, the pair pushed close to the 1.10 level. Will the US dollar break above this key level? In economic news, US PPI rebounded in December with a gain of 0.4%, just shy of the estimate. The Empire State Manufacturing Index looked very sharp jumping to a twenty-month high of 12.5 points. There are no releases out of Canada on Wednesday.
US inflation numbers were solid on Wednesday. PPI, a key release, rebounded from a decline in November and posted a gain of 0.4%, just short of the estimate of 0.5%. Core PPI improved to 0.3%, up from 0.1% a month earlier. The estimate stood at 0.1%. The US dollar responded positively to the figures and is broadly higher against the major currencies, although the Canadian dollar has managed to hold its own in Wednesday trading.
The Bank of Canada released its quarterly Business Outlook Survey earlier this week, and the report showed that Canadian businesses were more optimistic in Q4 about investment and hiring compared to Q3. At the same time, companies dealing with the domestic market were less confident than those that rely on the global economy, which has shown improvement. Meanwhile, Canadian employment numbers looked awful last week, as Employment Change tumbled to -45.9 thousand, erasing a strong gain of 21.6 thousand a month earlier. This was nowhere near the estimate of 14.4 thousand. The unemployment rate, which had hovered at 6.9% for three straight readings, jumped to 7.2%. The dismal figures came on the heels of weak numbers from Building Permits and the Ivey PMI. If Canada continues to produce weak numbers, the loonie could soon find itself on the other side of the key 1.10 line.
Last week's disappointing Non-Farm Payrolls report may have created some concern in the markets, but is unlikely to change the Federal Reserve's path of tapering QE, which it started just this month. In December, outgoing Fed chair Bernard Bernanke strong hinted that the Fed planned to wind up QE by the end of 2014, reducing the asset-purchase program by increments of $10 billion at each Fed policy meeting over the course of the year. The Fed next meets for a policy meeting on January 28, and the question is will the Fed reduce QE by another $10 billion, down to $65 billion each month. Most analysts feel that one bad employment report will not affect the taper schedule and we will see a reduction in QE at the next policy meeting.
USD/CAD for Wednesday, January 15, 2014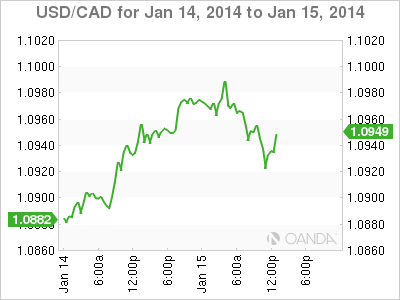 USD/CAD January 15 at 15:35 GMT
USD/CAD 1.0940 H: 1.0992 L: 1.0938
USD/CAD Technical
| | | | | | |
| --- | --- | --- | --- | --- | --- |
| S3 | S2 | S1 | R1 | R2 | R3 |
| 1.0652 | 1.0783 | 1.0852 | 1.1000 | 1.1094 | 1.1319 |
USD/CAD is showing little movement in Wednesday trading. The pair touched a high of 1.0992 in the European session but was unable to climb above the key 1.10 level.
1.0852 continues to provide support. This is followed by a support level at 1.0783.
1.1000 is the next line of resistance. This line has weakened as the Canadian dollar continues to lose ground. This is followed by 1.1094, which has remained intact since September 2009.
Current range: 1.0852 to 1.1000
Further levels in both directions:
Below: 1.0852, 1.0783, 1.0652, 1.0573 and 1.0502
Above 1.1000, 1.1094 and 1.1319 and 1.1496
OANDA's Open Positions Ratio
USD/CAD ratio remains almost unchanged in Tuesday trading, continuing the trend we have since last week. This is reflected in the pair's lack of movement. USD/CAD is made up of a majority of short positions, indicating a trader bias towards the Canadian dollar moving to higher ground.
The Canadian dollar remains under pressure, and the key 1.1000 is a tempting target for the strong US dollar. The pair is steady early in the North American session.
USD/CAD Fundamentals
13:30 US PPI. Estimate 0.5%. Actual 0.4%.
13:30 US Core PPI. Estimate 0.1%. Actual 0.3%.
13:30 US Empire State Manufacturing Index. Estimate 3.2 points. Actual 12.5 points.
15:30 US Crude Oil Inventories. Estimate -0.7M.
*Key releases are highlighted in bold
*All release times are GMT
This article is for general information purposes only. It is not investment advice or a solution to buy or sell securities. Opinions are the authors; not necessarily that of OANDA Corporation or any of its affiliates, subsidiaries, officers or directors. Leveraged trading is high risk and not suitable for all. You could lose all of your deposited funds