This morning we got the latest Empire State Manufacturing Survey. The diffusion index for General Business Conditions dramatically topped expectations, posting a reading of 12.51, up from 2.22 last month. The Investing.com forecast was for 3.75. The Empire State Manufacturing Index rates the relative level of general business conditions New York state. A level above 0.0 indicates improving conditions, below indicates worsening conditions. The reading is compiled from a survey of about 200 manufacturers in New York state.
Today's reading is the highest since May 2012.
Also, this update incorporates the annual benchmark revision using new seasonal factors.
Here is the opening paragraph from the report.
The January 2014 Empire State Manufacturing Survey indicates that business activity expanded for New York manufacturers, and did so at a faster pace than in recent months. The general business conditions index rose ten points to 12.5, its highest level in more than a year. The new orders index climbed thirteen points to 11.0, a two-year high, and the shipments index rose to 15.5. The unfilled orders index remained negative at -8.5. The indexes for both prices paid and prices received were significantly higher, pointing to an acceleration in the pace of input and selling price increases. Employment indexes indicated an improvement in labor market conditions. Indexes for the six-month outlook continued to convey a fair degree of optimism about future conditions.
Here is a chart illustrating both the General Business Conditions and Future General Business Conditions (the outlook six months ahead):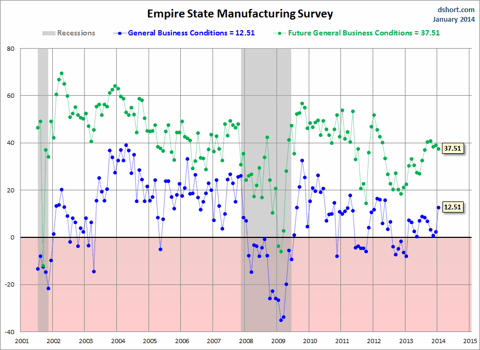 Click this link to access a PDF set of charts of the individual components over the past 12 months.
Since this survey only goes back to July of 2001, we only have one complete business cycle with which to evaluate its usefulness as an indicator for the broader economy. Following the Great Recession, the index has slipped into contraction five times, the most recent being the latest data point. However the expansionary interim highs since the post-recession peak in October 2009 have gotten successively smaller, which is indicative of a generally slowing regional economy.
Meanwhile, here's another look at the latest ISM Manufacturing Business Activity Index.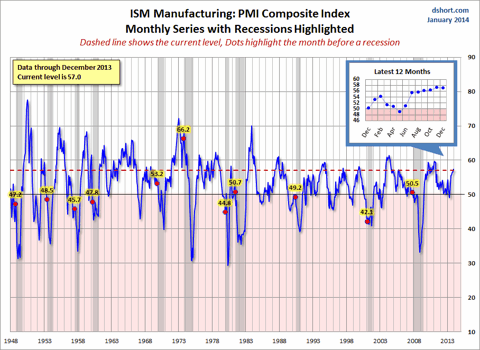 I'll keep a close eye on some of the regional manufacturing indicators in the months ahead.