I could easily have entitled this article "Calling All Contrarian Investors" as this piece will cover a pair of silver & gold miners that are priced at under $4 a share. Gold & Silver miners have been about as popular as a leper at an orgy over the last 18 to 24 months and have been one of the worst performing sectors in the market over that time.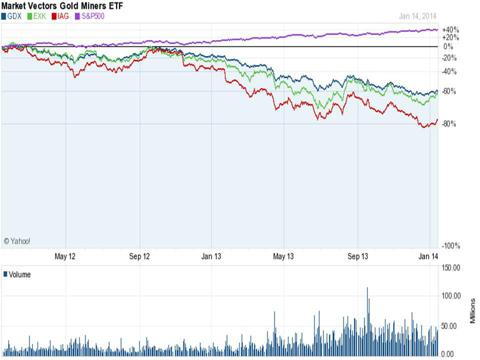 However, it is within universally hated sectors that outsized gains can be made. Think of the contrarians who bought wiped out internet stocks in 2001 after they have cratered in the internet bust, solar stocks in the back half of 2012 when they were as popular as precious metal miners are now or even buying Apple (NASDAQ:AAPL) when it dipped below $400 a share in late June and CNBC ran a "Has Apple lost its mojo?" theme at least once a week.
All of these instances turned out to be great buying opportunities for those with the fortitude and courage to swim against the tide. Ned Davis came out with a positive piece on gold and gold miners the other day that is worth reading
The same thesis could also apply to silver & silver miners as well. I have long dated out of the money bull call spreads on several major gold miners like Barrick Gold (NYSE:ABX) & AngloGold Ashanti (NYSE:AU). I also own a couple of precious metal miners that have prices under $5 a share which is almost the equivalent of a long term call option on sentiment in the sector improving.
Endeavour Silver Corp (NYSE:EXK) is a mid-cap silver mining company, focused on the growth of its silver production, reserves, and resources in Mexico. This mining stock was one of the worst performers in my portfolio in 2013. However, I have recently added to my position as the shares are behaving better of late and the company's valuation & prospects are attractive on a longer term basis.
Endeavour just announced it achieved record production in 2013. This marks the ninth consecutive year the company has raised production on a year over year basis. The stock has been a consistently decliner since selling at over $10 a share as recently as September 2012. Endeavour has also bounced recently off long term technical support of just over $3 a share.
The stock is selling at around 10x trailing earnings. Although earnings are projected to decline significantly this fiscal year, the company should still post profits despite the decline in silver prices over the last year. The stock sells for just over book value and under 6x operating cash flow.
IAMGOLD Corp. (NYSE:IAG) is a mid-tier diversified gold & niobium miner based in Canada with assets in North America, Africa and South America. Its properties consist of high quality, long-lived assets. This is another miner that had a horrific performance in 2013 declining ~60% for the year. The company even had to suspend its substantial dividend recently.
However, it is tough to see how things can get much worse for this challenged miner in 2014 especially if gold prices stabilize. The suspended dividend should bolster cash flow and the company has remained profitable despite the huge fall in gold prices in 2013.
This ~$4 stock sold for over $15 a share as recently as late 2012. The stock goes for less than 5x 2012's earnings per share. The shares also go for substantially less than book value and the median price target held by the 19 analysts the cover the shares is $5.25 a share.
Both of these stocks are not for the faint of heart. However, if sentiment improves just a little on the mining sector they could big winners over the long term.
Disclosure: I am long EXK, IAG. I wrote this article myself, and it expresses my own opinions. I am not receiving compensation for it (other than from Seeking Alpha). I have no business relationship with any company whose stock is mentioned in this article.