By Michael Cintolo
The market is showing all of us a tremendous amount of strength. Amazingly, on Wednesday, a whopping 602 stocks on the NYSE reached new 52-week highs–that's the highest reading in years, and it has two implications.
First, in the short-term (say, the next two or three weeks), it's likely that the market and many stocks could hit a rough patch. The huge number of new highs effectively tells you that enthusiasm has reached a crescendo, and when that happens, the late buyers are usually punished. So I think a modest choppy period with the major indexes falling 2% to 4%, as well as some damage to leading stocks, is likely.
Long-term, however, such a huge number of new highs tells you the market's breadth is outstanding. And bull markets do not end until the breadth of the market fades for many weeks or longer – when the generals advance while the troops don't follow. There's no sign of that now, and the power of this recent advance tells me there's lots of pent-up buying pressures still out there.
So what's the game plan? First, I think now's a good time to get rid of any stocks you own that haven't been pulling their weight; if they haven't been able to bounce much in recent weeks, or are still well below their peaks from last fall or early January, they're likely not leaders. And that means they could get hit further should the market begin to consolidate and correct.
Second, if you so choose, you could lighten up on some of your winners, although that's not my preferred route. True, some stocks that have just bolted 15%, 20% or more could easily pull back and cause some pain and discomfort. But seeing as how the market just confirmed its new rally at the start of this month, I think the stocks that have shown tremendous power are those you want to hold on to, or even buy more of.
Which brings me to my third piece of advice: You should be looking to buy on weakness in the days ahead. While it's true there are likely to be a few more powerful breakouts going forward, your best leading stocks have probably already hit new highs. So look to nibble on those names on weakness. Here are three suggestions: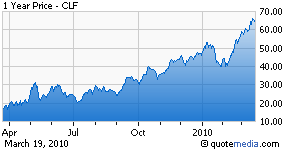 Cliffs Natural Resources (NYSE:CLF) is in a great position to capitalize on the soaring price of iron ore. A few analysts, in fact, have recently raised their earnings estimates to $7 to $8 per share this year, up from $1.19 last year! The stock is exceptionally powerful – it's risen from 40 to 67 on huge volume during the past six and a half weeks. I think any retreat toward 60 would be attractive.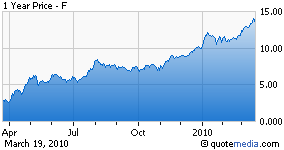 Ford Motor (NYSE:F) is a turnaround story with legs. Analysts estimate 2010 earnings could come in around $1 per share, though we think there's a good chance those numbers are conservative, especially given the firm's debt-rating upgrade this week, which could slash interest costs over time. The stock has rallied from 11.5 to 14.2 during the past three weeks, and this is likely to be the stock's eighth straight weekly advance, a sign of persistent demand. A retreat into the mid-13s would be tempting.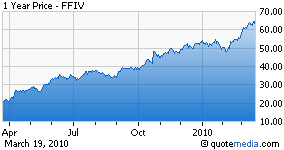 F5 Networks (NASDAQ:FFIV) looks like the leader of the strong networking group. The stock is working on its sixth straight up week, motoring from 47 to the mid-60s during that time. Sales and earnings growth has been gradually accelerating, and that trend is forecast to continue. The big picture here is that corporations are opening up their wallets to spend on IT again after an 18-month hiatus, and F5's products are some of the best out there. A dip to 60 would be enticing.