The furniture retailers are back on top. Haverty Furniture Companies, Inc. (NYSE:HVT) recently reported full year sales which were the best since the Great Recession. This Zacks Rank #1 (Strong Buy) is expected to grow earnings by 102% in 2013.
Havertys has seen it all. The company was founded in 1885 in Atlanta and used to make deliveries in horse and buggy. It now has showrooms in 16 Southern and Midwest states. Havertys went public in 1929 during dark economic times, but it has survived each of the big economic shocks.
The impact of the recent housing bust is obvious in Havertys multi-year earnings history. Earnings plunged 88.7% in 2007 to just 8 cents before the rest of the country went into recession and took Havertys even lower.
The company didn't make money in either 2008 or 2009. Even 2010 and 2011 were still a struggle. But in 2012, the turnaround in the housing market, and the consumer, began to take hold. Havertys made 67 cents that year and it has seen rising earnings ever since.
Sales Return to Pre-Recession Levels
On Jan 8, Havertys reported that fourth quarter sales rose 7.6% to $196.2 million from $182.3 million in the year ago quarter.
Comparable store sales rose 9.5%. The fourth quarter was boosted by the custom order business, the free in-home design service and a higher average ticket.
For the year, sales jumped 11.3% to $746.1 million.
You have to go all the way back to 2007 to get a year as solid as 2013.
Estimates Rise for 2013 and 2014
Given the bullish sales update, the analysts have been busy raising 2013 and 2014 estimates.
2 estimates have been raised for 2013 in the last week, pushing the 2013 Zacks Consensus Estimate up to $1.36 from $1.32 a week ago. That is earnings growth of 102%.
1 estimate has also been raised for 2014. Earnings are expected to rise another 14.8% to $1.55 in 2014.
Shares Near 5-Year High
Havertys has strung together 7 big earnings beats in a row which has boosted the shares to 5-year highs.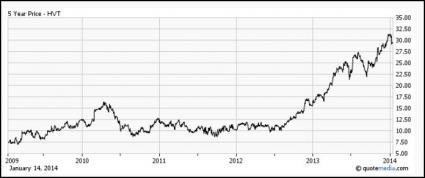 Still, valuations aren't excessive.
Havertys is trading with a forward P/E of 19 but it has a price-to-book ratio of just 2.4. A P/B under 3.0 usually indicates value.
It also has a price-to-sales ratio of 0.9. A P/S ratio under 1.0 can mean a company is undervalued.
For investors looking for a way to play the housing recovery and the growing economy, Havertys is a stock that should be on your short list.