By Carla Fried
Now that the 10-year Treasury rate is hovering around 3%, income investors are finding it ever harder to find bond-beating dividend yields from stocks.
That said, owning Treasuries at this juncture still exposes you to potential price slumps this year, if, as expected, rates continue to climb. Sure, there's embedded risk in all stocks as well, but that just ratchets up the challenge to find stocks with high yields that have a compelling forward story.
Using our functionality to search for S&P 500 stocks that have a current yield equal to or greater than 3% turned up fewer than 100 names.
A few of the biggest global players made the screen, including Microsoft (NASDAQ:MSFT), General Electric (NYSE:GE), Pfizer (NYSE:PFE) and Chevron (NYSE:CVX). Given that General Electric and Pfizer have checkered histories in maintaining and/or consistently growing their dividend, let's boot them from the conversation.
Microsoft and its 3%-plus dividend yield is indeed a compelling story for income seekers. The dividend payout has nearly doubled over the past five years, but even so, the payout ratio remains under 35%, assuring there is plenty more room for more dividend growth.
That said, Microsoft, though definitely cheap - its PE ratio less cash is below 10 - though is also full of some operational question marks, starting with the fact it is still looking for a new CEO.
Getting paid more than 3% from such a cheap stock on the expectation a new CEO may be able to inject some mojo seems less crazy than betting on a no-dividend stock with a sky high multiple at this juncture.
But it's Chevron that's the really compelling stock worthy of further financial research. Yes, along with Exxon Mobil (NYSE:XOM), and Royal Dutch Shell (NYSE:RDS.B) (NYSE:RDS.A) it has badly lagged the market over the past five years.
This isn't a growth stock. But it is a financially strong global firm that has all the attributes a smart income investor should care about. (YCharts currently has a Chevron Rating of Neutral with a value score of 10/10 and a fundamental score of 10/10). Chevron's price vs. its own historical prices, however, raise some questions.
Stair-step dividend growth is the model of consistency, and gives you what no 10-year Treasury can: a rising income stream that history shows has increased payouts far above the rate of inflation.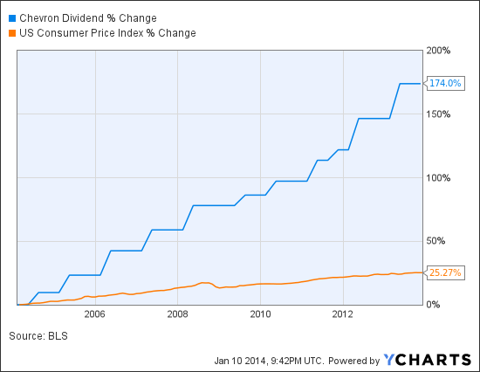 CVX Dividend data by YCharts
Meanwhile, the current payout ratio is below 35%. That's impressive given that we haven't exactly been in a strong up-cycle that typically provides a nice tailwind for energy stocks.
In addition to being off cycle, energy companies are having to devote more capital expenditure dollars to find new energy resources sending cash/cap ex ratios falling.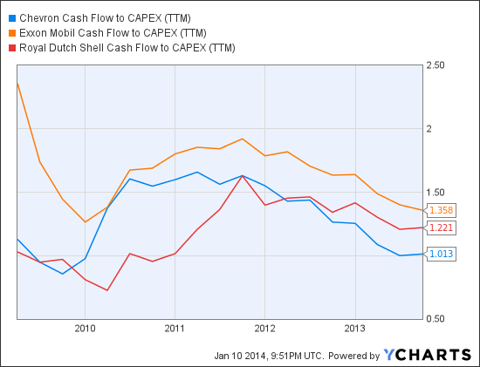 CVX Cash Flow to CAPEX (TTM) data by YCharts
But starting next year some of those big cap ex outlays will start coming online. One liquefied natural gas project in Australia is expected to start producing in 2015 and another Australian project is targeted to flow beginning in 2016. This year might not be the year when earnings and cash flow rebound, but again, you're getting paid more than 3% to wait from a company that trades at a below-10 PE ratio even before backing out the cash.
Disclosure: None.