Yesterday 3D printing company ExOne (NASDAQ:XONE) announced lower guidance for 2013, saying it now expects revenue to come in between $40 and $42 million, compared with $48 million that was the previous guidance. It did not take long for the market to dump the stock, where it traded as much as -18% in after hours trading.
Let me get this straight, the market knocked off about $140 million in market cap from the company, just because the company said its revenue will be lower by $8 million? That's right, because when you realize just how ridiculously priced this stock is, $140 million might actually be kind.
Even after today's dive, this company is still worth about $800 million. I repeat, you are paying about $800 million for a company that will do about $40 million in sales for 2013 with no profits! In two trading sessions about $170 million in market cap has been wiped of the stock.
Let me tell you just how expensive this stock is. In my opinion, this stock can fall an additional 70% from current levels and still be considered expensive in my book.
Let me tell you why the sector is an accident to happen
Because the stocks in the sector are so far ahead of the fundamentals that any deviation for the astronomical expectations the market has of ExOne and the sector, can crash many of these stocks even if they continue to grow for many years to come.
Investors are paying a very huge premium for these companies and there is no room for error in case growth expectations don't ferment exactly as the market expects. And that's exactly what happened with ExOne yesterday.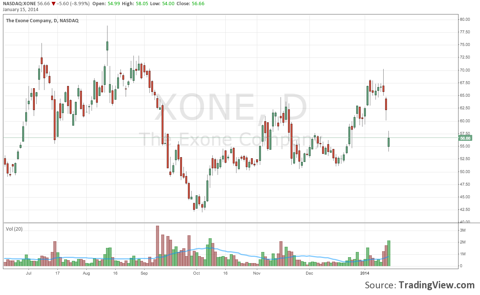 But like I said, it's not only ExOne but the entire sector including but not limited to 3D Systems (NYSE:DDD), Voxeljet (NYSE:VJET), Stratasys (NASDAQ:SSYS) and Organovo Holdings (NYSEMKT:ONVO). The entire 3D space is vastly overvalued beyond any stretch of the imagination.
None of the above stocks have any profits and their Price/Sales ratios are beyond belief. For example 3D Systems stands at 20, Stratasys 15 and ExOne 21. Many of these stocks can continue to grow for years and years but if they deviate the slightest from market expectations, the market will punish these stocks without mercy.
And If I am right and 2014 will be a difficult year, then the accident waiting to happen might happen sooner than we think for the entire sector, as ExOne proved yesterday.
Bottom line
I have nothing against these companies and I am sure the management in these companies are very fine and respectable people. My quarrel is with the market that is pricing these stocks at an astronomical premium.
So beware if you are thinking of holding onto these stocks for the long term, because in order for you not to lose money, everything has to go according to plan -- including market expectations -- and in my book that rarely happens.
Disclosure: I have no positions in any stocks mentioned, and no plans to initiate any positions within the next 72 hours. I wrote this article myself, and it expresses my own opinions. I am not receiving compensation for it (other than from Seeking Alpha). I have no business relationship with any company whose stock is mentioned in this article.