BlackRock (NYSE:BLK) has seen growth throughout the past few fiscal quarters, with many analysts attributing BLK's recent successes to the growth that its risk management and equities divisions. In addition, growth in these recent fiscal quarters can be attributed to a market that's picking up the pieces of the recession. And with investors increasingly buying indexed funds and ETFs, iShares could be a hot commodity for BlackRock this year. As the market slowly spurns back to life, BLK is going to be there to capitalize.
BlackRock is expected to report FQ4 2013 earnings on January 16th. The information below is derived from data submitted to the Estimize platform by a set of Buy Side and Independent analyst contributors.
The current Wall Street consensus expectation is for BLK to report $4.39 EPS and $2.724B revenue while the current Estimize consensus from 6 Buy Side and Independent contributing analysts is $4.36 EPS and $2.725B revenue. The magnitude of the difference between the Wall Street and Estimize consensus numbers often identifies opportunities to take advantage of expectations that may not have been priced into the market. In this case, we're seeing a smaller differential between the Estimize and Wall Street numbers compared to previous quarters.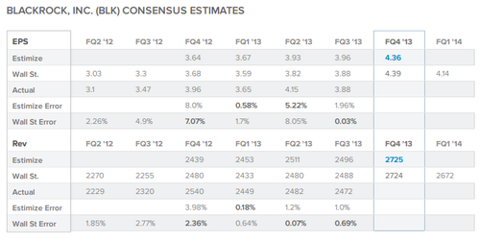 Over the past four months the Wall Street consensus trend for EPS has increased from $3.88 to $4.39, while Wall Street revenue expectations have increased from $2.488B to $2.724B. The Estimize EPS and revenue consensus have increased this quarter with EPS going from $3.96 to $4.36 and revenue increasing from $2.496B to $2.725B.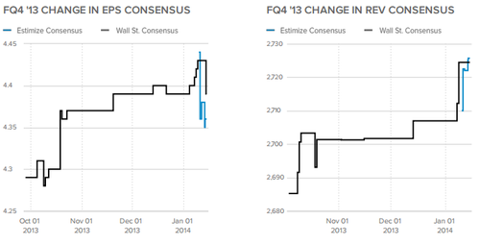 Over the previous 6 quarters, BLK has beaten the Wall Street consensus for EPS and revenue every time. Over the same time period, BLK has beaten the Estimize EPS consensus 5 times and the Estimize Revenue consensus 5 times.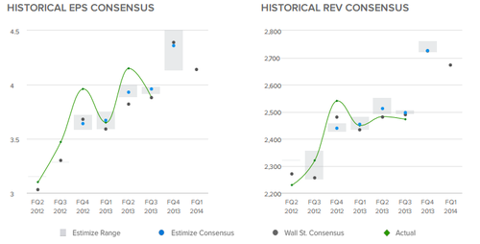 The distribution of estimates published by analysts on Estimize range from $4.13 to $4.56 EPS and $2.720B to $2.760B revenues. We're seeing a smaller distribution of estimates this quarter for BLK than normal. The size of the distribution of estimates relative to previous quarters often signals whether or not the market is confident that it has priced in the expected earnings already. A narrower distribution signaling the potential for greater volatility post earnings, a wider vice versa.
The analyst with the highest estimate confidence rating this quarter is sriramv, who projects $4.52 EPS and $2.736B in revenue. Estimate confidence ratings are calculated through algorithms developed by our deep quantitative research which looks at correlations between analyst track records and tendencies as they relate to future accuracy.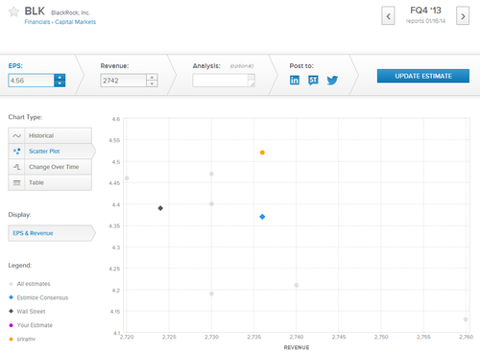 BlackRock has been picking up a lot of speed these past few quarters. As the economy continues to improve, BLK's earnings and revenue will also. It's expected for a company that not only survived the 2008 downturn but also profited from it to put up better and better numbers in subsequent quarters. BLK has had an impressive quarter and because of its strength through its diverse departments, BLK will definitely have a successful quarter and more in the upcoming year.
Disclosure: None