My call to get long materials and energy at the beginning of the week was looking pretty spot on by Wednesday afternoon, and then, it got completely blown out of the water by the close on Friday as the dollar surged off the 50 day moving average. The OIH got slaughtered Thursday and Friday as crude CL_F pulled back from the $83 level. Crude and gold aren't going anywhere with a rising dollar.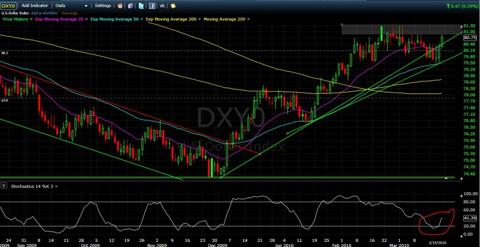 The USDX was turned back by strong resistance on Friday afternoon, a break of the resistance shown above will get me very very cautious on this market. Take a look at those stochastics, that's a pretty bullish chart. The euro has good support at 1.345, but if that breaks to the downside, it could signal that we are moving towards a full on European crisis.
The momentum book had a pretty crappy week to be honest. I gave back 135 basis points of absolute return and an even worse 180 points of alpha as the market rose .44%. This is what happens when you hold on to momentum names too long at the end of a strong move in the market, they get whacked hard off the top. On Wednesday afternoon I was very aware the markets were extremely extended to the upside, the RSI reading on the SPY was 100, yes you are reading that correct, 100. If you've ever seen an index ETF's RSI trade at 100, please let me know, because I sure as hell haven't. I failed to raise cash into this obvious melt up and paid the price. By Friday afternoon though I was at almost 20% cash, where I should have been Wednesday afternoon.
Positions added this week were all in the energy and material sectors, including Ivanhoe Energy (IVAN), Eldorado Gold (EGO), McDermott International (MDR), and Northern Oil and Gas (NOG). By the end of the week they were all slightly under water, and I had been stopped out in NOG for a loss. I added to my positions in Aruba Networks (ARUN) and Priceline.com (PCLN).
Positions sold this week include NOG, Portfolio Recovery Associates (PRAA), Ctrip.com (CTRP), Huntsman (HUN), New York Community Bancorp (NYB), Chipotle Mexican Grill (CMG), and SuccessFactors (SFSF). I also sold partial positions in Visa (V), Mead Johnson Nutrition (MJN), Impax Labs (IPXL), DeVry (DV), and Capella Education (CPLA). I will be looking to take back my positions in CMG at some point, but it needs to pull back here. I will also be watching CTRP closely, I sold it in favor of adding to Priceline which was showing greater relative strength along with the fact that Chinese equities were not performing well. My education names have been on fire and I could not resist taking some off the table with such great gains. These are long term winners and I will be looking to load up again on any dip which finds support. I'll also look to take back my full positions in IPXL and MJN on any more weakness.
Winners this week include DV, CPLA, and Valeant Pharmaceuticals (VRX).
Losers include V, NOG, EGO, Telestone Technologies (TSTC).
Keep your eyes on energy and materials, Thursday and Friday felt like a final shakeout before these sectors really get going. It'll all depend on the dollar though, don't fight that trade. I'm looking for more weakness from the market through Tuesday afternoon, followed by a resumption in the uptrend. As always though, trade what you see, not what you think, this is not a game plan, it's just a play book.