Citigroup (NYSE:C) reports earnings Thursday before the market open, with its conference call scheduled for 11:00 AM ET. The company may do just fine against expectations when it reports, but it has a much lower bar to hurdle today than it did 90 days ago. Also, justifying Wednesday's gain is tough, since I suspect it was partly on a flawed real estate market data point. However, if Citi is able to replicate the reserve release Bank of America provided today, the stock could move higher.
When it reports tomorrow morning, Citigroup is expected to earn $0.96 based on the analysts' consensus. That would mark a 39% improvement over the prior year period, but it would be on a lower level of revenues. The company has downsized its business, though, and is benefiting from cost consolidation like Bank of America (NYSE:BAC) has.
Citi missed Q3 expectations by $0.03, and this quarter's estimate has been trimmed quite a bit over the last 90 days. Over the last month or so, the estimate has come down by $0.16. That makes for a lower bar to hurdle tomorrow, but it places into question the vitality of recovery here. Likewise, Citi's '14 is looking less good than it did a quarter ago. Analysts see EPS of $5.27 for the forward 12 months, but that's 20 cents less than they were looking for a quarter ago.
| | | | | |
| --- | --- | --- | --- | --- |
| For Citigroup | Estimate Today | 7 Days Ago | 30 Days Ago | 90 Days Ago |
| Consensus Q4 EPS Est. | $0.96 | $1.00 | $1.12 | $1.13 |
Citigroup shares posted a gap open higher Wednesday, mostly due to Bank of America's EPS beat, but also due to a suspect mortgage data point in my opinion. The entire group of major mortgage originators gained on the day, including JPMorgan Chase (NYSE:JPM), Bank of America, Wells Fargo (NYSE:WFC) and U.S. Bancorp (NYSE:USB).
The Mortgage Bankers Association reported that mortgage applications were 11.9% higher in the latest reported week on a seasonally adjusted basis. However, in our years of following this data point, we have noticed that it often fails to perfectly adjust for holidays, leading to reported extraordinary declines during holiday periods and excessive gains in the periods following those lulls. Obviously, this period followed the New Year's Day holiday, and so the gain on the day is likely overstated. We know this factored some in the performance of the group because other names operating in the industry rose, like MGIC Investment (NYSE:MTG) for instance.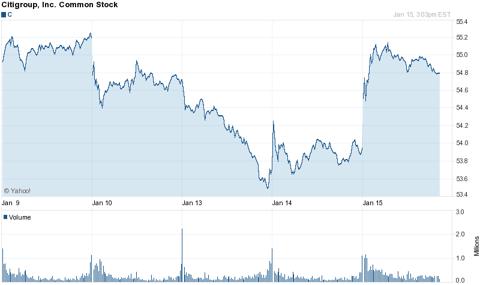 In conclusion, Citi seems set up to beat estimates tomorrow, especially given the reduction of the estimate over the last 90 days and due to the fact that the whisper number is reportedly $1.10 per share. Such a result would be expected to solidify the price of this stock, given its discount to book value. However, investors will likely also focus on the outlook for book value and whether more reserving of capital will be necessary in 2014. In this regard, there was good news today because Bank of America was able to actually release reserves in Q4, uplifting BAC and the group. The interest rate spread outlook has moderated a bit given Fed mastery of asset purchase tapering. That is also weighing on 2014, as is a more questionable economic recovery, given recent labor data. But for Citi, I expect what matters most is probably getting to a clean operating environment. If the company can reassure investors that reserves will be adequate or if it can do what BofA did today, then the stock could move higher.
Disclosure: I have no positions in any stocks mentioned, and no plans to initiate any positions within the next 72 hours. I wrote this article myself, and it expresses my own opinions. I am not receiving compensation for it (other than from Seeking Alpha). I have no business relationship with any company whose stock is mentioned in this article.